UPDATE:
Three teenage suspects have been arrested in the killing of a 17-year-old Sylvan High School student whose body was found in a vehicle Thursday afternoon in Sherwood.
In a statement Friday night, the Sherwood Police Department identified the victim as Bryan Allen Thompson and said three teenage suspects were being charged as adults with capital murder and aggravated robbery.
The agency did not identify the youths, but said they are aged 14, 14 and 17 and were being held in the Pulaski County jail.
An online listing of inmates in the jail included three teens booked in Friday by the Sherwood Police Department on murder charges: 14-year-old Trevone Miller, 15-year-old Quincy Parker and 17-year-old Xavier Porter. All three youths remained in the facility Saturday morning with bail not yet set.
Thompson's body was found about 2:30 p.m. in a vehicle parked at the Bill Harmon Recreation Center in Sherwood. Police have not released a cause of death.
EARLIER:
The death of a teenage boy whose body was found inside a parked car at a Sherwood recreation center is "suspicious" and is being investigated as a homicide, authorities said Friday.
The body was found in a car parked at the Bill Harmon Recreation Center around 2:30 p.m. Thursday, according to a news release from the Sherwood Police Department.
The 17-year-old was a student at Sylvan Hills High School, a spokesman for the Pulaski County Special School District said.
Police did not release any information about the manner of death. The body was sent to the Arkansas Crime Laboratory.
The boy's name was not released, pending the notification of family members.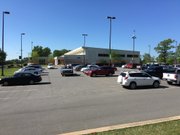 Map
Bill Harmon Recreation Center
Bill Harmon Recreation Center