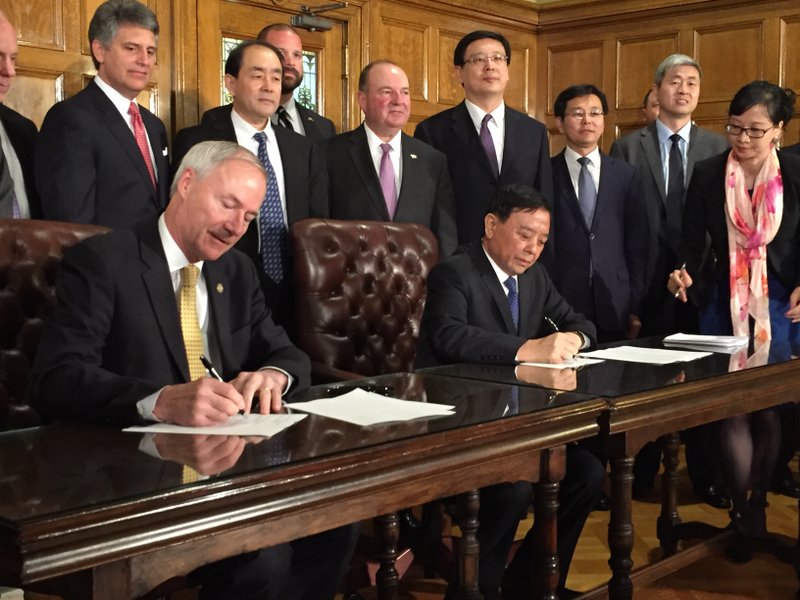 Gov. Asa Hutchinson, left, and Hongxin Li, chairman and founder of Sun Paper, sign a memorandum of understanding after the announcement that the firm will create a $1 billion mill in Arkansas. ( John Moritz)
China-based Sun Paper has chosen Arkansas as the site of its first bio-products mill in North America, Gov. Asa Hutchinson said Tuesday.
The $1 billion investment for a plant in Arkadelphia is expected to create 250 new jobs, Hutchinson's office said in a news release.
"This is among the largest private investments in the state's history and the impact will be felt for generations," Arkansas' Republican governor said.
In addition to the 250 jobs at the mill, officials with the Economic Development Corporation of Clark County estimated the development would spur 1,000 new jobs in the south Arkansas timber industry.
As incentive to attract Sun Paper over competing proposals in Arkansas and Mississippi, the county will invest $10 million in economic incentives funded by a sales tax passed by voters in 2014, according to Eric Hughes, who serves on the board of directors for the county economic development corporation.
Sun Paper will also get a 65 percent abatement on its property taxes, worth $92 million, Hughes said, bringing total local incentives to $102 million.
Mike Preston, the director of the Arkansas Economic Development Commission did not disclose how much the state will invest in the project at Tuesday's news conference.
Check back with Arkansas Online for updates and read Wednesday's Arkansas Democrat-Gazette for full details.
Sponsor Content