Shandong Sun Paper Industry Joint Stock Co. will build a $1 billion pulp mill in Clark County near Arkadelphia, the Chinese company and Arkansas officials said Tuesday.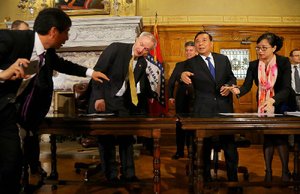 Photo by Stephen B. Thornton
FILE — Aides get Gov. Asa Hutchinson and Sun Paper executive Hongxin Li to their places on April 26, 2016, at the state Capitol in preparation for a signing ceremony for Sun Paper's pulp mill in Clark County.
Construction on the mill can begin early next year after the company has secured environmental permits. Production is expected to begin by late 2019. The mill is expected to employ up to 250 people.
The plant will be in an industrial park near Gum Springs, a few miles south of Arkadelphia.
Gov. Asa Hutchinson; Mike Preston, executive director of the Arkansas Economic Development Commission; Clark County economic development executives and legislative delegates; and Hongxin Li, chairman and founder of Sun Paper, along with other executives with Sun Paper, made the announcement in the governor's conference room at the state Capitol.
In November, Hutchinson and Preston traveled to the Sun Paper headquarters in Shandong province in China and signed a letter of intent with the firm. At the time, Sun Paper agreed to choose a site for the mill before May 1, Hutchinson said.
After the agreement in November, Sun Paper officials also began considering locations for the mill in Mississippi. Sun Paper eventually narrowed its focus to the Gum Springs site in Arkansas and a site in Mississippi.
With Tuesday's announcement, Sun Paper now will focus on the Gum Springs project and will not build a plant in Mississippi, Preston said.
In addition to the 250 mill jobs, which will each pay about $52,000 annually, the mill is expected to provide another 1,000 jobs in the logging industry, and 2,000 to 2,400 more jobs during the plant's 2.5 years of construction.
Arkansas landowners will receive timber revenue of about $28 million a year, said state Sen. Bruce Maloch, D-Magnolia.
The plant will cost at least $1 billion and possibly as much as $1.3 billion.
"This is one of the largest private investments in the history of the state of Arkansas," Hutchinson said. "In a broader context, it will result in a real boost to the economy of south Arkansas throughout the timber industry."
Li promised that the plant will be one of the most modern and environmentally progressive factories in North America.
Arkansas went through more than four months of negotiations on Arkansas' competitive position for the project before the letter of intent was signed, Hutchinson said. Economic development executives in Clark County had been discussing the project with Sun Paper officials for years before that.
Arkadelphia is in the heart of Arkansas' timber country and has easy access to Interstate 30. Trees cover about 18.8 million acres -- about half of the state -- mostly in south Arkansas.
The timber is particularly suited to what Sun Paper needs for its plant, said Bill Wright, chief executive officer for the western region for Southern Bancorp, a $1.2 billion bank based in Arkadelphia. Wright also has spent years serving with economic development agencies in Clark County.
Wright traveled to China four years ago to meet with Sun Paper executives. Clark County has courted Sun Paper for more than five years.
"This will be a profound impact on south Arkansas," Wright said.
The project will indirectly affect 45 counties in south Arkansas, Wright said. He estimated the overall impact on south Arkansas, including the value of the timber paid to landowners, at more than $100 million a year.
The plant will use the timber to produce pulp, dry it and ship it to China. The dried pulp will be used primarily to make such products as napkins, feminine products and diapers, Wright said.
Because Arkansas produces 8.5 million tons more in small timber a year than is being harvested, the plant will be sustainable, Maloch said. Sun Paper's plant is to receive 400 loads of timber a day when it begins operation and will use about 4 million tons of timber a year.
"We believe this will be a completely sustainable plant, using every piece of the fiber, either to make pulp or to make fuel," Wright said.
The plant also will produce electricity, Wright said. It could produce as much as 70 megawatts of electricity a day, Maloch said. The plant will use about 20 megawatts of electricity daily and put about 50 megawatts back onto the electric grid, Wright said.
Sun Paper officials told Clark County executives that this pulp mill will be the first phase in the company's long-range plans, Wright said.
"That's why they are producing so much power," Wright said. "We are clear that there will be multiple phases of this project."
Sun Paper officials didn't elaborate on the future phases.
Arkansas will provide incentives to the company based on the company's payroll and size of investment.
Incentives include: a cash rebate equal to 5 percent of new payroll for 10 years; sales tax refunds on building materials, machinery and equipment; a $12.5 million grant for site preparation and equipment; up to $3 million for workforce training; a $50 million collateralized loan provided through multiple state sources.
For the Sun Paper project, the state did not have to tap into its Amendment 82 incentives for superprojects.
"The state was able to develop an incentive package that met Sun Paper's needs without having to address this as an Amendment 82 project," said Scott Hardin, spokesman for the Arkansas Economic Development Commission.
Clark County's and Arkadelphia's incentive package is in the same range as the Arkansas incentives. Those include $10 million to help offset infrastructure costs, drawn from the county's 0.5 percent sales tax that has been collected for nine years for economic development. Another incentive provides about $92 million in the form of a 65 percent county property-tax discount over 20 years.
Big River Steel, a steel mill nearing completion near Osceola, was the first superproject in the state to receive Amendment 82 financing. Big River Steel, which will have about 525 employees and cost about $1.3 billion, received $125 million in a bond issue, as well as other tax incentives.
A Section on 04/27/2016