Pulaski Circuit Judge Mary McGowan and lawyer Kathryn Pryor sit at a table in the lobby of the Arkansas Repertory Theatre in Little Rock. It sounds like the start to a joke: A judge and a lawyer walk into a theater ...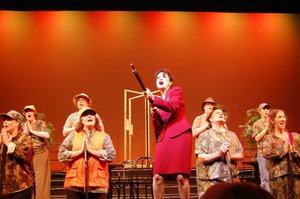 Photo by Democrat-Gazette file photo
Kathryn Pryor, as Sarah Palin, steals a scene in Gridiron 2010.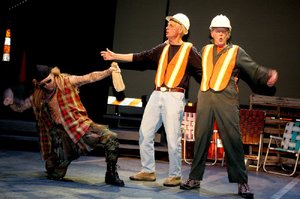 Photo by Democrat-Gazette file photo
Craig Wilson stars with Herb Rule and Dent Gitchel in Gridiron 2014.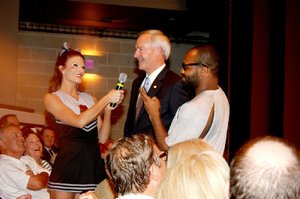 Photo by Democrat-Gazette file photo
Cheerleaders Allison Stodola Wilson and Antwon Staton interview then-gubernatorial-candidate Asa Hutchinson in Gridiron 2014.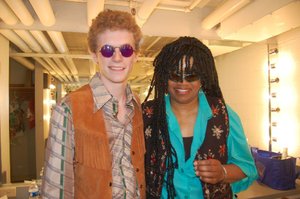 Photo by Democrat-Gazette file photo
Paul Tillman appears as a young Bill Clinton with Marie-B Miller as Whoopi Goldberg in Gridiron 2010.
Which wouldn't be too far from the truth, in this case. Pryor, of the Little Rock firm Wright, Lindsey & Jennings, LLP, is trying to remember the first year the Gridiron Show -- the biennial musical by legal professionals of the Pulaski County Bar Association spoofing state and national politics -- came to the Rep. She decides it must have been 1990.
Gridiron 2016: Bake America's Cake Again
8 p.m. today, 7 p.m. Wednesday-Thursday, 8 p.m. Friday-Saturday, The Arkansas Repertory Theatre, 601 Main St., Little Rock
Tickets: $60-$65 opening night (includes pre-show reception); $30-$35 Wednesday-Saturday
(501) 378-0405
therep.org
"That was the year they took Guys & Dolls ... rewrote the music and then turned Guys & Dolls into the Gridiron story," she says. "It was hilarious."
"It was hilarious," McGowan agrees.
"That was the 'Dolls With B****' number," Pryor says, "with Hillary and Betsey Wright."
McGowan turns to a guest.
"By the way, [the Gridiron Show is] always in bad taste."
The show has come a long way since its debut in 1916 -- 100 years ago -- when members of the Little Rock Bar Association acted out skits under the watchful eye of a mounted alligator gar during a luncheon at the Gar Hole, the bar of the downtown Marion Hotel. Women weren't allowed in those days, McGowan says, so men often dressed up for female roles. That rarely happens anymore, although a few years back, local lawyer Don Bennett's portrayal of Gov. Mike Huckabee's wife,
Janet, didn't sit well with the first couple.
"She's tall. She's a tall woman," McGowan says.
"And it brought the house down when he came out, of course," Pryor adds.
"He's a tall guy," McGowan says.
The Huckabees apparently got wind of the portrayal ahead of time and decided not to come. Which squares with Pryor's experience.
"It seems like the more high-profile politicians have been the ones that are hardest," she says. "They can't take a joke really."
...
Timed to coincide with the local and state elections every two years (and the presidential elections every four years), the Gridiron luncheon continued off and on through the 1950s, when lawyer Griffin Smith took the reins of the event. With the help of collaborators such as Dot Callanen-Gravett, a dance instructor at the University of Arkansas at Little Rock, McGowan says Smith elevated Gridiron into an evening performance.
Smith had a passion for musical theater, in particular Broadway shows, and he traveled to Chicago and other cities to observe how other Gridiron shows were performed, says his son, former longtime Arkansas Democrat-Gazette editor Griffin Smith.
"I think he was more passionate about the Gridiron than even the practice of law," Smith says.
In the summer of 1982, Gridironers were in dress rehearsal when the controversial Pulaski County Sheriff Tommy Robinson arrested 23 people at a toga party at the Hotel Sam Peck. Smith recalls his father walking directly to his law office in the Union Bank building, picking out the sheet music for a song called "If My Friends Could See Me Now" from the Broadway musical Sweet Charity, and rewriting the lyrics.
"Two days later, the Gridiron is on stage with a very timely song about the toga bust," Smith says, adding, "That's really my favorite story about Dad, because it showed how he thought and worked."
The elder Smith died in 2000. Ten years later, his son contacted McGowan and asked if she would take all of his Gridiron material -- old programs, scripts, tapes, pictures and other materials -- and she accepted. Longtime Gridironer and UALR law professor Dent Gitchel organized and digitized the archive and gave it to the Butler Center for Arkansas Studies for preservation.
McGowan says, "It's a commentary about what was going on in Arkansas at the time, as well as some national stuff."
Perhaps no Gridiron shines a starker light on a particular time than the 1958 show, set against the backdrop of the Little Rock Central High School crisis -- a true collision of politics and law. Gov. Orval Faubus was resisting the integration of the school both through the court system and the political arena. As recalled in the May 30, 1958, edition of the Arkansas Gazette, Billy S. Clark addressed the Marion Hotel's ballroom as "Field Marshall Orval Faubus," singing:
The moon belongs to Khrushchev and Ike.
But Arkansas belongs to me.
Later, a man in a zoot suit meets the governor. The character is identified as onetime football coach and strike-breaker Jimmy Karam, who owned a Little Rock men's clothing store at the time and acted as a sort of bodyguard to Faubus during the crisis.
"Been calling on some of my customers at Fourteenth and Park," [Karam's character] explains. He reports a number of orders: 'two dozen brass knuckles, six blackjacks, 20 switchblade knives and one case of dynamite.'"
"Why can't they use regular GI equipment?" the governor groans.
Later, an honor guard of federal paratroopers, marching to the theme song of the film The Bridge On the River Kwai, escorts U.S. District Judge Ronald Davies to the bench. He calls Faubus and the integrationist plaintiffs before him. Faubus, singing to the tune of "Battle Hymn of the Republic," says,
My name is Orval Faubus, of the State of Arkansas.
I have studied this decision, and there's got to be a flaw;
But just in case there isn't, then we'll just ignore the law
And it might go away.
...
The luncheon of old has developed from a one-night show into a string of evening performances. This year's show runs from today through Saturday.
Two professionals, Jana Beard and Lori Isner, have brought polish to a cast of roughly 80 local lawyers, judges, paralegals and their associates. Beard, the show's director, has taught dance for more than 30 years in Little Rock and performed in productions at the Rep. Isner, the production's musical director, is a well-known composer and performer with the Arkansas Arts Center and other venues. This year's set at the Rep has been built to look like a political party's convention hall.
The lyrics for this year's show will continue to be tweaked to follow news developments as tonight's opening approaches, McGowan says. Responsibility for writing the program falls to a group of Gridiron performers called the"Clandestine Committee." As in every Gridiron year, they start writing shortly after Jan. 1, and their identities are kept secret so as to avoid the potential for litigation.
The 100th anniversary of Gridiron has attracted several alumni from shows 10, 20, even 30 years ago. Organizers say to expect some special twists for this year's installment, titled, Gridiron 2016: Bake America's Cake Again. Anyone who has followed this presidential cycle may notice a conspicuous similarity to the campaign slogan of a certain real estate mogul.
"This year wrote itself," McGowan says.
"There will be scenes where it's taken verbatim from the news cycle," Pryor adds. "And it's very entertaining, as you can imagine."
"It's funny. It's a very funny show," McGowan says.
The show continues to bring in new people, although some with small children dropped out this year, not realizing the time commitment required practice from June 20 to Aug. 2. They've promised to be back for Gridiron in 2018, McGowan says. They appear to have caught the same bug other longtime performers have; passions over the production run high. McGowan in 2012 was deposed, then reinstated, after 15 years as director in a bizarre internecine fight among the more than 100 members of Little Rock's legal community who operate the production's nonprofit Gridiron Productions.
So why, after so many years, all the fuss? Why do these lawyers make such a big deal about a play?
McGowan swats away the question.
"It's fun! It's fun," she says. "And it brings people together. We become like a little Gridiron family.
"We want it to go another hundred years. Into perpetuity."
Dent Gitchell, a 40-year veteran of the Gridiron and the show's historical archivist, will present a history of the show from noon to 1 p.m. Wednesday as part of the the Butler Center's Legacies & Lunch, in the Darragh Center of Central Arkansas Library System's Main Library, 100 Rock Street. Admission is free. Attendees are invited to take a sack lunch; drinks and dessert are provided. Call (501) 918-3033.
Style on 08/02/2016