SPRINGDALE -- The Tyson family and Tyson Foods Inc. announced Tuesday that they're giving Arkansas Children's Hospital $15 million for the hospital's Northwest Arkansas campus, the biggest gift in the hospital's history.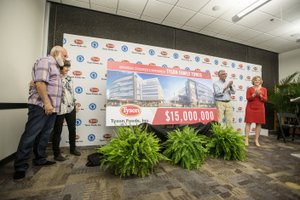 Photo by ANTHONY REYES • @NWATONYR / NWA Democrat-Gazette
John Tyson (from left), Tyson Foods board chairman, Cheryl Tyson, Donnie Smith, Tyson board member, and Marcy Doderer, president and CEO of Arkansas Children's Hospital announce a $15 million donation Tuesday during a news conference at Tyson Foods in Springdale. The Tyson family and Tyson Foods donated the money and will establish the Tyson Family Tower at the hospital under construction in Springdale.
Arkansas Children's Northwest will honor the gift by naming the campus's primary buildings for the Tyson family, Marcy Doderer, the hospital system's president and CEO, said at a news conference at Tyson's headquarters. She called the donation historic and a game-changer for children's health care in the region.
Notable donations
• Tyson Foods: $15 million
• Wal-Mart and the Walmart Foundation: $8 million
• J.B. Hunt Transportation Services: $5 million
• Will Golf 4 Kids and Color of Hope Gala events: $5 million over five years
• George and Evans families: 37 acres for the facility
• Estate of Mildred and Jarrell Gray: $1 million
• Cynthia and Kirk Dupps: $1 million
• Premier Concepts: $1 million over five years
• Darren and Karen Horton: $1 million
• Gary and Robin George; $1 million
Source: Staff report
"It is actually awe-inspiring," Doderer said of the gift and the millions of dollars in donations from other companies and families that preceded it. "We're so fortunate that we have the Tyson family and Tyson Foods in our corner."
The $167 million hospital will have more than 230,000 square feet of clinical and diagnostic space, 24 beds and an emergency center. It is being built on a donated 37-acre tract near Arvest Ballpark in Springdale.
The first steel beams for the project were put in the ground last week. Doderer said the schedule and budget are still on track for a January 2018 opening date.
John Tyson, chairman of Tyson Foods' board, said his family had long planned to help the hospital if it ever made its way to Northwest Arkansas. Some Tyson family members have been patients at the Little Rock hospital, he said.
"So I can tell you, this is a happy day for me," Tyson said, calling the gift an investment in the region's future.
Tyson said his family taught him all his life the importance of watching out for children.
"I've always had a respect for how critical it is to give children a chance," he said. "In the end, it's theirs to watch over."
The Tyson donation raises the announced fundraising total to about $45 million, according to the hospital's foundation. The goal is about $70 million, Doderer said. Wal-Mart and the Walmart Foundation gave a combined $8 million, and J.B. Hunt Transport Services Inc. kicked in $5 million.
The facility is being built on 37 acres donated by the Evans and George families of George's Inc., the Springdale poultry company. Chairman Gary George and his wife, Robin, recently gave $1 million more for a chapel at the hospital.
Gary George embraced Tyson after the announcement Tuesday.
"Even though we're friendly rivals, we all just care about our hometown," Tyson said. "So we all pitch in."
A public fundraising campaign hasn't been announced.
A common thread among many of the private donations has been personal experience with Arkansas Children's Hospital, whether through a grandchild or other family member who received care there.
Alicia Funa, a Tyson Foods customer development manager, said she began working with the Circle of Friends volunteer group raising money for the hospital after her daughter, Aubrey, had open-heart surgery for a heart defect at the Little Rock hospital three years ago, days after the girl's birth.
"I was just an emotional wreck," said Funa, who attended Tuesday's announcement. She described more than a month of going back and forth from the hospital to a hotel in Little Rock and struggling to process loads of information about her daughter's health issues. The hospital helped guide the family through all of it, Funa said.
"They really treat the whole family," she said, adding that today, Aubrey continues to receive treatment while enjoying gymnastics, swimming and other activities. "She is the most active, happiest, healthiest kid I know."
More donations could be on the way, Doderer said, adding they wouldn't be announced until the donors are ready.
"I would say stay tuned," she said.
Metro on 08/03/2016