Wal-Mart Stores Inc. conducted a survey of its private label suppliers to find out exactly how many different descriptions were being used on date labels in its stores.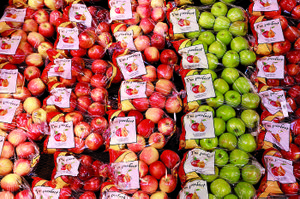 Photo by Special to the Democrat-Gazette
Washington-grown "I'm Perfect" apples — that don't look so perfect — are being sold in about 300 Florida stores.
The surprising results -- which included phrases like "best before," "sell by" or "use by" on food items -- showed that the country's largest grocer had a problem.
"They were being date labeled 47 different ways," said Frank Yiannas, the retailer's vice president of food safety. "Every time we say that, people are in awe. There were literally 47 different ways."
Labels, and the confusion they create for consumers who often throw out nonperishable food that is still safe to eat simply because of the date on the product, has been identified as a leading cause of food waste in the United States. So is the practice of disregarding "ugly" produce, fruits and vegetables that don't make it to store shelves mostly because of cosmetic imperfections.
Wal-Mart has been working on ways to tackle both issues, announcing campaigns to sell imperfect apples in some Florida stores and ugly potatoes in stores in southwest Arkansas, Texas and Oklahoma. The retailer also has standardized the language on date labels, which is now a requirement for its Great Value items.
JoAnne Berkenkamp, a senior advocate for food and agriculture at the Natural Resources Defense Council, estimated that as much as 40 percent of the U.S. food supply is never eaten and that the economic value of that wasted food is $218 billion annually. So the efforts of retailers like Wal-Mart to understand and address the problem can have a large impact.
"Retailers are a critical point of interface between our food and those who are purchasing food on a day-to-day basis," Berkenkamp said. "So retailers play an important part in offering foods like imperfect produce that gives customers more choice about what they're eating and also educating consumers about date labels on food and what they do and don't mean."
Yiannas said the date-label issue first grabbed Wal-Mart's attention three years ago, when the Natural Resources Defense Council and Harvard Food Law and Policy Clinic published a report called "The Dating Game: How Confusing Food Date Labels Lead to Food Waste in America."
The report addressed the reasons date labels were designed -- to indicate freshness, not whether a product was safe to eat. It also identified some of the reasons for consumer confusion, including the lack of binding federal standards and inconsistent labeling.
In addition, the report recommended ways to address the issue, including the need to educate consumers and the need for a standard, clear language for quality-based labels.
Yiannas said the report prompted Wal-Mart to dive into the topic. The company worked with other researchers to publish a paper in 2014, which came to the conclusion that date labels needed to be standardized.
The company then studied the labels in its own stores and discovered the large number of phrases used by its private-label suppliers. Wal-Mart's next step, according to Yiannas, was to poll consumers to find out which label was least confusing. The answer was determined as: "Best if used by."
"We're comforted by the fact that there are other surveys that have come to the same conclusion," Yiannas said. "For American consumers, it is clear that's the terminology or language that is clearest."
With a solution in hand, Wal-Mart then went about informing its Best Value suppliers that they needed to change the language on their date labels to "best if used by" for nonperishable items.
Yiannas said that as of late last month nearly all of the private-label suppliers had complied. The same language also has been extended to food items that are labeled in Wal-Mart stores.
Getting its suppliers to change was the first challenge. Yiannas said continuing to educate consumers about the meaning of date labels will be key in reducing the amount of edible food that is thrown away.
So will Wal-Mart's continued work to help lead the discussion in advocating industry-wide standards, according to Emily Broad Leib, director of the Harvard Food Law and Policy Clinic.
"Before Wal-Mart moved on this, it was really easy for companies to say, 'It's too hard to standardize labels,'" Broad Leib said.
"I think they have so much power to make change. More so than any other company," Broad Leib added.
Wal-Mart's scale and influence could be influential in other ways.
Berkenkamp said one-sixth of all wasted food in the United States is estimated to be fruits and vegetables that never make it off the farm. The reasons for that are numerous and include cosmetic imperfections that are often weather-related.
While the produce may look odd or undersized, nothing is wrong with the nutrition value or taste. It simply doesn't fit the size and appearance deemed suitable for store shelves.
"We tend to buy with our eyes," Berkenkamp said. "We come to expect that fruits and vegetables are all uniform. They're a consistent size, shape and color, and everything on the shelf will look perfect. Unfortunately, our buying habits aren't very well synchronized with what nature actually produces."
Wal-Mart spokesman John Forrest Ales said the retailer does repurpose produce that doesn't fit its shelf standards for other products like potato chips, pies, jams or baked goods. But recently, the retailer has worked with some of its suppliers to begin testing the popularity of ugly produce in stores.
Wal-Mart announced last month that it would sell Washington-grown "I'm Perfect" apples in about 300 Florida stores. It follows another pilot program in which 400 stores in Arkansas, Oklahoma and Texas sold odd-shaped potatoes called "Spuglies." The products are offered at a discounted prices, and there's no guarantee of a steady supply.
Other U.S. grocers like Giant Eagle and Whole Foods previously began selling imperfect produce in selected stores around the country. French supermarket chain Intermarche also has had success with its "inglorious" fruits and vegetables, according to Berkenkamp.
Ales said Wal-Mart U.S. has learned plenty from Asda, its United Kingdom grocery chain. The company sells "wonky veg" boxes -- a variety of mixed vegetables -- in stores.
"U.K. customers are more inclined to just go buy a box of mixed veg and take it home," Ales said. "Here, we're very specific. We shop a little differently."
Jordan Figueiredo, a food waste activist and founder of the "Ugly Fruit and Veg" campaign, thinks U.S. consumers are willing to buy the misshapen produce if it is available in grocery stores.
He said Wal-Mart has taken a nice step by offering apples in Florida and potatoes in the three states. But Figueiredo believes the retailer can do more by committing to consistently offer different types of produce year-round.
That's why Figueiredo helped organize a Change.org petition that received more than 140,000 signatures, which he delivered to Wal-Mart's home office late last month. Figueiredo met with Wal-Mart officials to discuss food waste but said he left without hearing anything concrete about the retailer's long-term plans.
"With 4,500 stores ... just by starting a program and committing to working on it, they can change everything," Figueiredo said.
Broad Leib, who has worked with Wal-Mart in its efforts, believes the retailer will continue with what she called the "very first step of a long journey." Yiannas agreed and said food waste will remain an issue of growing importance as the population continues to rise. He said Wal-Mart will continue to evaluate potential solutions.
"I think there's still a lot of opportunities along the farm to fork continuum to further reduce food waste," Yiannas said. "I expect that Wal-Mart will be an important stakeholder in that conversation."
SundayMonday Business on 08/07/2016