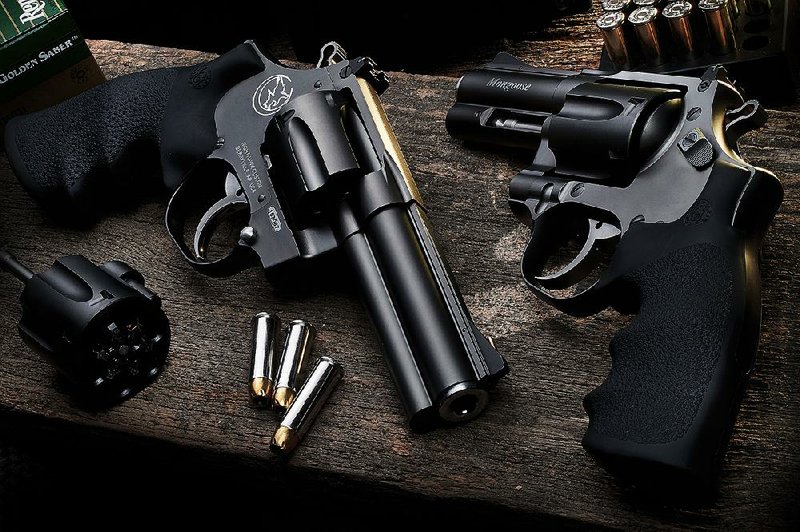 Berryville-based Nighthawk signed a deal to distribute high-end revolvers made by Korth Germany.
BERRYVILLE — Firearms-maker Nighthawk Custom has struck a deal to distribute high-end revolvers built by Korth Germany GmbH.
In January, the two companies hashed out the details of the deal at the Shooting, Hunting and Outdoor Trade Show, or SHOT Show, in Las Vegas and finalized the terms recently in Germany. At first, Nighthawk will sell three of Korth's revolver models in the U.S., with Nighthawk expecting its first shipment of guns this month or next.
Korth's Skyhawk is a 9mm, small-frame revolver designed for concealed carry, available with a 2-inch or 3-inch barrel with a starting price tag of $1,699. The Mongoose is chambered in .357 Magnum, will be available in 4-inch to 6-inch barrel lengths and sells for $3,499 out of the box. The Super Sport is also chambered in.357 Magnum, comes with a 6-inch barrel designed for competition or hunting and starts at $4,799.
"These will be Korth-built with a Nighthawk influence," said Travis Noteboom, vice president of sales and marketing at Nighthawk, a locally owned gun manufacturer in Berryville. "The actions of these guns is like nothing built in the U.S. It's like a Swiss watch."
Ashley Hlebinsky, the Robert W. Woodruff curator of Cody Firearms Museum in Wyoming, said that while she couldn't comment on Korth pistols specifically, European firearms in general, from pistols to rifles and shotguns, have a time-tested lineage that some American consumers find alluring and desirable.
"Germany has been making really good guns for a really long time," she said.
All the Korth revolvers Nighthawk will sell have laser-etched Nighthawk logos with parts machined from billet steel and aluminum. The handguns can be customized with a variety of options including an additional 9mm cylinder for the .357 Magnum models. The revolvers will be sold directly through Nighthawk and through Nighthawk's network of authorized dealers.
Plans are for Nighthawk to receive about 100 guns a month with the ability to go up to 200 monthly. Noteboom said that as of early August there were nearly 400 customers on the waiting list for a Korth revolver.
According to a report from market research group IBIS World released in January, consumer anxiety concerning further gun-control legislation will likely continue and result in a 5.1 percent jump in sales this year. Over the next five years, the report predicts an eventual normalization of consumer demand and 2.8 percent annual sales growth to $18.2 billion by 2021.
Gun and ammunition sales surged in 2013 after gun owners grew concerned about more firearms restrictions after several mass shootings, but sales cooled in 2014, when gun-makers increased production, and eventual oversupply saturated the market. Sales picked up dramatically in November after a terrorist attack in Paris killed 130 people, and mass shootings in the U.S. and ambush attacks against police continued into 2016.
The adjusted number of National Instant Criminal Background Checks for July stood at 1.2 million, an increase of nearly 28 percent when compared with July of 2015 and the most checks in July on record. The checks are commonly considered precursors to firearms sales, but there is not a one-to-one correlation between checks and sales. The data was collected by the National Shooting Sports Foundation, an industry trade group.
Korth Germany GmbH is a family-owned company with more than 50 years of experience as one of Europe's top gun-makers, according to the company website. Mark Stone, CEO and owner of Nighthawk Custom, said he just clicked with the owners of Korth, noting they were men of faith who were dedicated to a family-owned business that was building a quality product.
"They have the same commitment," Stone said. "It was a perfect match."
The Firearms and Ammunition Industry Economic Impact Report, produced by the National Shooting Sports Foundation, counted more than 2,600 jobs in Arkansas directly attributed to the firearms and ammunition industry in 2015, with total wages of $116.6 million.
In March, New Hampshire-based firearms-maker SIG Sauer Inc. said it will centralize all its ammo production at its new plant in Jacksonville scheduled to open by the end of the year. The company will employ 50 people during the relocation phase and expects to hire more workers later.
In January, Remington Outdoor Co. said it would add more than 80 jobs at its Lonoke plant as part of a $12 million expansion. Madison, N.C.-based Remington began production in Lonoke in 1969 and employs about 1,200 at its Arkansas plant. It invested $32 million upgrading the plant in 2013.
Nighthawk employs 63 workers and has been building custom 1911-style pistols and other custom firearms for more than 12 years. A single gunsmith is responsible for assembling each weapon, and when satisfied with the results, the gunsmith signs the pistol with an individualized stamp.
Print Headline: State's Nighthawk in deal to distribute pricey German guns
Sponsor Content