One of two law enforcement officers shot while responding to a call in western Arkansas has died, Gov. Asa Hutchinson confirmed Wednesday afternoon.
Sebastian County sheriff's deputy Bill Cooper and Hackett Police Chief Darrell Spells were hit shortly before 7:20 a.m. outside a home in the 4700 block of Arkansas 253, which is between Greenwood and Midland, according to authorities.
In a statement shortly before 3 p.m., Hutchinson said Cooper died of injuries sustained in the shooting, offering condolences to his family and the law enforcement community.
"I am deeply saddened by the news that Sebastian County sheriff's deputy Bill Cooper has passed away after being shot in the line of duty this morning," Hutchinson said in a statement. "Today's shooting incident, which also resulted in injuries to Hackett Chief of Police Darrell Spells, tragically illustrates the dangers our law enforcement officers face each and every day to keep us safe."
Spells was released from a local hospital later in the morning and is expected to be fine, a Hackett Police Department spokesman said.
Pevehouse told the Arkansas Democrat-Gazette that the two were hit while responding to an unspecified call for service. He said the shooter, identified as 34-year-old Billy Jones, then barricaded himself in the residence for several hours.
Sheriff Bill Hollenbeck said Jones wanted to cause a "ruckus" ahead of a court appearance.
The sheriff said Jones was due in a Fort Smith courtroom Wednesday for a hearing on whether a previous suspended sentence should be revoked. Court records show he has had a drug conviction along with a handful of minor charges.
Authorities said the injured officers went to the home, about 6 miles from the Oklahoma border, after Jones pointed a weapon at his father, who called 911.
Law enforcement surrounded the home and the SWAT team was on scene as authorities attempted to communicate with Jones throughout the morning. He was taken into custody around noon.
Cooper had been an employee of the Sebastian County sheriff's office since 2001. He also worked for five years with the Fort Smith Police Department and served with the U.S. Marine Corps.
"We ask that you continue to pray for his family, friends and our department during this difficult time. Corporal Cooper will be deeply missed by all that knew him," the sheriff's office said in a statement.
James Markward, who lives nearby, said he heard commotion early Wednesday morning in the area, which is about 115 miles west of Little Rock.
"It woke me up this morning, the gunshots. Of course I didn't know what was going on," the 72-year-old told The Associated Press in telephone interview. "My neighbor called me and asked if I was shooting, and I said 'No, not me.'"
Markward said the shooting suspect once helped him split wood, but said he hadn't seen the man in a few years.
"As far as I know, he was all right," he said.
Additional details of the shooting haven't been released.
Arkansas State Police spokesman Bill Sadler said his agency is assisting, but he referred all questions to Sebastian County authorities.
Check back for updates on this developing story and read Thursday's Democrat-Gazette for full details.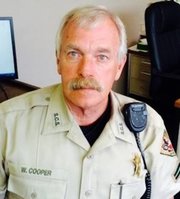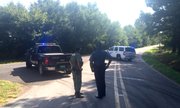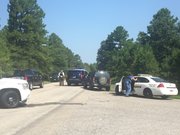 The Associated Press, Arkansas Online reporter Brandon Riddle and Democrat-Gazette reporter Dave Hughes contributed to this story.