Kim Rhode stood at the base of the Olympic podium, unsure of what to do with her hands. She tugged at the bottom of her shirt, adjusted the sleeve, dropped her arms to the sides.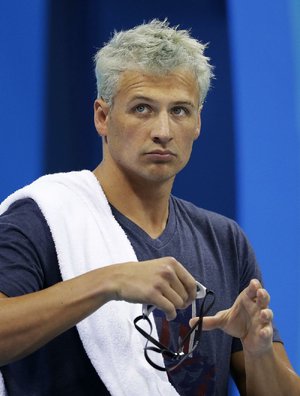 Photo by Michael Sohn / AP Photo
United States' Ryan Lochte prepares before a men's 4x200-meter freestyle heat during the swimming competitions at the 2016 Summer Olympics, Tuesday, Aug. 9, 2016, in Rio de Janeiro, Brazil.
Scanning the crowd, she locked onto a mop-haired boy sitting on a man's shoulders, waving wildly at her. A huge smile flashed across Rhode's face as she waved back.
Italian shooter Diana Bacosi had gold. Rhode had something more precious: Her son, Carter, there watching as she made Olympic history.
Rhode, 37, captured bronze in women's skeet at the Rio de Janeiro Games on Friday, becoming the first woman and second athlete overall to earn an individual medal in six consecutive Olympics.
"Just very emotional, to have my son up there watching me and hearing him yell, 'Mommy.' It's truly amazing," Rhode said, eyes welling as she spoke.
Rhode joins Italian luger Armin Zoeggeler as the only athletes to earn medals in six consecutive Olympics. Her six medals are most all-time for a female shooter, and she is one of five athletes to earn a medal in six different Olympics. She won gold medals in double trap at the 1996 Atlanta Games and in 2004 at Athens, and in skeet at the 2012 London Games. She won a silver in skeet at Beijing in 2008 and a bronze in double trap at Sydney in 2000.
"Kimberly is great; she is the best women's shooter," said Italian shooter Chiara Cainero, who won the silver medal. "It was an honor to be here when she made history."
Rhode is already planning to compete at the 2020 Olympics in Tokyo, saying the excitement keeps her going.
"Every emotion hits you at once," Rhode said. "You want to run, scream, cry and you just don't know which one to do first. It doesn't matter if it's the gold, silver or the bronze. It's the journey and my journey this time was very, very challenging and as you can tell, very emotional. I'm still emotional."
Not easy being green
Goodbye green. It's back to clear water in the pool at the Maria Lenk Aquatics Center in Rio, allowing synchronized swimmers to see underwater on the first day of Olympic competition.
Officials completed pumping nearly 1 million gallons of clean water into the pool used for synchro with little time to spare before Sunday's free routine preliminary began. They had raced to drain green-tinged water out of the pool overnight at a venue that has embarrassed local organizers.
The massive undertaking was necessary to ensure clear water for both judges and competitors, who spend much of their time underwater during synchronized swimming.
"At last, this is real water," Natalia Ishchenko of Russia said through a translator. "The visibility is good, not ideal, but compared to before, at least the water is a normal temperature."
The water problems had limited the swimmers to just one practice session in the pool when the water was unusually cold.
Later Sunday, the venue's diving pool hosted the women's 3-meter springboard final.
The green water in that pool wasn't changed. It turned a dark green shade last Tuesday and the larger pool at Maria Lenk began to turn the same color the following day.
"It doesn't make too much difference if the water is blue or green, but I was a little bit worried about some sanitary conditions," said bronze medalist Tania Cagnotto of Italy. "I hope we will be all OK and I hope they can fix it soon."
Lofty goal
American swimmer Ryan Lochte has spent most of his Olympic career in the shadow of -- or at least sharing the spotlight with -- teammate Michael Phelps.
Phelps, 31, has 23 gold medals. Lochte, 32, has six. According to Sports Illustrated, Phelps is 4-1 all-time in finals against Lochte, with the only loss coming in the 400-meter individual medley in 2012 in London. In two of those races won by Phelps, Lochte earned the silver.
Lochte said he also embraces the challenge of swimming against Phelps.
"I love a challenge," Lochte told NBC. "That's why I do the events that I do, and going against him is a challenge.
But what if Phelps hadn't been around?
"My career would definitely be different," Lochte said. "I guess you would say I'd be like the Michael Phelps of swimming if he wasn't there."
Sports quiz
Who was the last person to win the 100 meters before Jamaican sprinter Usain Bolt?
Answer
American Justin Gatlin won the 100-meter gold at the 2004 Olympics in Athens.
Sports on 08/16/2016