Since leaving the White House, former President Bill Clinton and Democratic presidential nominee Hillary Clinton have given millions of dollars to charity, with much of the money going to nonprofit groups across Arkansas.
FULL ELECTION COVERAGE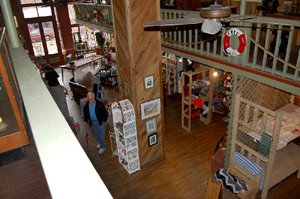 Photo by AP file photo
The Calico Rock Museum in Izard County was able to make renovations, and provide meals and educational programs for area students with a $5,000 donation from the Clinton Family Foundation.
The Clinton Family Foundation is based in Chappaqua, N.Y., the Westchester County hamlet where the Clintons have had a home since 1999.
But its largess benefits a number of Natural State organizations, according to paperwork filed with the Internal Revenue Service.
The forms list 15 Arkansas groups that were beneficiaries in 2014, receiving $2.3 million. Forty-nine non-Arkansas entities received gifts totaling $1.5 million.
The 2015 forms have not yet been released.
Some of the programs receiving money bear the Clinton name.
The largest donation, nearly $1.9 million, was sent to the William J. Clinton Foundation on President Clinton Avenue in Little Rock, according to the foundation's paperwork.
Three other Arkansas groups received six-figure checks: $125,000 for the arts-related Thea Foundation in North Little Rock; $100,000 for the Arkansas Children's Hospital Foundation in Little Rock; and $100,000 for the University of Arkansas' Clinton School of Public Service in Little Rock.
Others got smaller donations: $50,000 for Thrive, a Helena-West Helena-based nonprofit focused on economic and community development; $25,000 for the Arkansas Single Parent Scholarship Fund in Springdale; and $10,000 for Home Instruction for Parents of Preschool Youngsters (or HIPPY) USA in Little Rock.
The Clinton Birthplace Foundation in Hope received $5,000.
The Clinton Family Foundation's nearly $3.8 million in gifts came in a year when the Clintons reported income of about $27.9 million.
In 2015, with the family focusing its time and energy on Hillary Clinton's presidential campaign, the Clintons' income dropped to $10.6 million, according to joint tax returns released by the campaign. The list of charities they supported last year is not yet available.
In 2014, the Clintons had long ties to many of the groups that they assisted. Hillary Clinton served on the Children's Hospital board when she was the state's first lady. She also helped launch HIPPY in Arkansas.
In other cases, the organization is run by or affiliated with longtime friends. Thrive was co-founded by Will Staley, whose mother, Carolyn Staley, went to high school in Hot Springs with Bill Clinton.
The Thea Foundation is led by Paul Leopoulos, who has known Bill Clinton since grade school. The organization, which promotes arts education and raises money for scholarships, honors the memory of Leopoulos' daughter, Thea Kay Leopoulos, who died in a car accident at age 17.
The Rose Hill Cemetery in Hope, where Bill Clinton's mother and biological father are buried, received $2,500. The NAACP of Hot Springs was given $1,000.
The community park in Patmos, 10 miles south of Hope, also received $1,000. It's the latest in a series of gifts from the Clintons to the community.
"We've received money from them I think three times altogether," said Randy Peters, one of the park's longtime backers.
George Frazier, a longtime Clinton friend, helped establish the park on the site of an old burned-down schoolhouse, and he sought out the Clintons' assistance.
The president helped the town buy a swing set in 2009, if Peters' memory is correct, and Clinton kept sending money, even after Frazier's death in 2013.
As far as Peters knows, Clinton has never seen the playground that he helped pay for.
But the money was put to good use, he said.
"We have a nice little park now, if you're ever down this way. We're real proud of it," Peters said.
The Clintons' generosity has also made a difference in Phillips County.
A nonprofit there says the assistance has been pivotal.
"To be honest, it's kept us afloat," said Terrance Clark, one of the Thrive co-founders.
Formally launched in 2009, Thrive organized a monthly street fair, started a business incubator, inaugurated an artists-in-residence program and opened a design studio.
The former president has never visited the Thrive headquarters, but he's been a faithful contributor, Clark said.
"The Clintons have been instrumental in helping us get going," he said, adding, "I won't have anybody bad-mouthing the Clintons and the foundations because ... they're doing good things to help people."
Back at the Thea Foundation in North Little Rock, Leopoulos said he's been able to provide more than $2 million in scholarships to students because of Bill Clinton's longtime backing.
The money helps pay for art supplies that are distributed to classrooms across the state.
"The creative materials go to kids from Jonesboro to Texarkana, from Bentonville to Eudora," Leopoulos said.
The ex-president not only gives money, but also helps to host the group's annual fundraiser.
"One year, he came when he had like a 102-degree fever," Leopoulos said. "I said, 'Don't come, you're sick,' but he said, 'No, I've got to help you.'"
Bill Clinton, Leopoulos said, exhibits generosity as well as empathy. "I've known him for over 60 years now, and he gets up every day worrying about people. They used to make fun of him in the papers when he said, 'I feel your pain,' but he really does, [and] he acts on it. ... I mean, he really cares about people."
The Clintons' donations touch every part of the state, but much of it goes to central Arkansas.
A spokesman for Arkansas Children's Hospital declined to discuss the family's $100,000 gift but said the Clintons "have a long history of service and support for our institution."
The list of beneficiaries includes three other Little Rock-based groups: $5,000 for The Arkansas Community Foundation; $1,000 for the Arkansas Repertory Theatre and $5,000 for the Arkansas Foodbank.
"They've been a major giver to us over the years," said Foodbank chief executive officer Rhonda Sanders. "Their roots are here, President Clinton's roots are here, and he's always had an interest in feeding programs. ... They've been good to us."
Farther north, toward the Missouri border, Clinton funds are also making a difference, recipients say.
The leaders of the Calico Rock Museum in Izard County say they're also grateful that the Clintons helped them.
The Rev. Ed Matthews, Hillary Clinton's former pastor at First United Methodist Church in Little Rock, is from Calico Rock, and he wrote a letter to the Clintons about the project.
Shortly thereafter, a check for $5,000 arrived in the mail.
"I know it sounds like a small amount of money, but it was a huge thing for Calico Rock," said the museum's chairman, Steven Mitchell.
Museum officials used part of the money to provide meals and educational programs for area students. They used the rest to help renovate a building. Inmates helped provide the labor.
The result: a new restaurant called The Printing Press Cafe & Ice Cream Parlor.
"It's kind of an upscale cafe that serves soup and salad and sandwiches," Mitchell said.
Museum attendance has climbed since the luncheon spot opened, and businesses across town have benefited, he said.
Clinton hasn't stopped by for a meal, and the museum downplays Clinton's involvement.
"It's not something we publicize dramatically because you don't want everybody and their brother to ask them for money, but we're very, very proud of the gift he gave," Mitchell said.
The Clinton School of Public Service is also proud of its ties to the Clintons and thankful for the money.
Clinton's $100,000 gift paid for scholarships and helped fund service projects around the world, according to Skip Rutherford, the school's dean and a longtime Clinton friend.
The Clintons' philanthropic effort in Arkansas "doesn't surprise me at all," Rutherford said.
"They've always been generous with their time. They've always been generous with their talent. They've always been generous with others," he said. "We're just fortunate that they care so deeply about Arkansas and our programs here."
SundayMonday on 08/21/2016