Democrats may be underdogs, but they will fight hard to carry the Natural State in November, the party's vice presidential nominee said Tuesday.
Speaking at a Democratic National Committee campaign office in Little Rock, U.S. Sen. Tim Kaine said he's aware of voter surveys showing Republican presidential nominee Donald Trump far ahead of Hillary Clinton.
"In Arkansas ... the polling would suggest it's an uphill push for us, but you've got to be mindful of the fact that this is a state where everybody thinks they have a close personal relationship with the Clintons," Kaine said.
Kaine, a former Virginia governor and DNC chairman, said the Clintons' decades-long ties to Arkansas could make a difference on Election Day.
Before she was the nation's first lady, secretary of state and a U.S. senator from New York, Hillary Clinton served as Arkansas' first lady, living in the Governor's Mansion, working at the Rose Law Firm and teaching law at the University of Arkansas in Fayetteville.
She spent time in every corner of the state and fostered lasting friendships.
Some of those who greeted Kaine on Tuesday said they've known the Clintons since the 1970s.
"This is a state where person-to-person contact matters and people know Hillary Clinton," he said. "We just feel like if we make our case and we explain, 'Here's what we want to do and here's what the other guys want to do,' we've got a chance. So we're not leaving anybody behind. We're making our case wherever we can."
A few dozen campaign workers gathered at the campaign office in the Tanglewood Shopping Center on Cantrell Road to welcome Kaine on Tuesday afternoon. He spoke for roughly 15 minutes, offering encouragement and answering questions -- in English as well as Spanish. Afterward, he spent another eight minutes shaking hands and posing for pictures.
Wrapping up his visit, he climbed into a silver Chevrolet Suburban and headed to the Chenal Valley area for a fundraiser at the home of Mike and Deborah Roberts.
The cost to attend ranged from $2,700 to $50,000 per person, according to an invitation.
Later Tuesday, he was to attend a fundraising dinner in Nashville, Tenn.
During his Little Rock stop, Kaine reminisced about growing up in Kansas City and spring breaks spent canoeing on Arkansas rivers.
Back then, there weren't many Republicans south of the Missouri state line.
When Bill Clinton ran for president in 1992, Arkansas was one of the most-reliably Democratic states in the country. A quarter-century later, the state has shifted from blue to red.
"Federal elections have been tougher here in recent years. Presidential elections [have been] tougher," Kaine said.
But Democrats can still be competitive, he argued, citing former Gov. Mike Beebe's victories in 2006 and 2010.
He also held out the possibility that the political map would evolve.
He pointed to Virginia, saying he lives "in a state that everybody thought was super red and could never go Democratic."
Between 1952 and 2004, only one Democrat -- Lyndon Baines Johnson -- had succeeded in carrying Old Dominion in the race for president. But Barack Obama carried the state in 2008 and 2012 and polls show Hillary Clinton poised to win in November.
Many of the people in the audience said they hadn't realized that Kaine would be visiting the campaign offices.
Several had shown up to volunteer for the campaign phone bank. Others had stopped by to drop off checks.
Phyllis Crook of Little Rock said she was calling potential Clinton backers when word came that a VIP would be stopping by.
"I looked up and, sure enough, Mr. Kaine came in," she said. "I was just tickled and I just loved it. ... It made my week."
The candidate made a good impression, she said.
"He is very laid back. He acts like a normal human being. He respects people. ... He's very friendly," she said.
Former Little Rock School Board member Lucy Abraham, who greeted Kaine enthusiastically, gave him high marks. "He's just dynamite and I'm so glad he's with Hillary," she said. "I'm excited and thrilled that I got to meet him."
Jane Wilson said Kaine is very personable and has a "good grasp of the issues."
"He knows exactly what he's talking about and who he's talking to. [He's] really an asset to the ticket," she added.
A Section on 08/24/2016
FULL ELECTION COVERAGE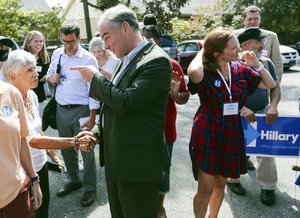 Photo by Benjamin Krain
Democratic vice presidential candidate Tim Kaine is greeted by Lucy Abraham as he visits with Hillary Clinton campaign workers and volunteers Tuesday at the Democratic National Committee campaign office at Tanglewood Shopping Center in Little Rock. Kaine, who later attended a fundraiser in Chenal Valley, said Democrats will fight hard to carry Arkansas in November.