EUREKA SPRINGS -- A 450-pound tiger named Izzy was the first patient at the new veterinary hospital at Turpentine Creek Wildlife Refuge.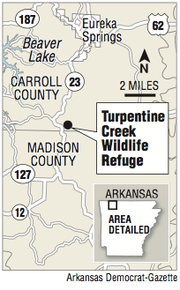 On Wednesday, veterinarian Anne Brenneke operated on Izzy's front paw to fix a botched declawing.
The original declawing operation probably was done 13 years ago, during the first few weeks of Izzy's life, said Scott Smith, vice president of the wildlife refuge in Carroll County.
Brenneke had traveled to Eureka Springs from St. Francis Veterinary Clinic in Green Forest, 28 miles to the east along U.S. 62. Previously, the animals were hauled to Green Forest for operations. Sometimes, they had to be sedated before they left and again when they got there.
Now, the vets will go to the cats.
"This is easier on the cats, and it's safer for the public," Scott Smith said.
"We're not out there on the highway driving around with tigers and bears," said Tanya Smith, president and founder of Turpentine Creek. (She's married to Scott.)
Besides having 82 big cats -- including 52 tigers -- Turpentine Creek has six black bears and a grizzly bear. The refuge will be getting two more black bears Saturday.
Izzy arrived at Turpentine Creek five years ago from a home north of Tulsa.
The Jackson Memorial Veterinary Hospital at Turpentine Creek opened this month. Jackson is Tanya Smith's maiden name.
About $560,000 was raised through donations to build the 4,800-square-foot hospital. The Smiths are trying to raise another $50,000 to finish it out. The fundraising started 2½ years ago. Construction started in February 2015.
The hospital is made for big animals. The operating table has an electric-powered hydraulic lift underneath so the animals can be easily elevated to the level of a vet's elbows.
"The fact that we can just hit a button is pretty nice," Brenneke said. "Everything they have is custom-built for 400-pound animals."
Previously, veterinarians at the clinic in Green Forest would have to push two or three tables together to sprawl a big cat out for an operation.
"There just wasn't enough room," Brenneke said.
Dr. Ron Eby, who owns the Green Forest clinic, also will be operating on animals at Turpentine Creek.
Brenneke said they hope to visit the wildlife refuge once or twice a month for routine medical checks on the animals.
"All the cats are getting pretty old, so they need some maintenance care and things like that," she said.
Brenneke said it's fun work, and unusual.
When asked how it differs from operating on a house cat, she said, "It's a lot more dangerous, I would say, but the anatomy is really similar."
Brenneke said the vital statistics of big animals are closely monitored while they're sedated for an operation. If they show any signs of waking up, they receive more anesthesia. Gas anesthesia is the safest for them, she said.
Brenneke said Izzy's operation went well, and the tiger was returned to its cage shortly afterward.
"She was already waking up by the time we got her up there," Brenneke said.
She said Izzy may need a similar operation on a back foot at some point.
Izzy's operation was live-streamed on the refuge's Facebook page. Veterinarians around the country will be able to watch operations at Turpentine Creek through video technology the hospital plans to install. Scott Smith said he hopes to build relationships with veterinary schools to provide them with videos of operations.
Scott Smith said hiring a full-time veterinarian is in the refuge's plans, but that probably won't happen before 2018.
He said 400 people have been through the refuge's internship program. The refuge normally has 15 interns at a time, and about that many observed and assisted with Wednesday's operation on Izzy.
Scott Smith said he thinks the big cats understand that they benefit in the long run from operations. He said some of them aren't friendly beforehand but will rub against fences afterward so people can pet them.
"Some do show gratitude almost like they know we're trying to help them," he said.
In 1978, when she was 11 years old and living in Texas, Tanya Smith's family acquired a lion named Bum, according to Turpentine Creek's website, turpentinecreek.org. Four years later, they got another lion, named Sheila. The lions lived in the backyard.
The family moved to Hope in 1980, with Bum and Sheila in tow.
In December 1991, a breeder and black-market big-cat dealer showed up on the Jackson family's doorstep with 42 big cats crammed into three cattle trailers.
"She was on the run from the law in Texas and desperately needed to find a home for the cats," according to the website.
A friend of the Jackson family lived on a ranch in Eureka Springs and offered temporary refuge for the cats. Later, the property was purchased for a permanent home, which became Turpentine Creek Wildlife Refuge.
Metro on 08/28/2016