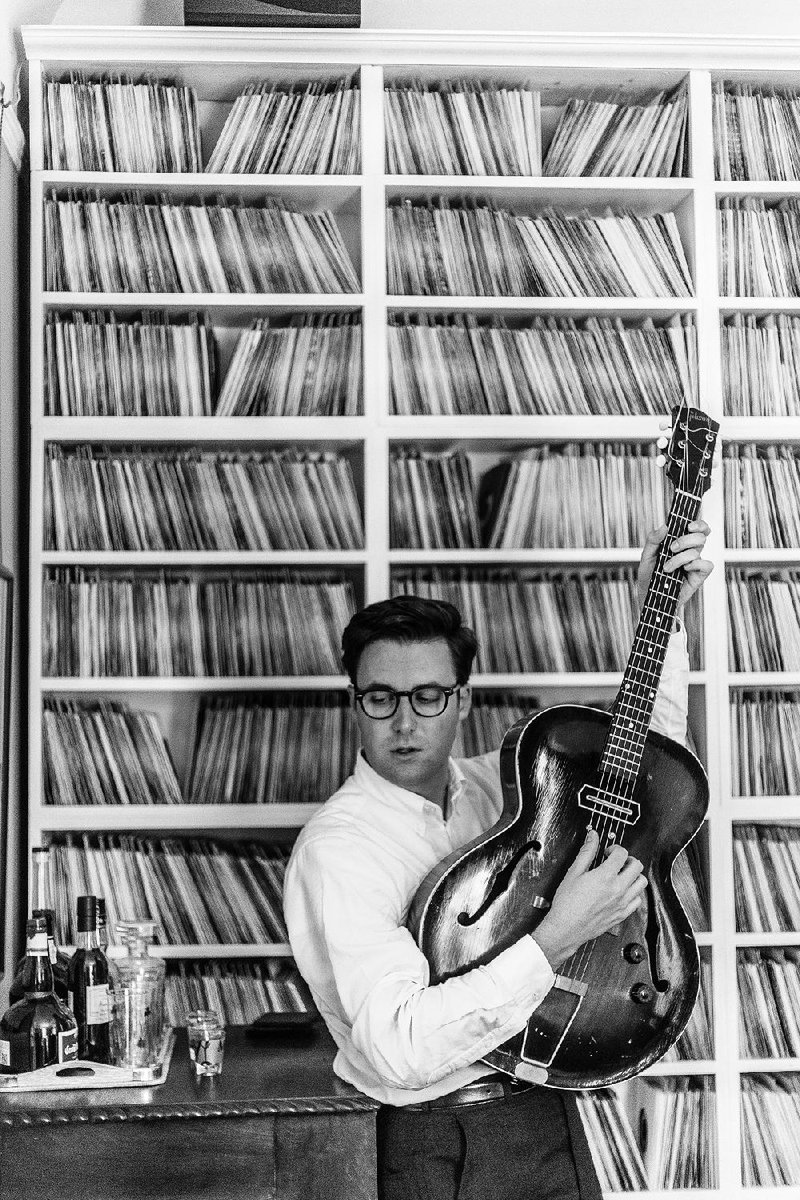 San Francisco soul crooner Nick Waterhouse will play Friday at Stickyz Rock 'n' Roll Chicken Shack in Little Rock.
Nick Waterhouse is shopping at Dog-Eared Books, one of his favorite bookstores in his adopted hometown of San Francisco. He is looking for reading material before heading out on the tour that will bring him to Stickyz Rock 'n' Roll Chicken Shack for his very first Little Rock show Friday night.
Has he found anything good?
Nick Waterhouse
9 p.m. Friday, Stickyz Rock 'n' Roll Chicken Shack, 107 River Market Ave., Little Rock
Admission: $10 advance, $12 day of show
stickyz.com
(501) 372-7707
"Yeah. Dreamland [The True Tale of America's Opiate Epidemic]," Waterhouse, 30, says during a phone interview that overlaps with his book search. "It's by a journalist, Sam Quinones. I'd read some of his articles. It's pretty fascinating. He started first by investigating the drug trade and followed that to the pill mill industry."
Not that hard-hitting reporting is his only literary preference. He is also in the middle of reading Jennifer Egan's A Visit From the Goon Squad, a music industry-based novel of destruction and redemption.
"I went to school for literature," says Waterhouse, who attended San Francisco State and graduated from the University of East Anglia in Norwich, England, "so I have this habit of having several books running in parallel. I'll read a novel if I want to escape, and I'll read nonfiction to get ideas, and I'm usually reading a ton of articles."
He actually worked in journalism before this music thing took off, and it seems he made the right decision to leave it behind. With an ebullient cocktail of blue-eyed soul and retro cool, Waterhouse's albums, all on Innovative Leisure Records, include 2012's Time's All Gone and 2014's Holly.
His latest, Never Twice, was recorded in October 2015, with mixing done early this year. Capturing that warm, classic tone in the album's production wasn't easy.
"It was like riding a bucking bronco," he says with a chuckle. "I barely made it, man. We cut everything live with the band, but the mixing took a long time. We were doing everything on tape. It was this insane, mobile studio setup where we were driving around with a U-Haul full of gear trying to find tape machines that would accept our tape to mix off of and that had the types of tools I like to use when producing."
The results are worth it. Never Twice is a groovy trip to a place where midcentury design and martinis rule and the music is played on a console hi-fi instead of through earbuds (though, we should add, it still works pretty well through the latter).
"You can make pretty rich stuff without a ton of dough," Waterhouse says. He even got friend and fellow retro-soul hotshot Leon Bridges to contribute vocals on "Katchi," with its "Doo-woppa-doo-wop-shooby-dooby-doo-woppa" intro and bouncy horns.
"We met when he was on his first tour," Waterhouse says. Mutual friends got them together and the pair immediately hit it off. "He invited me back to his home in Fort Worth and we wrote some tunes and 'Katchi' was one of them. It was probably the least sophisticated, but it was also the most fun."
It's just one highlight among the 10 tracks on Never Twice. The smoky, almost Spanish-flavored "Stanyan Street" name checks Van Morrison's "TB Sheets," and the self-explanatory "I Had Some Money (But I Spent It)" is a sly, funny romp.
Waterhouse, who appeared in Vogue modeling with reality star Kendall Jenner, has lived in San Francisco for 12 years now, but grew up in Southern California.
"I grew up as an adult in San Francisco, but I was a teenager in Huntington Beach and Orange County. Those are two really radically different worlds, but I'd say I consider myself a San Franciscan by disposition."
Though his family wasn't particularly musical, he picked up the trumpet when he was about 7 and was strumming the guitar by 12. He played in bands during his teens, but gave it up by the time he went to college.
"I didn't really start playing again until I was 23 or 24. That's when I made my first recordings as myself."
The hipster soul sound he has cultivated isn't an affectation, he says. It's been there since the beginning.
"I figured out when I was learning guitar, the stuff I really liked to play was blues and R&B. That felt natural. When I was trying to learn rock, indie rock -- the stuff that was cool with the kids I grew up around -- I actually found that it was not very rewarding. So, when I was 14 to 15, I was learning Rolling Stones songs and Animals songs and John Lee Hooker songs. It just grew from there."
Weekend on 12/01/2016
Print Headline: Nick Waterhouse brings retro R&B vibe to Stickyz
Sponsor Content