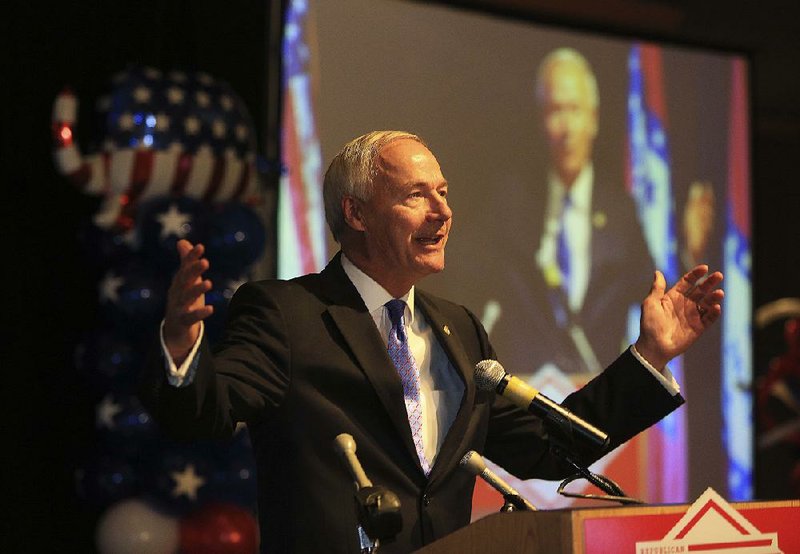 Gov. Asa Hutchinson is shown in this photo from earlier in the month. ( Staton Breidenthal)
WASHINGTON -- Less than a month before the federal waivers of Arkansas' private option are set to expire, state and federal officials are still trying to reach an agreement on how to restructure the state's expanded Medicaid program.
Gov. Asa Hutchinson, on a trip to the nation's capital, met with U.S. Health and Human Services Secretary Sylvia Burwell on Monday in an effort to reach agreement.
Senior staff members on both sides will confer by phone today in an effort to resolve the remaining issues. They agree on two major points and disagree on a third.
The permission is required in order to implement key provisions of Arkansas Works, Hutchinson's revamped version of the private option, the program that subsidizes private insurance coverage for poor Arkansans.
Roughly one in 10 Arkansans -- about 300,000 people -- are enrolled in the existing program.
Waivers for the current system, initially granted when Mike Beebe was governor, are set to expire Dec. 31.
This is the third or fourth time Hutchinson has met with the Cabinet secretary about the waivers, he said in a telephone interview.
"We're very close to reaching an agreement," he added.
Whatever deal is reached, it won't necessarily last long. Hutchinson plans to seek additional waivers after President-elect Donald Trump takes the oath of office.
"Secretary Burwell understands and we've made it clear that we believe that the reforms that they have offered to us are insufficient," he said. "They understand that we'll come back in a Trump administration and ask for more flexibility and additional work requirements and reform efforts."
The Monday afternoon meeting, at the agency's headquarters building southwest of the Capitol, lasted about 45 minutes.
"We're certainly trying to get it wrapped up so everyone knows what's in place for the next year," Hutchinson said.
[EMAIL UPDATES: Sign up for free breaking news alerts and daily emails with top headlines]
The Republican governor wants participants who make more than poverty-level wages to pay for a small portion of their insurance plans. Federal officials are willing to grant a waiver, as long as contributions are capped at 2 percent of income.
A provision allowing the state to refer unemployed beneficiaries to work-training programs is also acceptable, he added.
A key sticking point is a provision that would provide incentives to businesses that provide health insurance to low-wage earners, he said.
The goal is to increase the number of Arkansans who are enrolled in employer-sponsored health insurance plans and decrease the number who get their insurance from the state Medicaid program.
Hutchinson has suggested that Medicaid pick up 75 percent of the costs of these employer-sponsored plans with the employers paying the other 25 percent. (Of the government dollars, roughly 70 percent would come from the federal government; state government would cover the other 30 percent.)
Health and Human Services officials say it might be possible to provide incentives to employers who are not currently offering coverage. They say they don't have the legal authority to offer incentives for employers that are already offering health insurance to their employees.
The U.S. Department of Health and Human Services did not respond to requests for comment sent late Monday via email.
Authorized under the 2010 Patient Protection and Affordable Care Act, the expansion of Arkansas' Medicaid program in 2014 extended eligibility to adults with incomes of up to 138 percent of the federal poverty level: $16,394 for an individual, for instance, or $33,534 for a family of four.
Under the so-called private option, most of those made eligible by the expansion receive the coverage through private plans offered on Arkansas' health insurance exchange.
Medicaid funds pay the enrollees' premiums and provide additional subsidies that reduce or eliminate the enrollees' out-of-pocket costs for medical care.
As of Sept. 30, the state had 301,009 Arkansans enrolled in the private option, while 23,309 other newly eligible adults were being covered under the traditional, fee-for-service Medicaid program because they were considered to be "medically frail," with health needs that private plans typically don't cover.
In a request submitted in June, Arkansas asked Burwell to extend the waiver authorizing the private option through 2021 while making changes that Hutchinson has said would encourage enrollees to stay employed and take responsibility for their health care.
Those changes include charging premiums of $13 a month to enrollees with incomes above the poverty level, providing coverage to some enrollees through subsidized employer plans and offering an extra benefit such as dental coverage as an incentive for enrollees to pay premiums and receive annual wellness exams. Enrollees would also be referred to job training programs.
The changes, which were endorsed by the Legislature during a special session in April, would take effect Jan. 1, when the revamped program would be known as Arkansas Works.
The federal government has been paying the full cost of coverage under expanded Medicaid since 2014, but Arkansas will be responsible for 5 percent of the cost next year.
The state's share will then increase every year until it reaches 10 percent in 2020.
Since its creation in 2013, the private option has received bipartisan approval from a supermajority in both the state House of Representatives and the state Senate.
The program has also received backing from key business leaders. It's also drastically cut the number of nonpaying, indigent, uninsured people who had been flooding the state's emergency rooms.
Randy Zook, president and chief executive officer of the Arkansas State Chamber of Commerce, said the expanded Medicaid program has had "a very positive impact on the state."
"It's made an enormous difference in the financial viability of our rural hospitals, to say nothing of the fact that it's reduced our uninsured by close to half," Zook said. "I'm hopeful that [Hutchinson's] successful in getting the waiver he's requesting because I think it's important to continue that program.
In addition to meeting with Burwell, Hutchinson also spoke on a panel at a post-election event titled "A Meeting to Construct the Peace After the War."
The gathering of key leaders focused on how to move the country forward during the early days of the Trump administration.
Sponsored by a bipartisan group called No Labels, organizers described it as "a first ever bipartisan leaders meeting focused on empowering a new center and forging cooperation in the first 100 days." During the panel, Hutchinson stressed the importance of federal, state and local cooperation when it comes to addressing the country's infrastructure problems.
A Section on 12/06/2016
Print Headline: Nearing Medicaid deal, Hutchinson says in D.C.
Sponsor Content