With the holidays approaching, thoughts of sugarplums -- or, more succinctly, foods we love here in Arkansas -- dance in our heads. The Natural State has more than its share of great holiday dishes you can order or pick up yourself to create the perfect Arkansas meal.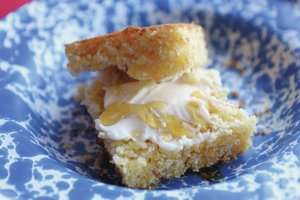 Photo by Courtesy of Kat Robinson
What's an Arkansas meal without cornbread? War Eagle Mill near Rogers offers cornmeal, cornbread and corn muffin mixes to grace your table.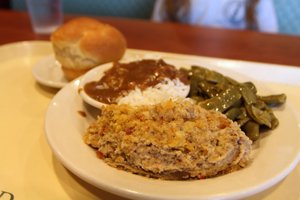 Photo by Courtesy Kat Robinson
In creating a best-of-Arkansas holiday table, Franke's Cafeteria's eggplant casserole has to be among the sides.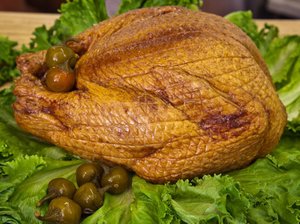 Photo by Courtesy Grav Weldon
Burge's Smoked Turkeys does 90 percent of its smoked meat business during the holidays.
Turkey
The main dish at the table often comes from smokedturkeys.com -- the website for the esteemed Burge's Smoked Turkeys. Alden Burge first started offering smoked turkeys, chickens and hams at football games in Lewisville, Ark., in 1953. He and his family ended up buying the local dairy bar, which is still open as Burge's Drive In today. A second location, Burge's in the Heights, was opened in the 1970s. Smoked turkeys, though, are the hot item during the holidays, and Burge's will ship up to 20,000 packages out -- 90 percent of its smoked meat business -- between the week before Thanksgiving and the week of Christmas. Reserve yours or place your order now: Burge's always ends up running out of the birds before the season's end.
Ham
When you're talking about ham in Arkansas, chances are you're talking about ham from Petit Jean Meats. Each year around the holidays, Petit Jean Meats produces, mails and provides in-store 100,000 bone-in hams and 80,000 boneless hams for the dinner table. Grocery stores throughout Arkansas carry those hams, but if you'd prefer the convenience of having your holiday meat delivered straight to the house, head to petitjeanmeats.com and place your order.
If you're looking for an even smokier ham, you'll want to talk with the folks at Coursey's Smoked Meats in St. Joe. Lynn Coursey started the operation, tying off hams and hanging them in dry goods boxes in a little shed close to the highway. Today, the third, fourth and fifth generations of Courseys still continue to take Petit Jean hams, rub them with a special dry seasoning mix and smoke them again for a "double-Arkansas" flavor. Coursey's has no website, but you can place an order by calling (870) 438-2503.
Sides
Some home cooks may work up their own recipes, but there are few who can capture the magnificence of Franke's Cafeteria's eggplant casserole. The oldest cafeteria in the state, dating back to 1919, offers this dressing of roasted eggplant and tomatoes as a side item and makes it and other entrees and sides available for pickup during the holidays. More information can be found at frankescafeteria.com
The Arkansas Foodbank (arkansasfoodbank.org) offers a fine selection of rice mixes -- with proceeds going to help feed hungry Arkansans. While Holiday Rice brings beauty to the table with a chicken base and red bell pepper pieces, Presidential Parmesan (a substitute for Broccoli Cheese casserole created for President Bill Clinton by Chef Kathy Webb) is a big hit and a great substitute for potatoes on the sideboard.
What's an Arkansas meal without cornbread? War Eagle Mill (wareaglemill.com) offers cornmeal, cornbread and corn muffin mixes to grace your table. The three-story mill on the banks of the War Eagle River near Rogers is a picturesque vision in and of itself, but its all-organic mission means what comes to the table is pure and delicious.
Party food
Christmas isn't just about sit-down dinners. It's also about sharing time with friends at holiday functions. If you're looking for a fantastic way to break the ice, consider bringing tamales from Rhoda's Famous Hot Tamales and Pies in Lake Village. Call ahead to (870) 265-1891 to have yours waiting for pickup -- hot or cold.
Heading to a last minute party? There's nothing quicker for appetizer fare than one of House of Webster's many jams or jellies served over cream cheese with crackers. A longtime mainstay in Rogers, House of Webster (houseofwebster.com) recognizes this and has a few special holiday spreads. My favorite? The Mandarin Orange Pepper Sauce, a cross between marmalade and pepper jelly that has texture, flavor and a little bit of heat.
And don't forget the cheese dip. Dozens, nay hundreds, of different Arkansas restaurants offer the state favorite emulsion of cheese and spices on their menus. Check with the purveyor of your favorite for some to carry home and impress others -- or make your own.
Keep it sweet. As in sweet potato. The orange pies are the perfect combination of a place to celebrate an Arkansas staple and a conveyor of whipped cream. Lindsey's Hospitality House (lindseysbbqnmore.com) in North Little Rock has one of the best in the state, and at $8.50 each it's a great bargain.
Finally, if you're more concerned about breakfast Christmas morning, consider picking up a dozen cinnamon rolls from Calico County (calicocounty.net) in Fort Smith. They go quick this time of year, so be sure to order or call first.
Kat Robinson is a Little Rock-based author and travel writer and expert on Arkansas food. Check out one of her Arkansas travel dining books or visit her website, TieDyeTravels.com, for more stories.
NAN Our Town on 12/08/2016