FAYETTEVILLE -- Harry Jones, 71, a standout on the Razorbacks' National Championship team of 1964 and the first University of Arkansas athlete to appear on the cover of Sports Illustrated, has died.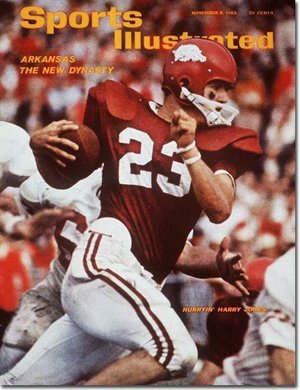 Photo by Sports Illustrated
Former Arkansas Razorback Harry Jones was featured on the cover of the Nov. 8, 1965, issue of Sports Illustrated, in a photo taken during Arkanas' 27-24 victory over Texas
A source close to the family said Jones suffered a heart attack on Sunday morning.
Jones, an offensive backs coach on the University of Pittsburgh's 1976 national championship team, was inducted into the Arkansas Sports Hall of Fame in 2012.
Jones was one of two sophomore starters along with lineman Loyd Phillips on the 1964 team's dominating defense, which ended the regular season with five consecutive shutouts.
Jones, 6-2, 195, from Enid, Okla., returned two interceptions for touchdowns that season as the Razorbacks went 11-0, including a 10-7 victory over Nebraska in the Cotton Bowl, and were crowned National Champion by the Football Writers Association of America.
"He was really a heck of a college football player," said Bill Gray, a starting cornerback in the Razorbacks' 1964 secondary. "One of the best Arkansas has had.
"He was a big, strong, fast back. Harry started out as a safety, but once they made a running back out of him, he was maybe the premier running back in the Southwest Conference at that time, or at least one of them."
Jones picked up the nickname "Light Horse" from the public address announcer at War Memorial Stadium in 1965, and a group called The Rivermen turned him into a folk hero of sorts with a song titled "The Ballad of Light Horse Harry" that received plenty of air play that year.
Former Arkansas head coach Ken Hatfield, a starting cornerback and return specialist on the 1964 team, recalled Jones as a great player who was always encouraging his teammates.
"Harry was a very gifted and talented guy, and such a skilled athlete." Hatfield said.
Jones,who was born in Huntington, W. Va., was recruited by Barry Switzer out of Enid as a three-sport star and signed with the Razorbacks.
He moved to offense in 1965 and led the NCAA with 7.7 yards per carry and made the cover of Sports Illustrated on Nov. 8 that season under the headline "Arkansas: The New Dynasty" in reference to the Razorbacks' winning streak that would reach 22 games before a Cotton Bowl loss to LSU.
Jones' SI cover photo was taken during Arkansas' 27-24 victory over Texas.
"All of a sudden I was on the cover of Sports Illustrated," Jones said in 2012. "It was almost too much. ... And I still have friends call me and say, 'Hey Light Horse.' "
Jones played five years in the NFL after being selected in the first round by the Philadelphia Eagles in the 1967 Draft, but injuries derailed his career. Jones got into coaching and was part of the Pittsburgh Panthers' 1976 national championship team under Coach Johnny Majors. He later worked in the oil industry and had been living in Lowell since 2001.
During an interview for his 2012 induction into the Arkansas Sports Hall of Fame, Jones said he had early signs of dementia. But Hatfield said his recent conversations with Jones had been some of his best, even though his health had declined the past few years.
"I think the world of Harry and I value the time we shared," Hatfield said. "I saw him about three weeks ago and it was one of our best talks, just sharing memories and moments.
"His mind was extremely good. His mind seemed to be clearer then than it had been before."
Funeral arrangements are still pending.
Sports on 12/12/2016