For months, swimbait collectors anxiously awaited Kevin G. Brightwell's bullfrog.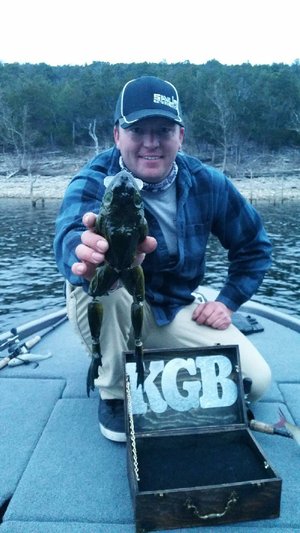 Photo by Courtesy of Kevin G. Brightwell
Kevin G. Brightwell, a Harrison resident who owns KGB Swimbaits, shows off his KGBullfrog. The first KGBullfrog sold Monday on eBay for $1,675.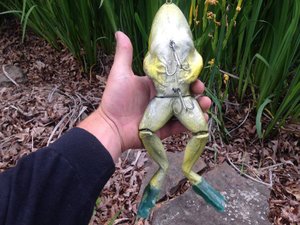 Photo by Courtesy of Kevin G. Brightwell
Kevin Brightwell of Harrison, who owns KGB Swimbaits, and his KGBullfrog. The first KGBullfrog sold Monday on eBay for $1,675.
In August, he took a prototype-in-progress to a premiere event in Los Alamitos, Calif., for Big Bass Dreams, a bass-fishing film series produced by Oliver Ngy.
"I was the only garage-manufacturer there," said Brightwell, 27, of Harrison. "The others were big manufacturing companies."
The KGBullfrog generated so much buzz that Brightwell couldn't decide who would get the first one.
"Everybody was wanting a frog," he said. "I didn't feel comfortable choosing who gets the first frog."
So, on Dec. 9, he put his first bullfrog up for sale on eBay with a starting bid of $100.
The KGBullfrog sold Monday to a collector from Texas for $1,675.
Over that three-day period, there were 63 bids from nine total bidders.
Brightwell said he was a little surprised at the top bid of $1,675.
"The swimbait market already has high-dollar baits coming from Japan pushing $500 retail," he said. "So, a hand-made piece of art made in the U.S. is worth the price to that particular buyer."
Brightwell wouldn't reveal the name of the buyer, who has already paid him for the bullfrog.
"He's going to put it in his collection," Brightwell said. "He's going to fish it a couple of times a year maybe. Then he's going to pass it down to his son. It's more of an art piece to this gentleman, but it's a functional art piece that can actually be used."
Brightwell said he considers himself a fisherman and an artist. He plans to patent his bullfrog.
Brightwell said he posted photos of the prototype on his Facebook page in May, but it was really the California event that got people croaking about this frog.
[EMAIL UPDATES: Sign up for free breaking news alerts + daily newsletters with the day's top headlines]
Between May and December, the joints, color and bill were tweaked, Brightwell said.
According to bassmaster.com, a swimbait is "any of a loose group of lures that emulate baitfish and are frequently characterized by their large size in relation to other bass lures."
Brightwell's bullfrog is 13.5 inches long and weighs 10.9 ounces. It's made from plastic resin and has two saltwater treble hooks hanging from its belly.
Brightwell made the bullfrog in his basement, not his garage.
The KGBullfrog will catch bass, said Brightwell, who regularly fishes the big lakes around the Arkansas-Missouri border -- Beaver, Bull Shoals, Norfork, Table Rock and Taneycomo.
Brightwell said he became addicted to fishing with swimbaits while living in California from 2003 to 2010. Originally from Harrison, Brightwell moved back there in 2010.
Brightwell said he was trying to make a living cutting firewood in July in Arkansas. Money was tight. Since he couldn't afford to buy swimbaits at the time, he decided to make his own.
"They got better and better, and people started wanting them," Brightwell said.
So he started selling his swimbaits on Facebook and Instagram.
In 2012, he started his own company, KGB Swimbaits. (His initials are KGB.) He also works full time as a Harrison firefighter.
The KGBullfrog that sold Monday was his first bullfrog, but it won't be his last. Brightwell plans to make more in the spring. The regular price will be at least $150, he said.
Brightwell said it took some time to get the knee joints just right so the KGBullfrog would look like a real one swimming underwater.
"I've had a lot of people say they expected more action -- they expected the legs to go wild," he said. "But bullfrogs don't swim that way. Bullfrogs don't really have a lot of action when they're swimming."
Brightwell said a lot of research and development went into the KGBullfrog.
"I did profit on this one," he said. "I profited more than I expected."
It has been getting good reviews.
"Hands down, this is the most realistic-looking bullfrog swimbait we've seen!" wrote Justin Hoffman for wideopenspaces.com. He's a freelance outdoor writer who specializes in fishing.
The KGBullfrog's selling price was generating chatter last week on several fishing message boards, including Swimbait Underground.
"The question that remains is at what point does a lure become a work of art?" asked Chris Payne at kayakfishingblog.com. "While anglers everywhere consider lifelike lures to be works of art, the idea of paying more than the price of a nice kayak for one single lure seems a bit out there. Would you fish a lure that cost you $1,700?"
Metro on 12/17/2016