Graham Gordy was in his first play when he was 9. He was supposed to skip off stage swinging a picnic basket that contained a bottle of wine. His swing was vigorous, and the bottle banged across the concrete floor. The audience collectively gasped, anticipating the explosion of glass.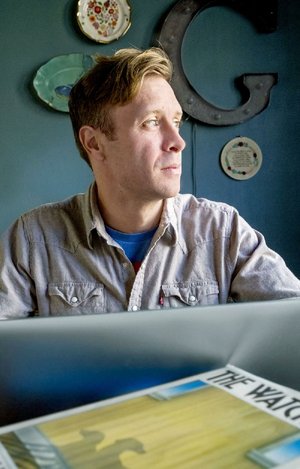 Photo by John Sykes Jr.
"I spent a lot of time thinking that my purpose in this life is to dazzle or entertain or educate people … but I think there's a natural move toward our purposes changing in ways that we obviously can't predict when we're 20 and 25."
SELF PORTRAIT
Graham Gordy
DATE AND PLACE OF BIRTH: Nov. 11, 1975, Conway
FAMILY: wife Amy Gordy and children Lilla and Ike
WHAT I ALWAYS HAVE WITH ME: my phone, keys and a fountain pen
RIGHT NOW I'M WATCHING Atlanta on FX, Fleabag on Amazon.
AT PARTIES PEOPLE ASK about my job and what it's like. And a lot of people tell me their ideas. There's a lot of people out there with movie and TV show ideas.
MY SIGNATURE DRINK: I am fundamentally a beer guy.
A PERFECT DAY: Sleeping in on a Sunday and getting up and going to brunch … a day split between being with the people I love and reading something I love.
ONE WORD TO SUM ME UP: flummoxed
Undaunted, Gordy said, "Don't worry! That was in the script," and scooped up the surprisingly intact bottle. The relieved audience laughed.
It was the laughter that got him. Gordy felt a surge of energy and power.
Gordy is now a screenwriter and the creator of the Cinemax series Quarry, which was recently released on iTunes and other platforms. Among the end-of-year "best show" lists, Quarry made the Washington Post's Best TV Shows of 2016 (on a list with HBO's Veep, FX's The Americans and ESPN's documentary O.J.: Made in America), as well as Yahoo! and NPR critic Ken Tucker's Best TV Dramas of 2016.
Despite the show's success, Gordy has logged much time this year, his 40th, in his therapist's office.
"You reach middle age, and you start to reflect more on what made you. So much of our identity is building up defenses," he says.
Gordy has a lot of defenses. The product of older parents on their second marriages ("I have nieces and nephews older than me"), Gordy didn't share the sports-related hobbies of most preteens in his hometown of Conway. (He describes the burgeoning central Arkansas city as "a mixture of redneck and education," or, for the more initiated, "Cabot with a master's.")
He spent his recesses with the girls, telling jokes, and his free time watching comedies such as Monty Python and Naked Gun with his father or listening to Eddie Murphy tapes pilfered from his seven-years-older brother, the sibling closest in age.
It wasn't until a local sculptor, Barbara Satterfield, opened an arts camp in an old garage that Gordy found his place. "These were the same kids I was going to school with, but all of a sudden it was more my turf," he says.
In high school Gordy met others who appreciated his quirks. He and his friend Will Churchill would go to the airport (pre tight security) and wander the gates with notebooks, scribbling made-up anecdotes about the people there.
He graduated from camp plays to local productions, including the Arkansas Repertory Theatre's 1994 production of Lost in Yonkers and a Charles Portis play where the author (whom the now-regretful Gordy dismissed as that "grumpy old man") sat in the audience most rehearsals.
He signed with The Agency and appeared in commercials, once chirping about "how well he's dealing with his schizophrenia." (He was told the public service announcement would only air on Arkansas Educational Television Network, but it actually aired on local channels during Saturday Night Live.)
CAREER 1: ACTOR
Because his mother taught history at the University of Central Arkansas, Gordy enrolled and took theater classes to benefit from free tuition. He also worked in the audio-visual department.
"You take a kid going to college in a dry county, with a lot of curiosity about the human condition, and give him unlimited access to the [audio-visual] department, and you get Graham Gordy," says Churchill.
According to his friend, Gordy peppered conversations with movie dialogue, dryly dropped, and hid in his bedroom for days "watching the entire output of [filmmaker] Billy Wilder, or something."
During his sophomore year, Gordy moved to Los Angeles to audition, take acting classes and do sketch comedy. He did research for a documentary production company to pay bills. "It started to feel like there was a weird hierarchy -- you work with this teacher, you make these relationships with cast and directors, you move to a higher level at an agency, then you move to a slightly better agency," Gordy says.
Suddenly he understood why 33-year-old actors play 23-year-old characters -- "They've all been out here doing this for 10 years" -- and he didn't want it that badly. He returned to UCA and finished his degree, majoring in English and philosophy and minoring in theater. He decided that, rather than act, he'd be a philosopher.
"Then a philosophy teacher ... sat me down and said, 'If you can do anything else, you should do it,'" Gordy says.
So he submitted a play to Royal Court Theater's young writers program and when the London-based company agreed to produce it, Gordy decided to be a playwright.
CAREER 2: PLAYWRIGHT
"I came out of graduate school and suddenly had $150,000 in student loans," Gordy says. "I started looking around and was like, there are four playwrights on the planet who make a living at this."
But with a fresh master's degree in fine arts from New York University, Gordy didn't know what to do other than shop his plays. He managed a single off-Broadway production, two workshop productions and many readings (on an off-night, actors read and sometimes mark a play so that a theater can decide if it wants to fund full-scale production).
"He's written some plays I really love," says Frank Pugliese, a writer and producer for Netflix's House of Cards and, like Gordy, a playwright as well as a screenwriter. The two met just before Gordy's stint at NYU, when he assisted on one of Pugliese's plays.
"He was incredibly knowledgeable and thoughtful and observant about life and behavior. He had a real ear and talent for drama and storytelling ... and he had a philosophical background that he brought to his writing," Pugliese says.
Gordy was deferring loans in 2003 when a mutual friend told him that former Saturday Night Live cast member Mike Myers (Austin Powers, Wayne's World) needed a writing assistant. He helped with Shrek 2 and Shrek 3. Toward the end of their five years together, Gordy and Myers co-wrote a film.
"The Love Guru came out [in 2008], and ... the distinction between what it started as and what it became, what the studio needed it to be, all of that was baptism by fire," Gordy says.
A low-brow comedy premised on a self-help coach for relationships gone sour, The Love Guru made about $41 million at the box office -- $21 million less than it cost to make.
"Mike Myers partially wears down resistance by simply pummeling the audience with bathroom jokes, sixth-grade puns and silly songs," Brian Lowry wrote for Variety. Roger Ebert* called the film "a dreary experience," while New York Times critic A.O. Scott wrote, it "makes you wonder if you will ever laugh again."
Because the film starred Myers, Gordy expected it to be his entrance into the industry. But if the movie helped Hollywood recognize his name, it didn't leave anyone eager to see that name again. "It was one of the worst things ever put on film," Churchill says. "I don't think Graham thought he had control of the project. He was this up-and-coming guy who was writing with this superstar."
Then 32, Gordy "emotionally crashed." One night he sobbed at a bar while a musician named Jeffrey Foucault sang about home. He'd been in New York nine years. His wife Becky was pregnant. "I thought, if I'm this exhausted, how can I raise a child?" he says.
The couple returned to Arkansas, where their daughter Lilla was born in 2008. Gordy was "trying to figure stuff out," Churchill says. "We talked about buying land and making a two-family commune."
In 2009 Becky got pregnant again, but soon after, the marriage dissolved.
"Things got bad enough for me professionally, and I continued to put so much pressure on myself, like OK, we'll solve this, and it was too big to solve," Gordy says. "I think I was depressed."
CAREER 3: SCREENWRITER
In 2011, Amy Bowers, then a reporter for AY Magazine, interviewed Gordy about film in Arkansas.
"I was at a place where I was emotionally bare. She was too. I think that's why we were really honest with each other and could connect in a way that was really hopeful for me," Gordy says. They married on Sept. 1, 2013.
That same year, Gordy and his friend Michael Fuller wrote a pilot for a college football show that would explore "class disparity in the South."
"In what other world do you see multimillionaire or billionaire boosters, and then a coach who makes millions of dollars, begging a 17-year-old kid who lives below poverty level to come save his job?" Gordy says.
They attached The Blind Side director, John Lee Hancock, as director and producer, and AMC bought the show. Gordy thought he would finally pay down his school loans.
Months passed. Gordy was in his truck in a parking lot when he got the call. He had heard about AMC renegotiating the contracts of key producers and actors, but the announcement that the network would not produce any new shows that season left him literally speechless. He didn't have a backup plan.
"I'd kind of bet the farm on this project, and it didn't come through. It felt like a family member died," he says.
There was nothing solid until Arkansas-based actor Ray McKinnon sold a series titled Rectify -- about a man released from prison after 20 years on death row -- to the Sundance Channel. McKinnon and Gordy had produced a few shorts together, and McKinnon brought Gordy and Fuller in as writers.
Meanwhile, the writing duo was reading about the Dixie Mafia, a Southern criminal group active since the '60s. Loosely organized and non-familial, the group is known for contract killings, theft and drugs.
"We were like, what kind of show is not on television that we would want to see? It would be set in the South, because we're both from the South. We were interested in criminality, and we wanted to explore the '70s, because the '70s have always felt like an undefined decade," Gordy says.
Fuller found the Quarry book series by Max Allan Collins, first published in 1976. The books gave them a premise -- a Vietnam veteran turns professional sniper -- although their scripts relocate the vet from Iowa to Memphis and incorporate a civil rights subplot and a Southern soundtrack.
With Collins' blessing (he wrote one of the eight episodes), Gordy and Fuller sold the series to Cinemax, where it premiered in September to cautious critical acclaim. (The headline of The New York Times' review is "Quarry Puts Death to Great Music. Very Slowly.")
Pugliese is a fan. "There's a profound sense to his characters, and they're kind of struggling to work some stuff out. He's someone who knows how to put himself in other people's shoes ... and it translates in his work."
Pop culture website The A.V. Club gives Quarry a B+ ("It simultaneously embraces internal conflict and external pulp fiction and handles both well."), while Hollywood Reporter critic Daniel Fienberg and others point out that the violent Vietnam vet is a trope, but "Quarry works because so much of the rest of the show ... is so rich."
With long, single-take shots and hand-held cameras, Quarry looks as if it could have been made four decades ago. "When we hired a [director of photography], we were like ... here are 10 or 12 films from the early '70s, go watch these," Gordy says.
CAREER 4: FAMILY MAN
Last year was both awesome and awful for Gordy. He spent much of 2015 flying to and from L.A. for the Quarry writers' collaborations or driving to Memphis, New Orleans and Batesville where Quarry was shot.
"It's a hard thing to say, 'Hey kids, I'm gonna be gone three or four months, and I'll be back Saturday mornings' ... because when you're little, a summer is forever," Gordy says. Often he'd take the red-eye from L.A. on a Friday to spend less than 36 sleep-deprived hours in Little Rock.
"The industry has changed," Pugliese says. His show, House of Cards, films in Maryland. "People shoot all over the world now. You can live in Arkansas and make a TV show." But recently Gordy turned down the opportunity to write for an established show because the writers' room (or collaboration) lasts eight months. (The writers' rooms for Rectify and Quarry are about four months each.)
"My son is starting football and soccer. My daughter is starting gymnastics and soccer," Gordy says. "I won't move to L.A. because the kids are here. I have to find other ways to do it or just not do it."
"Graham is always thinking about what it means to be alive, in a personal context, in a global context, in his marriage, with his kids ... that's what makes him good at what he does," Churchill says.
Gordy's time away from his family and the psychological impact of turning 40 provided impetus for "figuring out what's really important" and what he wants to write. Gordy made a list of books, movies and plays that he finds inspirational.
"I had 70 things on the original list, and I was like, 'OK, how many of these things are on there because somebody told you you should like them and how many really resonated with you?' So I culled the list and tried to re-watch and re-read and see what holds up," he says.
This year Gordy wrote a comedy series about an adjunct philosophy professor who returns to his hometown to teach and, because adjuncts are notoriously underpaid, has to move in with his redneck family. He's in the process of pitching the show. He also grew a beard and mustache for a forthcoming Arkansas-made film that he co-wrote and is acting in, Antiquities.
"I have to go about it like there's no such thing as Quarry .... You don't know that there's another paycheck coming in," Gordy says. He should know soon whether Quarry gets a second season.
"I spent a lot of time thinking that my purpose in this life is to dazzle or entertain or educate people ... but I think there's a natural move toward our purposes changing in ways that we obviously can't predict when we're 20 and 25."
High Profile on 12/18/2016