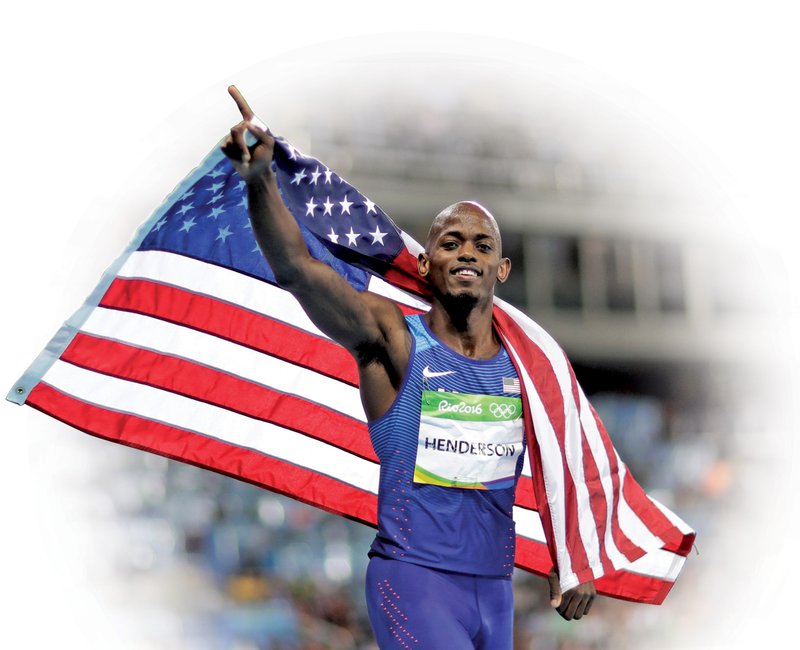 Arkansas Democrat-Gazette Jeff Henderson Photo illustration ( Kirk Montgomery)
Jeff Henderson has been a world-class long-jumper for a few years now, gaining fame in track and field circles but rarely beyond.
Photo by Benjamin Krain
Former Sylvan Hills standout Jeff Henderson has become even more recognizable, even in his hometown of McAlmont, since winning the Olympic gold medal in the long jump in August at the 2016 Summer Games in Rio de Janeiro. Henderson's winning jump of 27 feet, 6 inches allowed him to become the first U.S. long jumper to win a gold medal in the event since 2004.
Then, on Aug. 12 at Olympic Stadium in Rio De Janeiro, Brazil, he leaped high and landed farther in the sand than any of his fellow competitors.
Henderson at a glance
EVENT Long jump
HEIGHT/WEIGHT 6-0, 189 pounds
BIRTHDATE Feb. 19, 1989 (27)
HOMETOWN McAlmont
EDUCATION Sylvan Hills High School; Hinds (Miss.) Community College; Stillman College
CAREER HIGHLIGHTS Olympic gold medalist, long jump, 2016. … USATF national outdoor champion in 2014, won at Pan-American games in Toronto in 2015 and at the Olympic Trials in 2016. … Winner of the 100-meter dash and the long jump at Division II championship while at Stillman (Ala.) College in 2013. … Three National Junior College Athletic Association long jump national titles while at Hinds (Miss.) Community College in 2008 and 2009, and once in the 400-meter relay. … Class 6A state champion in the long jump and triple jump, won the Arkansas Meet of Champs in the long jump and triple jump at Sylvan Hills High School.
Henderson, 27, became the first American in 12 years to win an Olympic gold medal in the long jump, and the still images and video created by his performance have changed the life of the soft-spoken Arkansan from McAlmont.
Celebrity has replaced anonymity, and Henderson says he's dealing with it the best he can.
"It still blows my mind," he says of the times strangers approach him, congratulate him, and ask to have a photo taken with him. "I'm still the same person. Nothing really changed me."
Once this fall, Henderson said, he was at a Sherwood gas station when he was taken by surprise by a crying child who wanted a hug and an autograph.
Being recognized around his hometown, or even in San Diego where he lives most of the year at the United States Olympic Training Center, has been the biggest adjustment for Henderson since winning his sport's biggest prize.
"I just want to stay calm, and stay grounded and don't get too big-headed," Henderson said. "That's the biggest thing for me."
Henderson has returned to his training routine in San Diego.
Typically, he wakes up at 7 a.m., eats organic eggs and organic turkey sausage for breakfast, then goes to work. He lifts weights on Monday, Wednesday and Friday and works on technique on Tuesday and Thursday.
The indoor track season is approaching, where he'll run the 60-meter dash, but that's mostly to stay in a certain shape for the outdoor season.
This summer's crown jewel is the World Championships in London, an event Henderson admits doesn't approach the Olympics in importance, but is still the source of one of his biggest disappointments.
Henderson scratched twice and finished ninth while failing to reach the finals at the 2015 World Championships in Beijing.
That performance, more than his success in Rio, fuels him to avoid any complacency.
"The mindset never changes," he said. "You have to stay on top of your game."
Just because Henderson keeps moving forward doesn't mean he doesn't enjoy looking back to that August night in Brazil.
Henderson said he has finally stopped rehashing the event daily.
But every time he hears The Black Eyed Peas song "I Gotta Feeling," which was played during the Olympic Trials in Eugene, Ore., and at the Games, his mind goes through that day as if it were happening all over again.
"I remember every single thing that happened," he said.
Like eating an apple and a banana for breakfast. He remembers playing video games at the Olympic Village to kill time. He remembers the 40-minute bus ride to the stadium and the pep talk he received from his psychologist before he went onto the track.
"She just said, 'You've got this,'" he said.
Henderson remembers changing into his sprinter's spikes because his other pair, which were new, felt a bit heavy. There was relief after achieving a qualifying mark on his first jump.
Before his final jump, Henderson can hear his coach, 1984 gold medalist and former Arkansas State standout Al Joyner, tell him to start his approach a foot back from where he had been. Henderson thought it was strange, but he listened.
And he remembers hearing the roar of the crowd as he landed in the sand, retaking the lead with a jump of 27-6.
"I said, 'How in the heck did you know that?'" Henderson remembers telling Joyner.
Henderson said at first the victory didn't feel different from any other one. It was just another event, he tried telling himself.
But that was before he left the stadium.
He did countless interviews with U.S. and world media in Brazil, then he was met by more than 100 people at Bill and Hillary Clinton Little Rock National Airport/Adams Field when he returned -- a crowd that included the Sylvan Hills High School band and cheerleaders.
His focus now is where it's always been -- the track -- it's just that for the first time a few other people are taking interest now. Slowly, he's become more accepting of that.
"When you come from a smaller town here in Arkansas, and people I grew up with go into different paths, this is to say that you can be somebody," he said. "That's what I want to show people. It doesn't matter where you come from, or what school you go to. It doesn't matter, man.
"People tell me, 'Jeff, I look up to you.' And I'm like, 'Why me? I haven't done anything.' So it's still mind-blowing."
Sports on 12/24/2016
Print Headline: Long jump to fame
Sponsor Content