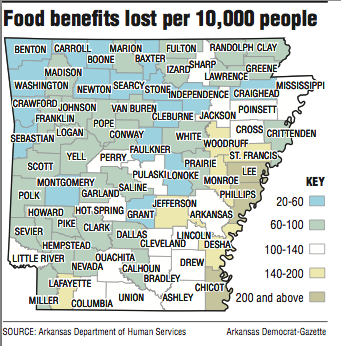 A map showing food stamp information.
The number of Arkansans participating in the federal Supplemental Nutrition Assistance Program has declined by nearly 25,000 since new federal requirements were imposed earlier this year.
On Jan. 1, the state began enforcing requirements that limit benefits, sometimes called food stamps, to three months for able-bodied, childless adults ages 18-49 unless they are in school or participating in job-training or volunteer programs.
By April 1, the Arkansas Department of Human Services had shut off the benefits to about 9,000 people. Between April and November, another roughly 15,000 people lost the benefits or became ineligible for them by failing to provide proof that they were meeting the new requirements or were exempt from them, a department spokesman said.
Arkansas was one of 10 states that implemented the new requirements in January, and the 9,000 caseload drop by April was one of the largest percentage declines in the country, according to a study from the Center on Budget and Policy Priorities, a Washington D.C.-based think tank.
In 2013, more than 500,000 people participated in the Supplemental Nutrition Assistance Program in Arkansas. By April, that figure had fallen by nearly 17 percent to 418,000, according to the study.
In that same month, figures show 773,000 fewer individuals participated in the Supplemental Nutrition Assistance Program nationally than in March -- "the largest one-month drop since temporary disaster benefits for Hurricane Katrina victims ended in 2005," the study read.
Supplemental Nutrition Assistance Program recipients can fulfill work requirements and retain their benefits after the three-month period by committing 20 hours a week to finding employment. If a recipient is participating in an educational program -- including a General Educational Development program or any training program that would lead to a certificate or employment -- he can receive up to two credit hours for every hour completed.
The work-requirement hours also can be fulfilled by volunteering or by spending hours at a workforce center searching for employment.
Pulaski County led the state with the largest decrease in Supplemental Nutrition Assistance Program caseloads between March and November 2016 with 4,536, according to state data. Jefferson County followed with 1,339 program benefits lost, then Garland County with 870.
Eastern Arkansas, where unemployment rates are the state's highest, experienced the largest drop in Supplemental Nutrition Assistance Program caseloads per capita. State data show that Phillips, Lee, Chicot and St. Francis counties each saw a decline of between 190 and 250 cases per 10,000 people, also between March and November.
And despite the newly imposed requirements, the Workforce Development Board of Eastern Arkansas has seen a decline in the number of people enrolled in employment and training programs this year.
The development board, a product of the federal Workforce Innovation Opportunity Act that connects job seekers to training programs and employers, is one of 10 in the state and is composed of Crittenden, Cross, Lee, Phillips and St. Francis counties. However, the board currently operates a training program only in Crittenden County, with two more planned in 2017 for St. Francis and Phillips counties.
Between July and November of this year, the development board's employment and training program, in West Memphis, enrolled 655 participants -- a 14 percent drop from that period last year and a 20 percent drop since 2014.
State data show Crittenden County's unemployment rate has dropped to 4.1 percent, and the decline in program participants cannot be completely attributed to economic recovery, said David Barch, the development board's director of programs.
"The requirement is that you participate in some activity for 80 hours per month, or the equivalent of 20 hours a week," Barch said. "Many of them do not feel like the benefit that they receive through SNAP is worth participating for 20 hours a week."
The requirements previously had been waived in Arkansas and more than 20 other states as unemployment rates struggled to recover from recession-era levels.
In January, Department of Human Services officials said 25 Arkansas counties still qualified for waivers based on their unemployment rates. However, Gov. Asa Hutchinson chose not to seek such waivers.
"It's personal accountability. If you're receiving these SNAP benefits, you can continue to receive those SNAP benefits, but you have to work if you're between 18 and 49 -- that's a conservative philosophy that the governor believes," Hutchinson spokesman J.R. Davis said.
Across the country, 500,000 to 1 million Americans are estimated to have lost Supplemental Nutrition Assistance Program benefits over the course of 2016, the Center on Budget and Policy Priorities study said.
Program caseloads nationwide grew significantly between 2007 and 2013, peaking in 2013 as the recession and lagging recovery made more households able to qualify for benefits, the study said. In 2014 and 2015, caseloads had fallen by 2 percent annually.
The study projects that 2016 year-end figures will show a sharp decline in caseloads because of the work requirements and a recovering economy.
Metro on 12/30/2016
Print Headline: State sees drop in food-stamp recipients in '16
Sponsor Content