Hold a piece of Depression-era glass to the light, and even the dullest old cup or saucer is a way to see through time.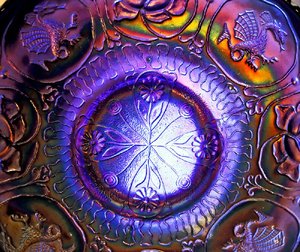 Photo by John Sykes Jr.
Light adds a rainbow sheen to flowers and dragons adorning a collectible plate, an example of 20th-century Depression-era glass.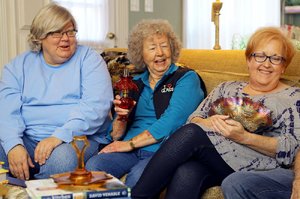 Photo by John Sykes Jr.
Since its founding on Feb. 16, 1985, the Arkansas Glasshoppers club has helped members like JoAnn Coleman (left), Iola Seamon and club president Peggy Todd become more knowledgeable about the Depression-era glass they love.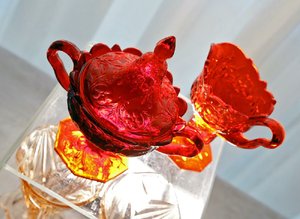 Photo by John Sykes Jr.
Members of the Arkansas Glasshoppers club collect a variety of colored glassware from the 20th century.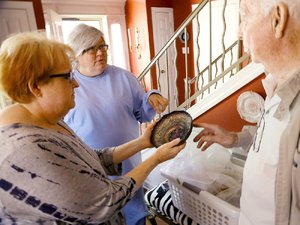 Photo by John Sykes Jr.
Peggy Todd (from left), JoAnn Coleman and Bud Martin pull a collectible glass dish from the cushiony packing that allows such prizes to be carried about in a laundry basket without chipping.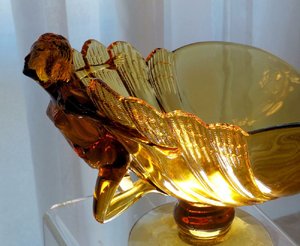 Photo by John Sykes Jr.
Arkansas Glasshoppers is a club founded in 1985 to increase interest and knowledge of Depression-era glass and similar collectibles.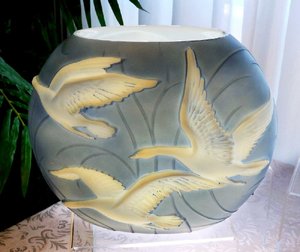 Photo by John Sykes Jr.
Light glows through swans frozen in perpetual flight on a bowl of the sort to be seen at the Arkansas Glasshoppers show Saturday and Feb. 28 in Little Rock.
The glass is translucent -- pink, green, blue -- patterned with floral designs, with scrolls and ripples, moons and stars, exotic birds and, most of all, a magic shine.
It tells the story of the once-upon-a-time when people in desperate need of a little hope found the answer in cheap glass.
The tale might be forgotten, but yesterday's give-away glass endures as one of today's most prized collectibles. Certain pieces can be worth hundreds or thousands of dollars, and legends are made of elusive cake platters and last-of-its-kind salt shakers.
The Arkansas Glasshoppers' Depression Era and Vintage Glass Show and Sale is just the place for such things, Saturday and Feb. 28 at the State Fairgrounds.
Organizers expect the exhibition will load 175 tables with nearly century-old dinnerware, wine glasses, glass bells, glass birds and even -- who knew? -- glass knives.
Self-described "glass-aholic" collector Peggy Todd swears by her still-sharp glass knife to slice tomatoes.
Arkansas Glasshoppers Inc. is a 50-member club that meets in Little Rock, and club president Todd expects this 30th annual show will bring in dealers from 14 states and collectors from all around Arkansas.
"We just love glass," she says. "That's just it."
TRANSPARENT PAST
The Great Depression gave its name to glass so cheap that Great-Great-Grandmother got hers for free. She bought the right brand of oatmeal for the cup that came in the cereal box, and chose the flour that promised a free dish in the bag.
Piece by piece, one way and another, she collected the whole set for the only price she could afford for dishes at the time, nothing.
Maybe her fortunes lifted, and maybe she went out and bought a new set of plates. But she had worked too hard, too long collecting the old glass to let it go.
In fact, it became "Grandmother's glass." It passed to the next generations of her family, along with memories of how she kept it high in the china cabinet -- of birthdays and Christmases that merited bringing down the special dishes.
Many collectors start with an important piece or two of Grandmother's glass, Todd says. Or they have a nice lot, and they wonder what it is, exactly, and how to display it.
"We can show them," she says.
Also, the show's experts can tell more than Grandmother probably knew about her collection. Telltale marks and other know-how can determine where the glass came from -- which of 20 or so manufacturers, mostly in the Ohio River Valley -- and how it came to be in the oatmeal box.
CLEAR VALUE
Glass show chairman Bud Martin of Little Rock says Depression-era glassware was something new for manufacturers of the time.
European glass comes from painstaking traditions of glass-blowing and hand-crafting. But Depression-era glass is the product of American ingenuity -- and given the nation's crashing economy, desperation.
Manufacturers including Anchor Hocking and Federal Glass came up with automated, machine-pressed glass, created by forcing molten glass into a mold.
The glass might have bubbles in it, might have marks left by the mold, might be less than fit for the royal table. But dishes could be made by the train carload this way, to be bought by the carload for giving away.
Despite such speed and thrift in production, America's blistering hot glass factories turned out beautiful colors and etched motifs that looked like elegance. Glittering glass caught the eye of the buyer with little to spend, and so all the more in search of a dollar's worth for a dime (about what a box of cereal cost). And the best of the era's dinnerware went past fooling somebody: It showed real class.
All sorts of stores and products offered a dish, a tumbler, maybe even a pickle jar as a come-on to help convince the customer to let go of a few dollars or coins. Buy a movie ticket, take home a free dish. Get an oil change, drive off with a dish.
The same sort of gimmick sold Cracker Jack for the prize in the box, and breakfast cereal that came with comics and cardboard dolls. But glass was different. Glass was nice enough to envy, yet attainable and well-mannered, offered in ads that promised, "Free to the ladies!"
Today, these pieces are sold and traded like jewelry. In fact, Martin is particular not only about the wares at the show, but also about who does the selling.
"I won't take just anybody," he says. "They've got to be recommended."
BROKEN ECONOMY
The stock market crashed in October 1929. Banks and businesses closed and millions of Americans went broke, their savings gone, all of a sudden out of work.
Those who managed to keep their jobs and homes commonly had to manage in spite of wage cuts near 20 percent, and so it went through most of the 1930s.
The song "Brother, Can You Spare a Dime?" became practically a national anthem, because the buying power of a dime was no small matter. A dime could buy, for example a pound of wieners or close to a gallon of gas.
Five-and-10-cent stores, notably Woolworth's, sold glassware for nickel and dimes. But who could afford it when the same nickels bought a loaf of bread -- and two or three nickles, a box of oatmeal?
It was in those years that oatmeal brands including Crystal Wedding and Wonderware touted free glassware more than oatmeal. ("A piece in every package!") The more oatmeal Mom could feed her family, the sooner she filled up the dish cupboard.
Movie stars of the era, even Charlie Chaplin and Hedy Lamarr, shared marquee billing with the promise of a free gravy boat.
Today, such prizes of glass are watched over by collectors including Arkansas Glasshoppers members JoAnn Coleman and Iola Seamon.
Among Seamon's favorites: her red glass decanter and set of wine glasses.
"So far, I've never dropped one," she says. "I have several grandchildren, and I've never had a piece of broken glass."
Coleman goes for punch bowls, which are "cheap right now," she says. "Nobody wants a punch bowl because nobody makes punch any more, but I have tons of punch bowls."
Collectors look for glassware a piece here and there at flea markets and estate sales, and online and on the road to places closer to where the old factories set up shop.
But the way to come across whole sets and hardest-to-find singles, they say, and to meet people who share a passion for glass, is to visit a collectors show like this month's get-together in Little Rock.
GLASS CLASS
The Arkansas Glasshoppers' show has expanded well beyond Depression glass, Todd says. Today's wares include other kinds of old glass, books about glass and glass collecting, and lately a bit of vintage pottery.
The club has changed, too, with a website, a Facebook page and a YouTube video, in which Todd explains the basics of glass collecting.
"Boy, have we got a lot of stuff to show you," she says in the video, aimed at bringing new and younger collectors to the event and to the club.
The latest trend in glass is to arrange groupings of dinnerware, glasses and figurines as table settings and for spots of color in home decor, she says.
Out of the china cabinet, "it's not Grandmother's glass anymore," Todd says.
"Lights and sparkle," Coleman says. "It's almost like diamonds everywhere."
The Arkansas Glasshoppers' 30th annual Depression Era and Vintage Glass Show and Sale will be 9 a.m.-5 p.m. Saturday and 11 a.m.-4 p.m. Feb. 28 at the Hall of Industry on the State Fairgrounds. $5 admission is good for both days, and parking is free. The show includes glass collections, dealers from 14 states, decorating tips and evaluations (of three pieces of glassware per person). More information is available at arglasshopper.org, or by calling (501) 868-4969.
Style on 02/21/2016