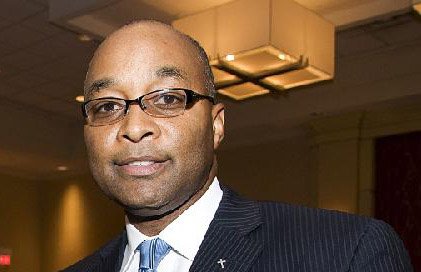 Arkansas Baptist College President Fitz Hill is shown in this file photo.
Arkansas Baptist College President Fitz Hill is stepping down as leader of the historically black college to take the helm of the institution's foundation, a college board member said Wednesday.
The change will become effective Sept. 1, according to a statement from Chief of Staff LaCresha Newton.
"His contract extends until 2020, but he believes after 10 years of leading the Historic Black College, he can achieve even greater success for the institution in a more focused and strategic role as he continues to fulfill his commitment to the students and the community which he considers home," Newton said in the statement.
Hill declined to comment. He announced on his Facebook page that he was stepping down because "God has placed it in my heart that it's time to serve ABC in a different role."
"Excellent leadership can come in a form of obedient followership. As I transition to new roles at ABC, I do so with a determined focus to help advance our College from Good to Great," Hill said in the post. "My new venture excites me much like 10 years ago when I first started at ABC. I thank God for his covering and protection during my tenure. I have witnessed the highest of the highs and the lowest of the lows, and I have been blessed through it all. I have loved blessing our students and the community we call home. I'm going to try and elevate and accelerate the blessings to our students and community over the next five years."
Hill's announced departure comes at a time when the college is facing continuing financial problems and is in jeopardy of losing its accreditation. At the same time, the college's enrollment has grown, and last year it graduated its largest class in school history.
When asked if Hill's salary -- which was $213,108 according to the college's Internal Revenue Service Form 990 reports for 2013 -- would be reduced, Newton said in an email that the "details of salary and other benefits have not been confirmed."
"Dr. Hill is in conversation with the Board of Trustees regarding the specifics of the new position," she said.
The college's IRS Form 990 for 2014 -- which is a public record -- listed 190 employees, but it said salary expenses were $0. Hill's salary, which is required to be disclosed on the form, was not listed.
Newton said the latest Form 990 was "definitely an error" and said that she would alert the college's auditor to correct the mistake. She declined to give Hill's current earnings and said the public could get that information when the form was filed with the IRS.
"Hill's salary should have been included as well as the traditional salary amounts listed," Newton said. "I can't provide you with the salary amount as I know his benefits are included in that number."
Newton did not reveal Hill's future role with the college, only saying that the "parameters regarding Hill's new leadership roles" would be established "in the coming months."
However, board member Richard Mays said in an interview Wednesday with the Arkansas Democrat-Gazette that Hill asked to be released from his role as president so he could take over the foundation to ramp up the college's fundraising efforts.
"He's going to head the foundation and lead several initiatives to put the college in a better financial status," Mays said.
The decision was Hill's, Mays said.
When asked if Hill's leaving the president's office was a board decision, Mays replied: "No, no. no. He's too talented and has done too much to bring these communities together in this city. We think this move would ultimately be extremely beneficial."
The college's nonprofit Arkansas Baptist College Foundation has been used in the past as a pass-through organization for tax credits.
"That's one of the reasons he chose to revitalize it. It hasn't been functioning at the level the college needs," Mays said. "Once he explained it, we saw a lot of value in it. If you have been somewhat familiar of Arkansas Baptist College and the community surrounding, you have seen enormous growth under his leadership. It all adds up."
Newton also said that Hill decided on his own to step down.
"This was in no way a board demotion," Newton said. "Dr. Hill made this decision and informed the board of such. He expressed his desire to stay at the institution and all were in agreement."
The college continues to face challenges.
The Higher Learning Commission, a Chicago-based national accrediting agency, issued a "show-cause" order in September. The private Little Rock college is allowed to keep its accreditation for the time being but must prove to the commission why it should remain accredited.
According to the commission's website, the "show-cause" review will be done on April 18.
The college has faced what Hill called "cash flow problems" for several years after the federal Education Department placed the institution on "Heightened Cash Monitoring 2" status.
If a college is placed in that status, the department releases funds to the school once the school makes disbursements to student or parent borrowers. The status also requires the school to submit printed reports.
The commission had received numerous complaints about delays in receiving financial aid checks from the college. Staff members also reported the college for missed or delayed paychecks.
Arkansas Baptist College also has faced numerous lawsuits from creditors.
"Given these challenges, I sometimes think about my experience in law school," Mays said. "After I would take some of my finals, I would look back at those questions and I would wonder how I passed. That's how I look at the difficulties Arkansas Baptist College has faced."
Most of the students are poor and, for some, Arkansas Baptist College is their second or third try at a higher education.
"There's a lot going on there," Mays said. "You're reaching a lot of kids who would not have this opportunity but for Arkansas Baptist College. It makes a big difference. President Hill is motivational. You can see the impact he has on the students and the community."
In late 2014, the college used part of a $30 million federal loan guaranteed through the U.S. Department of Education to pay off its biggest debts, totaling $25.6 million. College officials are banking on revenue from student tuition and future capital campaigns to repay the loan.
Despite Arkansas Baptist College's financial woes, Newton said the college saw unprecedented growth and success under Hill's leadership.
"Dr. Hill accepted the presidency in February 2006 and embraced challenges that have been synonymous with the College since its doors opened in 1884," Newton said. "During Hill's decade of leadership, the college has been twice re-accredited by North Central Higher Learning Commission; received the largest private gift from an individual in the College's history and launched a $50 Million Capital Improvement Campaign that included an urban community redevelopment component for the neighborhood."
The enrollment also grew from 200 students when Hill became the institution's president to nearly 1,200. In May, the college graduated 163 students -- the largest in its 131-year history.
Arkansas Baptist College board Chairman Beth Gladden Coulson said the board is appointing a search committee.
"I, along with the board, commend Dr. Hill on 10 years of service to Arkansas Baptist College," Coulson said. "These have been years of growth and development and we wish him the best in his new endeavors."
Newton said the decision to give up the president's seat was not an easy one for Hill to make.
"As he's often said, God has placed it on his heart that it's time for him to serve in a different capacity at ABC. It's not about Fitz Hill, it's about serving the students," Newton said. "Whatever he can do to better serve our students, he's willing and ready to do. The past 10 years have been focused on the vision and mission of the college. This vision is clear and the mission is in motion -- it's time for the next president to carry the torch."
Metro on 02/25/2016
Print Headline: Hill to exit Arkansas Baptist College post
Sponsor Content