HOUSTON -- Marco Rubio and Ted Cruz entered Thursday's Republican debate eager to seize one last chance to slow Donald Trump before next week's "Super Tuesday" round of voting. The two U.S. senators immediately took on the businessman on over his immigration positions and more.
FULL ELECTION COVERAGE
Photo by DAVID J. PHILLIP / AP
Ben Carson (from left), Marco Rubio, Donald Trump, Ted Cruz and John Kasich stand for the national anthem before their debate Tuesday evening in Houston.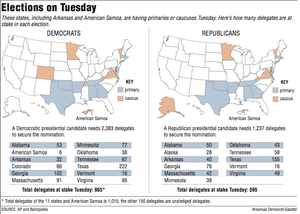 Photo by SOURCE: AP and Ballotpedia / Arkansas Democrat-Gazette
Maps showing Tuesday primaries/caucuses and the delegates at stake for each party.
In an early exchange, Rubio accused Trump of shifting his position on deportation, hiring people from other countries to take jobs from Americans and being fined for worker violations. Joining in, Cruz criticized Trump for suggesting he alone had "discovered the issue of illegal immigration."
Trump shot back at Rubio: "I hired tens of thousands of people. You've hired nobody.
"In Palm Beach and other locations, you could not get help," Trump said, explaining why he hired immigrants. "People didn't want part-time jobs."
Rubio also criticized Trump for making his Trump fashion line of ties and shirts outside the United States. "Make them in America," Rubio said.
When Trump faulted Rubio on a deal to buy a $179,000 house, Rubio shot back, "I don't know anything about bankrupting four properties," and then added that Trump was only able to be a good businessman because he inherited $200 million from his father.
"If Donald Trump hadn't inherited $200 million, do you know where he'd be right now? Selling watches in Manhattan," Rubio said.
Trump said, "I took $1 million and turned it into $10 billion."
Cruz took to the offensive as well, saying at one point that Trump was missing in action during the immigration debate in Congress. "Where was Donald? He was firing Dennis Rodman on Celebrity Apprentice," Cruz said.
In rebuttal, Trump touted his own ability to get along with others and added: "You get along with nobody. ... You should be ashamed of yourself."
Thursday's debate, with CNN and Telemundo as partners, was the only one of the season steered to a Spanish-speaking as well as an English-speaking audience, putting immigration in the spotlight.
A moderator questioned whether Ted Cruz and Marco Rubio have missed an opportunity to embrace their Hispanic heritage by fighting about who is tougher on illegal immigration. Both are Cuban-American.
Cruz, who with his win in Iowa is the first Hispanic candidate to ever win a presidential nominating contest, said his candidacy "really is an embodiment" of opportunities in the U.S.
He said there is a misconception that Hispanics must all be liberals.
"I am fighting so that everyone who is struggling in the Hispanic community and beyond will have a fair and even shake at the American dream," he said.
Rubio chimed in: "We have to move past this sentiment that the Hispanic community only cares about immigration."
Pointing to fellow candidate retired neurosurgeon Ben Carson, who is black, as well as himself and Cruz, Rubio said: "It's amazing. We are the party of diversity, not the Democratic Party."
Rubio also struck at President Barack Obama in his answer, saying the administration's policies are not working for Hispanics.
He also defended his vow to cancel the Deferred Action for Childhood Arrivals program, which protects the children of people living in the country illegally from deportation. He said it has to "end at some point," but added that it "wouldn't be fair" to cancel the program immediately.
Trump said that as president he would deport anyone living in the country illegally but would allow some to eventually come back "through a process."
Still, Trump promised that his planned border wall is getting taller.
Asked about former Mexican President Vicente Fox declaring that Mexico wasn't going to pay for the wall, Trump said that just ups the stakes.
"The wall just got 10 feet taller, believe me," Trump said.
Rubio took on that declaration, quipping: "If he builds a wall the way he built Trump Tower, he'll be using illegal immigrant labor to do it."
Both Rubio and Cruz earlier had said that Trump once had to pay a $1 million fine for hiring illegal aliens.
Carson, Kasich
As Trump, Rubio and Cruz stole the spotlight, two other candidates mostly stood back and watched the fireworks.
At one point, Carson spoke up: "Can somebody attack me please."
In opening statements, Carson declared that the United States is changing and not for the better. He said America is "heading off the abyss of destruction."
In taking a positive angle, Ohio Gov. John Kasich addressed young people in his opening.
"You can do whatever you want to do in your life," he said. "America is an amazing country, where a kid like me can grow up to run for president."
Among the other topics up for debate was health care, Israel and North Korea.
"I will repeal it as president, and we will replace it with something substantially better for all Americans," Rubio vowed.
Trump also said that he plans to repeal and replace the Patient Protection and Affordable Care Act if he's elected president. But he has been vague on specifics beyond allowing insurance purchases across state lines and requiring insurance companies to cover pre-existing conditions.
Rubio asked Trump: "What is your plan?"
He added: "This is not a game where you draw maps. What is your plan? What is your plan on health care?"
Trump said his proposal would provide for many different plans with added competition to provide consumers more choices.
Cruz complained that Trump is "advocating socialized medicine."
The businessman also defended Planned Parenthood, the women's health care provider.
"You can say whatever you want, but they have millions of women going through Planned Parenthood that are helped greatly," he said.
Trump has said he supports ending federal funding to Planned Parenthood because it provides abortions.
At a previous debate, Trump said the group does more than just providing abortions. Other Republican presidential candidates pounced on that sentiment, saying it shows Trump isn't a true conservative.
The candidates also were pressed on why they haven't released their tax returns as promised.
Trump said that he's been audited by the IRS every year for the past 12 years and can't release his returns while that's going on.
Rubio and Cruz both promised to release more of theirs in the next two days.
In another exchange, Cruz took up the Supreme Court vacancy. He said a liberal justice would deprive the nation of religious liberties, undermine the right to life and "fundamentally erase" the right to bear arms from the constitution.
Cruz touted his own relationship with the late Justice Antonin Scalia, who died earlier this month, and warned that the future of the court is now "hanging in the balance."
Carson said that if he were to vet potential justices, he would look at the "fruit salad" of their work.
On Israel, Cruz, Rubio and Trump all tried to position themselves as the biggest supporter of Israel.
Trump said he was the most pro-Israeli person on the stage and accused Obama of treating Israel "horribly."
"I am a negotiator," Trump told Rubio, adding that the senator's approach to the Arab-Israeli conflict "will never bring peace."
Rubio claimed that the Palestinians are promoting war with Israel to their children, which he said makes a peace deal between the two sides impossible.
Trump also threw out that Libya would be "so much better off" if its late dictator Moammar Gadhafi were still leading the country because he, like Iraq's Saddam Hussein, "killed terrorists."
"We would have been better off if the politicians took a day off instead of going to war," he said.
As the debate went on, Carson again tried to get some airtime.
"People say that I whine a lot because I don't get time. I'm going to whine because I didn't get asked about taxes, I didn't get asked about Israel," Carson said.
When all five candidates were asked about North Korea's president, Carson said, "We should make sure that he knows that if he ever shoots a missile at us, it'll be the last thing he does."
He then went off on a list of issues, saying he wants to abolish the Internal Revenue Service and espousing his support for Israel.
Kasich, for his part, said he would try to find a way to effect regime change in North Korea but "perhaps the Chinese can actually accomplish that."
Kasich also took time to tout his record of turning his state's budget deficit into a surplus. Kasich said he did it not only through budget cuts but also through economic diversification.
Trump as target
In the past, Rubio and Cruz had shown little willingness to take on former reality television personality Trump. That changed in Thursday's GOP debate, just days before 11 states hold GOP elections.
To date, Trump has proved largely immune to traditional political attacks, having won three of the four states that have held nominating contests to date.
"I seem to have a very good track record when they do go after me," he said in advance of the debate.
One of the early casualties of the GOP presidential race, U.S. Sen. Lindsey Graham of South Carolina, showed no reluctance Thursday to assail Trump head-on, calling him "a nut job" who's likely to win the GOP nomination but lose the general election.
Graham singled out Trump's assertion that illegal immigration from Mexico brings rapists and drug dealers into the U.S.
The debate's location in Houston gave a nod to the primacy of Texas in Super Tuesday. There are 595 Republican delegates at stake Tuesday in the 11 states, including 155 in Texas.
Cruz, who represents Texas in Congress, has set up his campaign headquarters in Houston.
The debate audience included former President George H.W. Bush, 91, and his wife, Barbara -- who missed out on the chance to see their son Jeb take part. He suspended his campaign after poor showings in the first three states to vote.
Since the departure of Bush from the race, Rubio has won a number of endorsements from Republican leaders. The latest came Thursday from Tennessee Gov. Bill Haslam.
In a show of how pervasive the Republican campaign has become, Vice President Joe Biden said some of the campaign rhetoric about Mexico has been "dangerous, damaging and incredibly ill-advised."
During a visit to Mexico City to meet with Cabinet leaders, Biden said the GOP candidates "do not represent the view of the vast majority of the American people."
Biden reassured Mexican officials that such talk does not reflect the countries' bilateral relations.
"The main message I wanted to say to you is that I understand that you can't poison the well and at the same time work out a real estate agreement to buy the well," he said.
Information for this article was contributed by Nancy Benac, Julie Bykowicz, Will Weissert, Steve Peoples, Peter Orsi and Christopher Sherman of The Associated Press and by Michael C. Bender and Kevin Cirilli of Bloomberg News.
A Section on 02/26/2016