FAYETTEVILLE -- Former White House press secretary Ari Fleischer and former presidential adviser David Axelrod discussed obstacles to mending the current partisan divide between the White House and Congress at an event Thursday at the University of Arkansas at Fayetteville.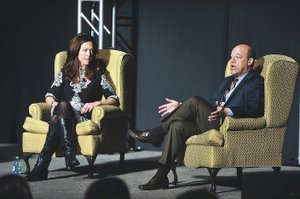 Photo by MICHAEL WOODS • @NWAMICHAELW / NWA Democrat-Gazette
Janine Parry, moderator, Ari Fleisher (right) speak during the University of Arkansas distinguished lecture series Thursday at Bud Walton Arena in Fayetteville. Fleisher served as White House press secretary for President George W. Bush from January 2001 to July 2003. David Axelrod, chief strategist for Barack Obama's 2008 presidential campaign, was also a part of the lecture.
"There really was an era when people worked together," said Fleischer, the main spokesman for former President George W. Bush from 2001-03. He described both Bush, a Republican, and former President Bill Clinton, a Democrat, as "pretty good" in working with lawmakers from opposing parties.
"But it's not working recently," Fleischer said. "And when you look at the candidates right now for 2016, I think in any scenario -- if Hillary wins, if Bernie wins, if Trump wins -- I don't see the polarization in the country getting diminished. I see it increasing."
Fleischer described among Republicans a "backlash" to earlier Washington deals, particularly on spending.
However, he expressed concerns about the vocal opposition to working together.
"When I hear Ted Cruz say he will not compromise with Democrats, to me that's nails across the chalkboard," Fleischer said. "That is not how our system should work, and I do not believe it's how leaders should talk."
Axelrod served as a senior strategist for President Barack Obama's 2008 and 2012 presidential campaigns. During Obama's first term, Axelrod continued on as an adviser until 2011.
In describing causes for the rancor between the political parties, Axelrod pointed to the structure of political races in various voting districts. Candidates rarely face a strong challenge from the opposing party, Axelrod said, but instead react to candidates within their own party.
The two spoke congenially at a forum moderated by UA political science professor Janine Parry, though they sparred on the topic of whether Obama should nominate a Supreme Court justice to replace Antonin Scalia, who died Feb. 13.
Fleischer spoke against the idea of Obama presenting a nominee to the Senate in a year when Americans will vote on who will be the next president, adding that there is no evidence that voters will look unfavorably on Republicans for not considering an Obama nominee.
Axelrod said Obama has a responsibility to appoint a nominee. He described having a conversation with Scalia during Obama's first term in which the justice -- known for his conservative opinions -- told him, "I know you're not going to appoint anybody who agrees with me ... just send us someone smart." Axelrod said Scalia even favorably mentioned Elena Kagan, who was later appointed to the Supreme Court by Obama.
Axelrod, now director of the Institute of Politics at the University of Chicago, last year published a best-selling memoir, Believer: My Forty Years in Politics.
Fleischer has served as co-chairman of the Republican National Committee's Growth and Opportunity Project and written a book, Taking Heat, about his career. He now is president of Ari Fleischer Communication Inc., a consulting firm.
Metro on 02/26/2016