BENTONVILLE -- The game of the year in 7A-West Conference boys basketball went down to the wire.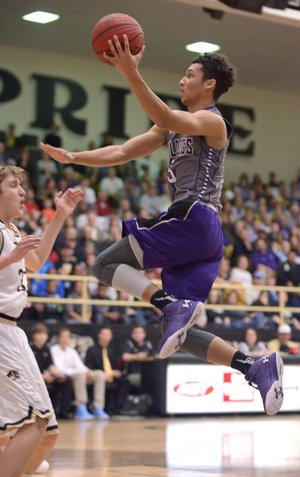 Photo by BEN GOFF • @NWABENGOFF / NWA Democrat-Gazette
Payton Willis of Fayetteville shoots Friday against Bentonville in Bentonville's Tiger Arena.
In a back-and-forth, up-and-down showdown between Fayetteville and Bentonville -- and top stars Malik Monk and Payton Willis -- Fayettville took a 78-76 victory in front of a full house at Tiger Arena on Friday night.
"Both teams wanted this and both teams played so hard," Fayetteville Coach Kyle Adams said. "Anytime you come up here, you know it's going to be tough, especially when you're playing against Malik.
"I thought Malik and Payton did what they do, but the role guys were a big part. Drake Wymer was huge for us. Josh Breathitt got in foul trouble and Drake played so well."
Bentonville burst out to an eight-point lead early and had all the momentum in the first few minutes. But Fayetteville (24-3, 13-1) was within four points by the end of the first quarter. The Bulldogs held a four-point lead at the half and battled with Bentonville (19-8, 11-3) throughout the second half.
Monk, who has signed to play at Kentucky, was nearly unstoppable at times, scoring 41 points. But Fayetteville got 28 points from Willis, a Vanderbilt signee, and had others step up as well.
Brown finished with 16 and Wymer had 15 points and contributed with key inside play off the bench.
"There's your quote right there. Drake Wymer was the difference," Bentonville Coach Jason McMahan said. "His rebounding was the difference.
"We did some good things. I just felt like we were a rebound or two short."
Bentonville had a final chance after Brown missed the front end of a 1-and-1 free throw with 6.1 seconds left in overtime. But Monk was left heaving a shot just past halfcourt right before time expired on a play where he slowed, apparently thinking he had been fouled. Instead, no foul was called and Monk launched an off-balance attempt that fell well short.
"Both teams fought their guts out," McMahan said. "We played our guts out and Fayetteville played so well."
Fayetteville earned the outright conference championship and the 7A-West's No. 1 seed at the Class 7A state tournament next week in Cabot. Bentonville will be the No. 2 seed from the conference.
Sports on 02/27/2016