More than $1.3 million has been spent on local TV ads for this year's two Arkansas Supreme Court races, breaking previous records.
FULL ELECTION COVERAGE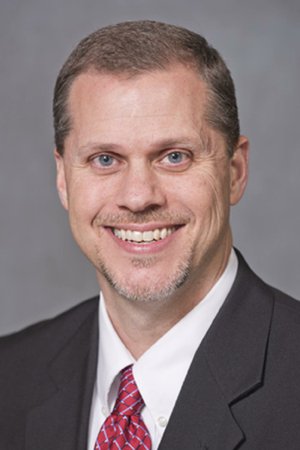 Photo by Arkansas Secretary of State
Shawn Womack, a former Republican legislator who is now a circuit judge in Mountain Home.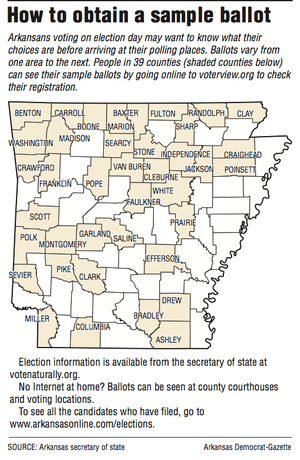 Photo by SOURCE: Arkansas secretary of state / Arkansas Democrat-Gazette
A map showing sample ballot information.
The money was spent by the campaigns of four candidates and by a pair of out-of-state groups targeting a candidate in each race.
The previous record of $450,320 was set in 2014, when there also were two races involving the Supreme Court. A nonpartisan judicial watchdog group, Justice at Stake, expects this year's races to be the most expensive in Arkansas history. The nonpartisan judicial general election is Tuesday.
The rising amounts of outside money spent on state races for judgeships has prompted calls for change from some officials concerned about the money's impact on the judiciary.
In 2014, money from an outside group paid for negative advertising in one of that year's high court races.
Tim Cullen believes that ads bought by "dark money" groups -- so called because they are not required to disclose the source of their funds -- cost him a spot on the Arkansas Supreme Court.
"Five [percentage] points," he said. "I think that would have made the difference. There are people that may disagree with that, but I think [the ads] tapped into people, voters who had no reason to vote at all until they saw that ad."
Cullen, a Little Rock attorney, lost to Robin Wynne by 4 percentage points.
Both campaigns, Cullen said, were running positive, traditional judicial campaigns that emphasized their experience and qualifications. But a few weeks before the election, something changed.
A campaign aide got ahold of an early copy of a TV ad paid for by a Virginia-based group called the Law Enforcement Alliance of America. The ad accused Cullen of calling child pornography a "victimless crime."
"I was flabbergasted," he said. "Nothing like that had been present in prior judicial races. They'd been nasty before but never had there been that kind of outside involvement before. ... That was a big turning point."
The ads against Cullen were based on a federal case in which he represented a client who pleaded guilty to possessing child pornography and attempting to entice a minor. Cullen's words, "victimless crime," stemmed from the fact that his client had been talking to an undercover police officer, not a minor.
"Frankly, I was shocked that someone would spend $3- or $400,000 against me. I still don't believe I'm that controversial of a character," Cullen said. "Had not taken any extreme stands on anything. ... I was asking, 'What enemy have I made?' Or alternatively, 'Who is behind Robin Wynne?'"
RECORD MONEY
This year's Supreme Court races have broken the record for TV ad spending in races in Arkansas, according to officials at Justice at Stake, a nonpartisan organization that studies the influence of money in court races.
Before it's over, the two contested races may very well break total spending records, as well, according to the group's spokesman, Laurie Kinney.
"These races can be full of surprises," Kinney said. "From our standpoint here, looking at the national landscape, I'm not sure we thought that Arkansas would be one of the hot spots this year. But sure enough, it is."
The race for chief justice has two candidates, Justice Courtney Goodson and Circuit Judge Dan Kemp of Mountain View.
Goodson had lent her campaign $466,000 and raised $267,504 from donors as of Feb. 20, according to campaign finance records filed with the secretary of state's office. Her campaign reported spending $727,118 total. She has spent $349,365 on ads on local TV stations, according to federal records.
Kemp had raised a total of $342,149 through Feb. 20, reports show. He has reported spending $177,634 in total TV advertising, with $110,720 of it going to local TV stations, according to federal records.
By comparison, the Judicial Crisis Network, a Washington, D.C.-based group that has spent millions nationally in other judicial races, has bought $622,435 in local TV airtime.
The group, whose ads paint Goodson as a friend of trial lawyers, has also paid for an extensive mailer operation and put up a website targeting Goodson.
In the previous contested race for chief justice, in 2004, just $308,200 in campaign funds were raised, according to the campaign finance watchdog, the National Institute on Money in State Politics.
The Judicial Crisis Network began airing ads Feb. 8, buying up at least 1,470 spots over the course of a month. That is more than Goodson and Kemp purchased combined.
Kinney said her organization has tracked the Judicial Crisis Network's role in past elections. The group spent $528,000 in the 2013-14 cycle in Wisconsin and Tennessee, and invested at least $600,000 on TV ads run against a Michigan Supreme Court candidate in 2012, she said.
Another outside group is buying ads in the other Supreme Court race, for Position 5 associate justice. The candidates in that race are Little Rock trial attorney Clark Mason and Shawn Womack, a former Republican legislator who is now a circuit judge in Mountain Home.
The Republican State Leadership Committee, which has no official ties to the political party, has reported spending about $400,000 in the state for ads and materials targeting Mason. Of that, $240,640 is for TV ads, the group announced last week. So far, the group has purchased $175,375 in ads on Arkansas broadcast affiliates.
Mason has bought $69,460 in local TV ads, according to federal records. He reported $132,736 in total spending.
Womack has reported raising $101,834. So far, he has not bought any ad time on Arkansas broadcast affiliates but has reported spending $30,000 on TV ads.
Eye on Arkansas
Kinney said the spending led her group to look at Arkansas as a guide for what to expect in other states' elections.
"There was a national union boss who figured out a long time ago that it was a lot cheaper to buy a state court than a whole Legislature," Kinney said. "In a nutshell, this is likely to be a busy judicial election cycle across the country ... [With] increasing participation by outside interest groups and national groups, in that respect, Arkansas is an early indicator of some of the trends we're likely to see."
Why would anyone -- except perhaps a candidate -- pour hundreds of thousands of dollars into a state Supreme Court campaign?
"It's very common for economic interests to be at the root of these battles," Kinney said. "Once in a while, a social issue such as marriage for same-sex couples will become the flash point," Kinney said. "But money is very often the big motivator."
Since at least 2000, state supreme court races have become "politicized and costly contests, dominated by special interests seeking to shape courts to their liking" according to the 2015 report "Bankrolling the Bench," by Justice at Stake and other groups.
Judges are required to follow the law and not bend to the wishes of contributors or other constituents. In 2015, spending in a seven-way race for three seats on the Pennsylvania Supreme Court surpassed $16.5 million. It was the most expensive U.S. judicial election in history, experts said.
Both the Republican State Leadership Committee and the Judicial Crisis Network have spent money in state supreme court races where business climate and tort issues -- such as capping damage rewards in civil lawsuits -- "have been ongoing issues," Kinney said.
Understanding the issues behind any big campaign contribution depends on knowing who the contributor is, said Denise Roth Barber, managing director of the National Institute on Money in State Politics, a nonprofit that researches campaign contributions in all 50 states.
In some state judicial races targeted by national groups, the financial backers really are "in-state interests that don't like how the state court is ruling on some issues," Barber said.
Cullen said judicial races in the state once involved support and contributions from those in the legal community. But business interests -- ranging from nursing home groups to big corporations -- have started to weigh in.
Jay Barth, a political science professor at Hendrix College in Conway, said judicial races have evolved. Races often have competing contributions from trial attorneys and business interests, but now also see money from other groups, some of it protected from disclosure requirements.
"It arguably has more than leveled [the playing field]. It's a lot of money," Barth said. "The harder edge nature of the ads are, I think ... they're more memorable. We know that negative information is remembered more than positive."
In 2011, Goodson joined a unanimous ruling that struck down the state's 8-year-old law that capped types of damages in civil cases, a cause often promoted by businesses and conservatives called "tort reform."
While Goodson has raised much money from attorneys in the state, many of Kemp's donations come from the biggest names in Arkansas industry.
Mason has made a living seeking damages in civil suits, while Womack, as a legislator, helped push for the tort-reform law that was later struck down.
"I think, obviously, we have to use conjecture because of the absence of transparency [for some of the money], but yeah, I think [tort reform] is the issue that is driving this the most," Barth said. "There is a trial lawyers versus business community battle at work here in some ways."
Kinney said tort reform, among other business-related issues, is likely driving some of the effort from out-of-state groups to influence elections.
"The impact of the state supreme courts is hard to overstate. They influence the business climate, they have influence over the health, education and welfare decisions. For all those reasons, interest groups ... have found that investing in state supreme court races has become a very attractive option," Kinney said. "State supreme court elections are low information races. ... Compared to a congressional race, for comparatively little money, an organization that's interested in having an impact can get a sizable bang for its buck."
CALLS FOR CHANGE
Gov. Asa Hutchinson has said multiple times that it is time to start discussing a merit-selection system for courts. Currently, Arkansas is one of 21 states that elects members to its highest bench, according to the American Bar Association.
Rep. Matt Shepherd, R-El Dorado, chairman of the House Judiciary Committee, said he thinks the money and the ads this year make the idea of ending appellate elections all together more palatable.
Twice now, Shepherd has tried to move forward initiatives that would end elections and replace them with some form of "merit selection" system, in which judges are appointed and can be recalled on a retention vote.
Shepherd said candidates for statewide races like the Supreme Court are limited in what they can say, and most voters don't have much to go on.
"The most common thing I've heard from those who oppose the idea ... is the idea that you're moving way from having the people having a direct vote," Shepherd said. "That's not something I take lightly. ... But [judicial elections] are not the same as a legislative race or a congressional race or any other type of political race because [the candidates] can't talk about the issues."
In 2000, voters approved Amendment 80, which among other things, made judicial contests nonpartisan.
"I don't know if I'd go to the point and say that anything has been compromised [by the money], but it's obviously, well, one of the things with regard to the judiciary is trying to avoid the appearance of any impropriety," Shepherd said. "To me, it's all about trying to do things to reinforce the public's confidence in the judiciary. ... My efforts in this regard are about protecting the judiciary and the public's regard for [it]."
But alternatives to elections, such as merit selection, have their limitations, according to retired Justice Bob Brown. He said he favors financial disclosure and recusal changes but is against taking the vote away from the people.
"Something needs to be done, without question," Brown said. "You can't have six-figure money or more coming into a state without knowing from whence it comes and the impact it has on a judge."
Brown favors stronger disclosure rules that would require judges to disclose their campaign finances to anyone appearing in their court. He has also helped organize a group that has attempted to referee "false or misleading" ads that have entered the race.
The problem with merit selection, he said, is that judges will still be subject to big recall campaigns, like one in Iowa that resulted in an unprecedented recall of three members of that state's Supreme Court who had supported a decision that legalized gay marriage.
He said the transparency that comes with elections is preferable to allowing appointees to be picked by the governor, lawmakers and Arkansas Bar Association officials.
"It all comes down to money. Even with merit selection ... you'll have the same problem," he said. "I think Asa ... and I'm not saying any disparaging things, but I think it's a different kind of politics behind closed doors. I'd rather it be out in the open."
Rep. Clarke Tucker, D-Little Rock, said this year's judicial races have added more support to some type of action.
In 2015, Tucker sponsored legislation that would have required "dark money" groups like the Judicial Crisis Network to register with state officials and disclose the sources of their funds. Tucker plans on reviving such legislation and expects to have more support for it this time around.
Barth said he thinks the current campaigns are adding fuel to the idea of changing campaign finance or how judges are selected.
"The genie is out of the bottle on [dark money]. I think the only way to change the dynamic is to get rid of the bottle, or at least, dramatically alter the rules of the game in terms of disclosure, so I think there is a growing political will to do something," Barth said. "Different states do it different ways. ... I think there's a willingness to move away from what we have now, but I'm not sure if we'll get to a point where there will be consensus."
Cullen, whose 2014 loss prompted a debate in legal circles about judicial elections, thinks it's time to try an alternative.
"It's kind of a failure of ninth-grade civics lessons," Cullen said. "We keep talking 'politics, politics,' but candidates should stand up and say, 'I'm going to read the law.'"
Information for this article was contributed by Lisa Hammersly of the Arkansas Democrat-Gazette.
SundayMonday on 02/28/2016