Voting on Tuesday will be easier than ever before because of vote centers, Benton and Washington county election officials say.
Complete coverage of the 2016 election, including candidate profiles, voter information and editorial endorsements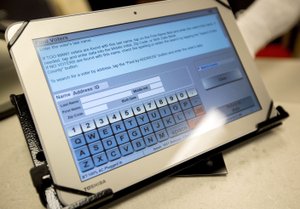 Photo by Jason Ivester
With the addition of electronic poll books, voters can now vote in any precinct.
Registered voters in Washington County can vote at any polling location, no matter what precinct they live in, said Jennifer Price, Washington County election coordinator. Each ballot from each precinct is loaded into the machines. That allows any voter to cast ballots at any of the centers, she said. The same is true in Benton County.
Washington County Voting
The last day to early vote is Monday and is only available at the Washington County Courthouse. Polls in the courthouse will be open from 8 a.m. to 5 p.m. Monday in the County Clerk's office and the Quorum Courtroom. Paper ballots are only available Monday in the Clerk's Office. There is no voting at the courthouse on Tuesday.
Any resident registered to vote in Washington County can cast a ballot Tuesday at any vote center listed below. Voting on election day will be by touchscreen only. Polls will be open from 7:30 a.m. to 7:30 p.m.
Fayetteville
The Awakening Church, 5763 E. Mission Blvd.
Baldwin Church of Christ, 4399 Huntsville Road
Central United Methodist Church, 6 W. Dickson St.
Christian Life Cathedral, 1258 E. Millsap Road
Covenant Church, 4511 W. Wedington Drive
Genesis Church, 205 W. 6th St.
Hazel Valley Church, 16502 Hazel Valley Road
Mount Comfort Church of Christ, 3249 Mount Comfort Road
Ridgeview Baptist Church, 1850 E. Huntsville Road
Sang Avenue Baptist Church, 1425 N. Sang Ave.
Sequoyah Methodist Church, 1910 Old Wire Road
St. John's Lutheran Church, 2730 E. Township Road
Sulphur City Baptist Church, 17472 E. Black Oak Road
Trinity Fellowship, 1100 Rolling Hills Drive
Trinity Methodist, 1021 W. Sycamore Ave.
Wedington Woods Fire Station, 13496 Hwy. 16
Wheeler Fire Station, 6946 W. Wheeler Road
Yvonne Richardson Center, 240 E. Rock St.
Springdale
Calvary Church, 1000 N. Gutensohn Road
Cross Church, 1709 Johnson Road
Elmdale Baptist Church, 1700 W. Huntsville Road
First Church of the Nazarene, 2300 S. 40th St.
Nob Hill Fire Station, 19375 Nob Hill Loop
Oak Grove Baptist Church, 499 Oak Grove Road
Sonora Baptist Church, 17330 E. U.S. 412
Springdale Rodeo Community Center, 1323 E. Emma Ave.
Springdale Youth Center, 1000 Watson Ave.
Turner Street Baptist Church, 4304 S. Turner St.
Washington County
Blackburn Community Church, 10407 W. Devils Den Road, Winslow
Boston Mountain Fire Station, 1047 Ella Road, Winslow
Brentwood Community Building, 16940 Hwy. 71, Winslow
Cane Hill Museum, County Road 4762, Cane Hill
Cincinnati Fire Station, 12700 Cincinnati Road, Summers
Durham Community Building, 11699 S. Hwy. 16, Elkins
Elkins Community Center, 162 Doolin Drive, Elkins
Elm Springs United Methodist Church, 118 N. Elm St., Elm Springs
Evansville Fire Station, 20493 S. Hwy. 59, Evansville
Farmington Baptist Church, 49 W. Main St., Farmington
Goshen Community Building, 346 Clark St., Goshen
Greenland Community Building, 170 Letitia St., Greenland
Johnson City Hall, 2904 Main St., Johnson
Lincoln Community Center, 112 N. Main St., Lincoln
Morrow Fire Station, 19738 Latta Road, Morrow
Prairie Grove Christian Church, 611 Wayne Villines Road, Prairie Grove
Rheas Mill Community Building, 11871 N. Wedington Blacktop Road, Lincoln
St. Joseph's Catholic Church, 110 E. Henri De Tonti, Tontitown
Strickler Fire Station, 18510 Strickler Road, Strickler
Weddington Community Building, 15503 N. Jackson Hwy., Summers
West Fork Community Center, 222 Weber St., West Fork
Benton County Early Voting
Benton County early voting for Tuesday's preferential primaries and nonpartisan general election ends Monday.
To early vote, visit the County Clerk's Offices at 215 E. Central Ave., Suite 217, in Bentonville, 1428 W. Walnut St. in Rogers and 707 S. Lincoln St. in Siloam Springs from 8 a.m. to 5 p.m. Monday.
Source: Benton County Clerk's Office
Tuesday's Benton County Vote Centers
Any voter in Benton County can cast a ballot at any vote center listed below. Voting on election day will be by touchscreen only at the vote centers. Paper ballots will be available only at the County Clerk's Office in Bentonville. There is no touchscreen voting at the Clerk's Office. Polls will be open from 7:30 a.m. to 7:30 p.m.
Bella Vista
Bella Vista First United Methodist Church, 20 Boyce Drive
Bella Vista Baptist Church, 50 E. Lancashire Drive
New Life Christian Church, 103 Riordan Road
Bella Vista Church of Christ, 989 N.W. McNelly Road
Highlands United Methodist Church, 371 Glasgow Road
St. Bernard's Catholic Church Parish Hall, 1 St. Bernard Lane
St. Theodore's Episcopal Church, 1001 Kingsland Road
United Lutheran Church, 100 Cooper Road
Bentonville
Bentonville Church of Christ, Activity Center, 708 N. Walton Blvd.
Bentonville First Presbyterian Church, 901 N.E. J St.
Bentonville Parks and Recreation, 215 S.W. A St.
Northwest Assembly, 2202 S. Walton Blvd.
First Landmark Baptist Church, 206 S.E. 28th St.
Northwest Arkansas Community College's Shewmaker Center, 1000 S.E. Eagles Way
Word Of Life Fellowship, 808 S.W. 14th St.
Bethel Heights
Moose Lodge No. 877, 215 W. Apple Blossom
Lowell
Hickory Creek Fire Station. 15645 Hwy. 264 East
Lowell First Baptist Church, 209-A Washington St.
Centerton
Benton County Fairgrounds, 7640 S.W. Regional Airport Blvd.
Centerton Fire House, 755 W. Centerton Blvd.
Christian Life Center, 301 Commercial St.
Cave Springs
Lakeview Baptist Church, 1351 E. Lowell Ave.
Decatur
Decatur Municipal Building, 310 Maple St.
Garfield
NEBCO Community Building, 17823 Marshall St.
Gravette
Gravette Civic Center, 401 Charlotte St. SE
Gentry
First Baptist Church of Gentry 221 W. Main St., Gentry
Hiwasse
Beautiful Savior Lutheran Church, 14070 Hwy 279
Pea Ridge
First Baptist Church of Pea Ridge, Family Life Center 1650 Slack St.
Rogers
Prairie Creek Association Community Center, 14432 E. Hwy. 12
Central United Methodist Church, 2535 W. New Hope Road
Centro Cristiano Assemblies of God Church, 2121 S. First St.
Charity Baptist Church, 2901 W. Olive St.
Colonial Baptist Church, 1599 W. Olive St.
Cornerstone Assembly Of God Church, 4055 N. Second St.
First Christian Church of Rogers, 905 S. 13th St.
Rogers Christian Church. 2421 W. Oak St.
Rogers First United Methodist Church. 307 W. Elm St.
Southside Church Of Christ, 919 S. Dixieland Road
Trinity Grace Church 5891, Bellview Road
Siloam Springs
First Christian Church of Siloam Springs, 1405 W. Jefferson St.
Heritage Missionary Baptist Church, 2309 S. Carl St.
Logan Community Building, 15249 Logan Road
Siloam Springs Community Building, 110 N. Mt. Olive St.
Total Life Community Center, 13710 S. Hwy. 59
Source: Benton County Clerk's Office
Voters can cast ballots on their way home from work, after dropping off their children at schools, while running errands -- it no longer must be at a polling location in their precinct.
Washington County's move to vote centers this year is part of a growing trend, Price said.
"This is the future of elections," Price said. "It actually will be a benefit across the county."
Seven counties will use vote centers Tuesday: Benton, Boone, Columbia, Faulkner, Miller, Garland and Washington, Chris Powell, creative services and press manager for the Arkansas Secretary of State, wrote in email.
"I think some of the interest in them is it's seen as convenient," Powell said. "Especially in counties where, for instance, someone may commute to work and their polling location is not necessarily convenient for them and they may have difficulty getting to their traditional location within the hours allotted."
State officials are interested to see what benefits or challenges emerge in the counties that use vote centers, Powell said. Vote centers have not been tested widely across the state, he said.
The Washington County Election Commission will oversee 49 vote centers Tuesday. Benton County will oversee 44. Those centers are expected to stay busy.
About 40 percent of Washington County's 120,000 registered voters are expected to cast ballots during the primary election, Price said.
Paper ballots are not available Tuesday at vote centers in either county. Benton County voters can vote with a paper ballot at the County Clerk's office in the administration building. Voting in Washington County on Tuesday will be by touchscreen only.
Fewer voters are using paper ballots, Price said. Among the 10,000-plus voters who cast ballots during a September 2015 election in Fayetteville, only 32 used paper ballots, she said.
Robbyn Tumey, head of the Democratic Party in Benton County, is concerned about limited paper ballots.
Tumey would like paper ballots to be more widely available, but she understands the county Election Commission makes that decision. The process should run smoothly Tuesday if vote centers operate as well as early voting has, Tumey said.
"It'll certainly be nice for the working folks," she said of the ability to vote at any location.
Poll workers say they are excited about using voting centers.
"I think it's wonderful," said Carol Davis of Farmington, who has been a poll worker for about two years. "It's good for the voters."
The centers remove any confusion about where to vote, said Hugh Hairston of Springdale. He and his wife Beverly have been poll workers at least five years, they said.
In the past, some voters rushed in minutes before the polls closed only to find out they had gone to the wrong polling place, Price and poll workers said. Those voters had little chance of making it to the right spot in time, Price said.
Voting centers have other perks for the commission, Price said.
If severe weather forces one center to close, all the equipment is in place to handle voters directed to a nearby center, she said. All ballots are available at every center, so logistics is no longer a problem, Price said.
Benton County Clerk Tena O'Brien urged voters to make sure voter registration information is current. A voter can contact the County Clerk's Office on Monday in their county. If the information hasn't been updated, the voter will spend more time at the poll, but he can still vote Tuesday at any center in the county, she said.
Benton County election officials say their experience with early voting influenced the decision to use vote centers.
Benton County has expanded early voting the past few election cycles from the County Clerk's offices in Bentonville, Rogers and Siloam Springs to additional locations. The county had three offsite locations in 2012, six in 2014 and seven this year.
Kim Dennison, Benton County election coordinator, said the election day vote centers should mirror the early voting experience.
Notices will be posted at all polls used in 2014 that are not being used this year. The county had 68 polling places in that election. The notices will explain any voter can vote at any vote center and there will be a list of all vote center locations, Dennison said.
John Carr, head of the Republican Party in Benton County, referred questions about vote centers to Russ Anzalone, Election Commission chairman and one of two Republican Party representatives on the commission. Anzalone has spoke about vote centers at party gatherings, to civic groups and networking through his business connections. It seems to be well received, he said.
"The only real question I've gotten is from people asking 'You mean I can't go to the place I've been voting at?'" Anzalone said. "I tell them it depends on where they've been voting and whether it's being used as a vote center. Once I show them the list and tell them they can vote at any of the 44 locations I haven't had any negatives about it at all."
NW News on 02/28/2016