WASHINGTON -- As tears streamed down his face, President Barack Obama on Tuesday condemned the repeated spasms of gun violence across America as he announced new executive actions intended to reduce the number of mass shootings, suicides and killings that have become routine in the nation's communities.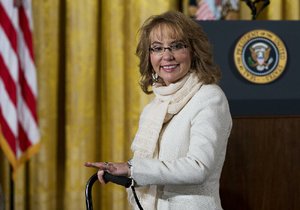 Photo by CAROLYN KASTER / AP
Former Arizona Rep. Gabby Giffords arrives Tuesday in the East Room of the White House in Washington,just before President Barack Obama's announcement of a clearer definition of gun dealers that the administration hopes will expand the number of gun sales subject to background checks.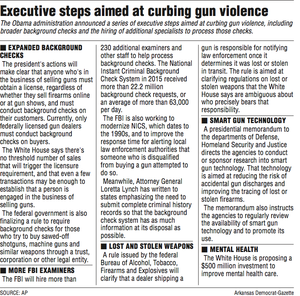 Photo by Source: AP / Arkansas Democrat-Gazette
Information about executive steps aimed at curbing gun violence.
Photo by CAROLYN KASTER / AP
President Barack Obama wipes tears from his eyes as he speaks Tuesday in the East Room of the White House in Washington about steps his administration is taking to reduce gun violence.
Speaking in the East Room of the White House surrounded by gun-control activists and the families of gun victims, Obama broke down as he spoke about the young children shot to death in 2012 at Sandy Hook Elementary School in Connecticut.
"First-graders," he said. The president wiped his eye and paused. "Every time I think about those kids, it gets me mad."
It was not the first time that Obama has been overcome by emotion while talking about gun violence. And his message was the same as it has been in the aftermath of numerous mass shootings: a plea for action to enact universal background checks and overhaul gun laws.
"The gun lobby may be holding Congress hostage right now, but they can't hold America hostage," Obama said. "Congress still needs to act. The folks in this room will not rest until Congress does."
Obama's 10-point plan to keep guns from those who shouldn't have them marked a concession by the president: He'll leave office without securing the new gun control laws he's repeatedly and desperately implored Congress to pass.
Having failed in his push for new gun laws three years ago, Obama conceded Tuesday that "it won't happen overnight, it won't happen during this Congress, it won't happen during my presidency."
Instead, Obama said, he is directing his law enforcement agencies and other parts of the government to do what they can without Congress.
Obama plans to expand the number of gun buyers who are subject to criminal background checks by clarifying existing law. He will also hire more personnel to process background checks, direct officials to conduct more gun research, encourage more domestic violence prosecutions and order better tracking of lost guns, officials said.
The efforts are an attempt to sidestep Congress on an issue that has become increasingly divisive politically. The steps Obama announced stop well short of the type of large-scale changes to the gun trade that Congress rejected three years ago. In the wake of the Sandy Hook shooting, which killed 26 people, mostly young children, Obama vowed to seek new gun laws from Congress that would require background checks for all firearms purchases. That effort failed.
Potentially the most contentious piece of Obama's executive actions is broadening the definition of a gun dealer. The plan targets small-scale gun sellers, who may conduct transactions from home, a gun show or via the Internet and aren't required to hold a license or submit buyers' names for federal background screening.
However, the expanded background checks wouldn't have blocked the sales of weapons used in most recent mass shootings, including the December terrorist attack that killed 14 in San Bernardino, Calif., and the Sandy Hook shooting. The firearms in those cases were purchased legally through conventional outlets.
Obama dismissed that critique as the tired trope of gun lobbyists who question "why bother trying?"
"I reject that thinking," Obama said. "We maybe can't save everybody, but we could save some."
Buyer checks broadened
The new measures' overall effect on violence in the U.S. is the subject of much debate.
"It's not ever going to be difficult to get a firearm, just like it's not ever going to be difficult to get illegal drugs," said James Jacobs, a New York University law school professor.
One of Obama's measures requires that anyone "in the business" of selling firearms obtain a federal license and conduct background checks on prospective buyers, regardless of where the sales take place.
Currently, many private sellers online and at gun shows do not bother to get licenses, and weapons sales over the Internet have become a booming business.
The White House and others can't say how many transactions the step will block or how much bloodshed it may prevent. Studies over the past decade have shown that criminals are more likely to get guns directly from friends or other social connections than at gun shows or flea markets.
And the new controls would affect only a fraction of the nation's about 30,000 annual gun deaths. In 2013, 21,175 of firearms-related deaths were suicides and 11,208 were homicides, according to an annual report by the Centers for Disease Control and Prevention.
Obama is asking the government to research smart gun technology to reduce accidental shootings and asking Congress for $500 million to improve mental health care. Other provisions aim to better track lost or stolen guns and prevent trusts or corporations from buying dangerous weapons without background checks.
One of the other measures is adding 230 examiners whom the FBI will hire to process background checks.
Even with the added manpower, there's no way to completely eliminate human error such as the clerical mistake that allowed Dylann Roof, the young man charged in the Charleston, S.C., church massacre, to buy a weapon even though he should have been disqualified because of a drug arrest.
The White House did not set a threshold for the number of guns someone has to sell to be covered by the licensing and background check requirement. But it warned that people can be charged with a federal crime punishable by up to five years in prison for selling as few as two firearms when there is evidence they are running a business, such as selling weapons in their original packaging and for profit.
New federal data show 2015 was a record-smashing year for the firearms industry in the U.S., with gun sales appearing to hit the highest level on record. Background checks for gun purchases and permits jumped 10 percent last year to 23.1 million, the largest number since the federal background check system began operating in 1998.
Black Friday 2015 was the single biggest gun-purchasing day ever, with more than 185,000 checks processed, according to background check figures from the FBI. December saw the highest number of background checks processed in any month. The last five weeks of the year all ranked among the 10 biggest weeks ever for firearm background checks.
The FBI stressed that "background checks" are not interchangable with "gun sales." The numbers include background checks for gun permits too, which may not be accompanied by a sale. Different states have different procedures in place for running permit checks. An unknown number of gun transactions don't involve a federally licensed dealer and hence aren't accompanied by a background check at all.
Theresa O'Rourke of Downers Grove, Ill., said she hopes Obama's action will deter illegal transactions that have deadly consequences. Her best friend, 36-year-old Jitka Vesel, was killed in 2011 by a stalker who had illegally purchased a gun from a seller he met through Armslist.com, an online gun site. The seller was sentenced to prison after pleading guilty to an illegal sale.
"People do it now because it's easy," O'Rourke said. "But if we say upfront that if you break the law and you are going to go to prison, most people are going to take a step back and say, 'You know what? It's not worth it.'"
She and other gun control advocates said too many individuals make a living selling guns without obtaining the $150 license and following requirements to conduct background checks, keep detailed sales records and face federal inspections.
One in 20 guns advertised through Armslist last year was linked to an unlicensed seller who had listed at least 25 guns, according to recent research published by Everytown for Gun Safety, a gun control group backed by former New York Mayor Michael Bloomberg. A 2013 investigation by that group's predecessor, Mayors Against Illegal Guns, found that more than 3 percent of potential buyers on Armslist had criminal records that would bar them from owning firearms.
Armslist, which was founded after Craigslist banned gun ads in 2007, says in a disclaimer on its website that it doesn't get involved in transactions and that buyers and sellers must follow all state and federal gun laws. Still, guns sold through ads on the site have been linked to some fatal shootings.
Critics respond
Lawmakers, including some presidential candidates, rights groups and others responded to Obama's executive orders as details emerged.
On Tuesday, Chris Cox, the executive director of the National Rifle Association, accused Obama of engaging in "political rhetoric instead of offering meaningful solutions" and said the president's actions would do little to keep Americans safe.
"The American people do not need more emotional, condescending lectures that are completely devoid of facts," Cox said in a statement. "The men and women of the National Rifle Association take a back seat to no one when it comes to keeping our communities safe. But the fact is that President Obama's proposals would not have prevented any of the horrific events he mentioned."
The House speaker, Paul Ryan, also released a statement.
"From Day 1," he said in the statement, "the president has never respected the right to safe and legal gun ownership that our nation has valued since its founding."
He continued, "No matter what President Obama says, his word does not trump the Second Amendment. We will conduct vigilant oversight. His executive order will no doubt be challenged in the courts. Ultimately, everything the president has done can be overturned by a Republican president, which is another reason we must win in November."
Even Sen. Joe Manchin, a Democrat and gun-owner who co-wrote the bipartisan bill Obama supported in 2013, took issue with the president's move.
"Instead of taking unilateral executive action, the president should work with Congress and the American people, just as I've always done, to pass the proposals he announced today," Manchin said.
In the days after the Dec. 2 terrorist attack in San Bernardino, Calif., Obama talked about its similarities with other mass shootings and said it showed the need for gun restrictions. But his decision to move ahead on his own caused anger among Republicans, who say that the president is abusing the power of his office by attempting to expand background checks without the explicit approval from lawmakers.
In a statement from the campaign trail Tuesday, former Florida governor Jeb Bush echoed comments from his Republican rivals for the presidential nomination.
"Rather than taking guns out of the hands of law-abiding citizens as Obama and [Hillary] Clinton would like to do, we should focus on keeping guns out of the hands of the terrorists who want to kill innocent Americans," Bush said. "My commitment to responsible gun owners is clear. As president of the United States, I will defend the Second Amendment, always."
Sen. Marco Rubio, R-Fla., said that "Obama is obsessed with undermining the Second Amendment."
But former secretary of state Hillary Clinton and Sen. Bernie Sanders, I-Vt., both competing for the nomination from Obama's party, pledged to build on his actions if elected.
Information for this article was contributed by Michael D. Shear of The New York Times; by Justin Sink, Toluse Olorunnipa, Andrew Harris and Angela Greiling Keane of Bloomberg News; by Christopher Ingraham of The Washington Post; and by Ryan J. Foley, Eric Tucker, Josh Lederman, Kevin Freking and Nancy Benac of The Associated Press.
A Section on 01/06/2016