Q. How have things changed for Opera Fayetteville since last year's production? Sounds like you've been busy!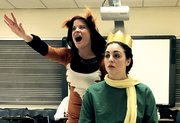 A. Yes! We've had a very eventful season. In addition to our mainstage production of "The Picture of Dorian Gray," we're also performing an outreach version of last year's "The Little Prince" in three local elementary schools. [We did] a preview concert/lecture about "The Picture of Dorian Gray" at the Fayetteville Public library on Jan. 7, and we've performed a gala concert of American opera arias and musical theater at Butterfield Trail Village and as part of Last Night Fayetteville. Five years in, it's exciting to be able to participate in so many dimensions of community life in Fayetteville!
FAQ
Opera Fayetteville:
'The Picture of Dorian Gray'
WHEN — 7:30 p.m. Thursday & again Jan. 16
WHERE — Stella Boyle Smith Concert Hall at the University of Arkansas
COST — $18 in advance; $25 at the door
INFO — operafayetteville.o…
Q. What has helped Opera Fayetteville succeed thus far? And what is your goal for the next couple of years?
A. It really comes down to the generosity and big-heartedness of the people involved. We thought up this crazy dream a few years ago and, in a way, it really had no business succeeding. At every turn, though, we've encountered people who got behind our dream and gave so much of themselves, more than we could have imagined. My fondest hope for Opera Fayetteville is that the community behind us continues to grow. There's something magical happening here, and I want everyone to be a part of it!
Q. How do you manage to recruit such amazing young singers?
A. Well, I'd certainly like to take credit for the amazing singers who've come to work with us at OF, though I'm not sure I can! When I spoke above about the generosity and big-heartedness of the people involved, the singers are high on that list. I will say that we've striven, from the beginning, to make this a wonderful place to work, and I like to think we've become known for that. I think people are also drawn to the repertoire we perform. The contemporary, English-language operas we specialize in are produced far more rarely than other -- more traditional -- parts of the operatic repertoire. That means that opportunities to perform these roles don't come along often, especially for singers at the beginnings of their careers. That's a big draw. This year, the cast includes Jon Jurgens (Dorian Gray), Peter Johnson (Basil Hallward), Michael Colman (Butler), Tamara Ryan (Sybil Vane), Ted Federle (James Vane), Katharine Gunnink (Whore), Nicholas Nestorack (Lord Geoffrey), and Tom Carle (Gamekeeper), directed by Stephanie Havey with an orchestra conducted by Robert Mueller.
Q. Why "The Picture of Dorian Gray"?
A. When we started tossing around the idea of "The Picture of Dorian Gray," I was amazed how many people told me that was their very favorite novel. There's something deliciously scary and intriguing about the story. In general, we try to pick pieces that are based on works of literature or have other equivalents in popular culture. ("Dead Man Walking," for example, was based on the same material as a popular motion picture.) Many of our audience members haven't been to an opera before, and most people are trying something new when they come to a contemporary opera, so I think it helps if they have an "in." "The Picture of Dorian Gray" is also an excellent choice for an opera because it handles the kind of "larger-than-life" emotion that is opera's specialty! Audiences will also be impressed by the lusciousness of the score. The music is exquisite. (And it doesn't hurt that it's being sung by a real powerhouse cast!)
Q. What do you hope audiences get from an Opera Fayetteville performance?
A. I hope people are really pulled in, that they think or feel in a "deeper than everyday" sort of place and that that changes them somehow, that it leaves them inspired.
-- Becca Martin-Brown
bmartin@nwadg.com
NAN What's Up on 01/08/2016