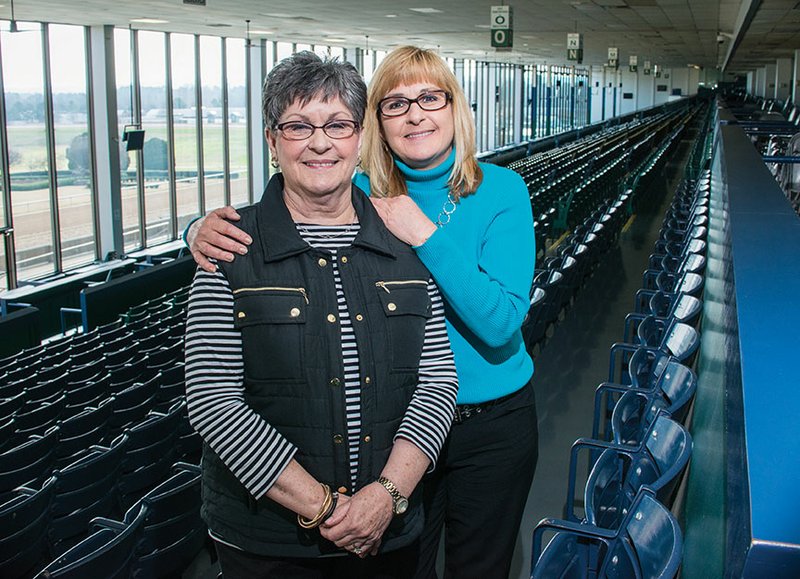 Alta Mullenix, left, and her daughter, Pam Mullenix, are longtime employees at Oaklawn Park. Alta works in the reserved-seats office, and Pam is the facility coordinator. ( William Harvey)
Oaklawn Park is a family affair. Not only has it been owned and operated by the same family for more than 100 years, Oaklawn employs quite a few people with familial connections. There are mothers and daughters, fathers and sons, sisters and brothers, nieces and nephews — all of whom work at Oaklawn and often refer to it as their "second family."
Charles J. Cella has been president of Oaklawn since 1968. His grandfather and great-uncle, Charles and Louis Cella, were among the founders of Oaklawn in 1904. His father, John Cella, served as track president during the modern era of Oaklawn until his death in 1968.
When the live racing season opens Friday, some of Oaklawn's employees may be front and center, but many more of them will be behind the scenes, taking care of day-to-day operations.
Oaklawn may be most known for its thoroughbred horse races, but the business also operates a large gaming area that is open all year long. Just like any other business, Oaklawn has several departments where people can find employment — creative, food and beverage, gaming, guest services, maintenance and housekeeping, mutuels, security, miscellaneous, and support and administration.
Jennifer Hoyt, media relations manager, said Oaklawn has 600 year-round employees, both full time and part time. That number expands to 1,400 during the live racing season.
"We are the second largest employer in Hot Springs," she said, adding that CHI St. Vincent-Hot Springs is the city's largest employer.
Hoyt said there are several longtime employees at Oaklawn that are also family members.
Following is a look at some of those families:
The Mullenix family
Alta Mullenix, 71, has been employed at Oaklawn for 12 years. She works in the reserved-seats office.
"I do it all," Mullenix said with a laugh. "I work in guest relations. I sell reserved seats and box seats. I also work the switchboard.
"When I first decided I wanted to work here, they gave me part time, three days a week. Then when they offered me full time, I gladly took it.
"Our family used to own the Music Mountain Jamboree. We closed it in 2005. We had it for 23 years."
Born in Oden in Montgomery County, Mullenix moved to Hot Springs 48 years ago.
"I love working here," she said. "I love people. I love the people I work with. I love mixing with people who come here. I like working with my daughter.
"I can't wait for live racing to open. It's so exciting. The people line up at our window for box seats. We have a lot of repeat customers. They recognize you from year to year. That's a neat thing."
Mullenix's daughter, Pam Mullenix, 50, came to work at Oaklawn in 2003. She is the facility coordinator.
"I basically see that everything in the plant is taken care of," Pam said. "When I first started to work here, I worked part time in
the gift shop. Then they made me full time. I took care of
the parking lot, the guests
and the print shop. I eventually worked into group sales
and then the maintenance department, where I've been now for six years.
"I love working here because of the family atmosphere — and not just with my mom. Pretty much everybody here is like family."
Pam has one sister, Becky Arguello, who is a real estate agent and a praise and worship leader at her church.
"She also worked here in the gift shop at one time," Pam said.
Pam said Oaklawn does a lot for its employees. "They have all kinds of socials for us — ice cream socials, pie socials," she said. "Plus, we have an annual employee banquet, a 'promise rally' that is really a pep rally to promote a clean, safe and friendly atmosphere, and an annual picnic on the infield of the track.
"They also offer a wellness program that includes an inside walking path and a healthy-foods menu."
The Radimer-Muncrief families
Jamie Radimer, 50, and her sister Nancy Muncrief, 63, are longtime employees at Oaklawn.
Radimer works in the human resources department, and Muncrief in accounting. Their sister the late Donna Trant also worked at Oaklawn for about 30 years as an assistant to Cella.
"I work in benefits," Radimer said. "I grew up in Hot Springs and was always aware of the track.
"We all three were hired by different people, so it wasn't a shoo-in for any of us. Donna started here first, then Nancy and then me.
"It is a family environment here. Our family is not the only family affair here. At one time, they said there were 50 to 75 people who were related."
Radimer said she had one other job before she began her career at Oaklawn 27 years ago.
She said [the three sisters'] parents, the late Herschel J. and Pat Logan, also worked at Oaklawn, as seasonal employees in the mutuels department.
Muncrief, who has worked at Oaklawn for 33 years, said their family ties to Oaklawn even predate their parents' working there.
"Our grandfather, Herschel Logan, worked years ago for Turf Catering Inc., the company that once provided the beer at Oaklawn," Muncrief said.
Muncrief said she handles a lot of the online banking duties in the accounting department.
"I also work for Mr. Cella when he is in the office," she said. "I inherited that job after Donna died."
Muncrief said she had one other job before she came to Oaklawn.
"Oaklawn is a good place to work," she said. "Everybody's gearing up for the races.
"It's been exciting to work here. I've seen a lot of changes. When I first started here in accounting, we had one computer. Now everything is computerized.
"I remember when we first started simulcast racing. We went from that to our invention of Instant Racing, our first gaming experience, … an electronic game of skill based on previous races."
Radimer's son, Austen Radimer, 25, also works at Oaklawn. He is a supervisor in the maintenance department.
"We take care of the general
upkeep of the buildings and grounds," he said. "I've worked here off and on since high school."
He graduated from Hot Springs High School in 2008.
"I guess I was influenced by my mom to work here,"
he said. "I did not go to college. I am just happy to have a job.
"I like working here a lot. I like the people I work with. It's like a big family around here."
Austen's brother, Taylor Radimer, 27, is a seasonal employee in the racing department.
"He's a clocker," Austen said. "He times the horses during the morning exercises.
"He sometimes travels to other racetracks if he's needed."
Taylor graduated from Hot Springs High School in 2006.
Austen and Taylor have a younger sister, Logan Ann Radimer, 21, and a younger brother, Collin Radimer, 15. Neither works for Oaklawn.
"Colin might someday," Austen said with a smile. "He goes to Lake Hamilton High School. I was about his age when I first started working here."
Jamie's husband, Mike Radimer, also works part time at Oaklawn.
"He drives a shuttle in the parking lot during the racing meet," Austen said.
Sponsor Content