GRAVETTE -- Gov. Asa Hutchinson, during a visit to his hometown Friday, told high school students he didn't dream of a life in politics when he was their age.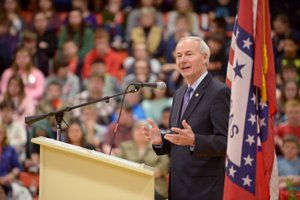 Photo by Ben Goff
Gov. Asa Hutchinson speaks in January to middle and upper elementary students during an assembly at Gravette Middle School.
He recounted the steps that took him from the farm he grew up on in western Benton County to law school to Congress to the highest office in Arkansas.
New York trip
Gov. Asa Hutchinson told Gravette students about his trip to New York City this week. His activities there included visits to the 9/11 Memorial and the New York Stock Exchange, where he rang the opening bell on Monday. "The good news is, the stock market went up that day," Hutchinson said.
Source: Staff report
"You could be governor," Hutchinson said, addressing a packed auditorium at Gravette High School. "Follow your dreams. Don't think you have to have it planned out all in advance."
The School District hosted Hutchinson and his wife, Susan, in what the district billed as a "welcome home" celebration for the governor.
The Hutchinsons spent a few hours in the district. They had lunch at the high school with district officials before Hutchinson gave his speech to students there. They quickly moved on to another assembly at the middle school before heading to Glenn Duffy Elementary School.
Hutchinson attended Gravette schools through the eighth grade, after which he moved to Springdale. He admitted to students that, after moving to Springdale, he'd skip school to go back to Gravette to visit his friends.
He spoke proudly of the first job he had as a shoe shiner in a Gravette barber shop. After one year he sold the business for $25, he said.
There was time for only one question from the audience. A student asked Hutchinson if he ever had thought about running for president.
Hutchinson said he was happy being governor, but used the question as a springboard to discuss the current presidential race, calling it "one of the most exciting presidential campaigns in my lifetime." He urged those students who are eligible to get out and vote this year.
He ran through a list of Republican candidates and asked students to raise a hand if they supported each candidate. By far the biggest number of hands went up when Hutchinson called Donald Trump's name.
Hutchinson said he still has "deep affection" for Gravette. That affection appeared mutual; students and staff members gave him standing ovations before and after his speeches.
Jaye Clark, a Gravette High School senior and daughter of Principal Jay Chalk, presented Hutchinson a small bundle of gifts on stage after his speech. It included a couple of shirts, pins, coffee mugs and a football signed by the Gravette team. The football also had a message: "Just a kid from Gravette."
"That's going in the governor's office," Hutchinson said later.
Sixth-grader Michael Duke introduced Hutchinson, Michael's great-uncle, at a joint assembly of the Gravette Middle and Upper Elementary schools in the gymnasium. Michael called it a nerve-wracking but fun experience.
"I'm glad I didn't stutter," he said.
He said he sees Hutchinson about once a year at family events. They play music and basketball together, he said.
"He loves his family a lot," Michael said.
Sixth-grader Hayley Mayhew and seventh-grader Kolton Varner presented the Hutchinsons with gift baskets at the assembly. Kolton thanked Hutchinson for the job he does, adding, "We are especially thankful we don't have to take PARCC tests anymore."
PARCC refers to the Partnership for Assessment of Readiness for College and Careers, a series of standardized exams Arkansas used for one year before Hutchinson forced a switch in tests.
As Hutchinson left the gymnasium, he slapped hands with numerous students seated in the bleachers.
The Hutchinsons then toured Glenn Duffy Elementary School; after school was dismissed, they addressed a meeting of the school's staff members.
Hutchinson touted his commitment to computer science education and boasted Arkansas is leading the nation in that category. He also told the staff his biggest priority is growing the state's economy.
"If we grow economically, we're able to pay our teachers more. We're able to invest more in education," he said.
School Board member Jay Oliphant was among those who had lunch with the Hutchinsons on Friday. Oliphant said much of the conversation revolved around career and technical education, something Gravette and other Benton County school districts are working on together to improve.
"We want his help and he said he's committed to that," Oliphant said.
Oliphant complimented the governor for taking the time to visit and speak to Gravette's students.
"It's a great inspiration for kids, because they could be sitting there and saying, 'That could be me,'" he said.
NW News on 01/16/2016