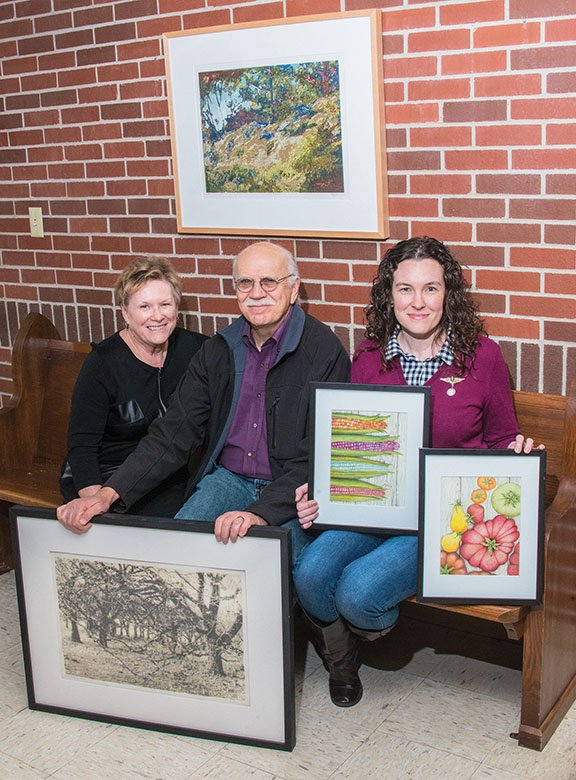 St. Peter's Episcopal Church in Conway will host its annual fundraiser, Art, Pray, Love from 6:30-9 p.m. Jan. 30. Marilyn Rishkofski, left, is co-chairmwoman of the event. Participating artists in the art show and sale include Win Bruhl of Little Rock, center, and Jeanetta Darley of Conway, right. Bruhl will display five framed prints, including Post Oaks in Winter, on the floor, and Redbud, on the wall. Darley will show two of her works from her Harvest Table Sketch Book collection, including Corn, left, and Tomato, right. ( William Harvey)
CONWAY — Patrons of this year's Art, Pray, Love fundraiser at St. Peter's Episcopal Church will have an opportunity to learn more about Guatemala than in years past. The event, set for 6:30-9 p.m. Jan. 30, raises funds for a medical mission trip to that country.
"We wanted to emphasize Guatemala this year," said Marilyn Rishkofski, co-chairwoman of the planning committee, along with Marianne Welch, who helped organize the first mission trip to the Central American country in 2010. "We will have a Guatemalan store with items created by the native people, including Fair Trade items, as well as craft items.
"We will also have an informational booth set up with brochures, a video and photographs of past trips, and our refreshments will have a Guatemalan influence," she said.
"We are especially pleased that the Rev. Roberto Armas, who has a church in Guatemala and is also a physician, will be attending the event," said Rishkofski, who recently moved to Conway from New Hampshire. "He is our contact there and helps coordinate the mission trip, which is arranged with the help of the Western Region of the Episcopal Diocese of Guatemala."
Welch said the mission trip will take place April 9-17.
"The trip will be strictly medical," Welch said, adding that in past years, the team has done some construction work. "Twenty-four people are going.
"We will, for the first time, have the opportunity to do adenoid surgeries on children in a local hospital assisted by local physicians," she said. "Dr. Doug Stroud of Conway and his team will work with the Guatemalan hospital."
Welch said members of the medical team will see several hundred patients in Guatemala during a four-day period. She said many of the patients return to the clinic each year.
As in years past, the event will feature an art show and sale with approximately 20 area artists displaying some of their latest works.
Katie "Sunshine" Wilson of Conway will demonstrate painting with hula hoops.
Among the other artists who are already on board for the event are Win Bruhl, Rene Hein and Burke Johnston, all of Little Rock; Sheila Cantrell of Batesville; Patricia Corder of Smithville; Brandon Hudson of Springdale; and Chris Massingill, Tim O'Brien, Jeanetta Darley, Lois Giorgis, Steve Hurd, Kate Bramante and Bryan Massey, all of Conway.
Bruhl said this is the first time he has participated in the event.
"I will have five framed pieces in the show," said Bruhl, who is a studio artist and recently retired from the University of Arkansas at Little Rock, where he was chairman of the art department for about 15 years.
"I was trained as a printmaker, but I also enjoy drawing," he said. "I will be showing fine-art prints at this event."
Bruhl, who has a Master of Fine Arts degree in printmaking and sculpture from Montana State University, said he has participated in charitable events in the past.
"I have an interest in pre-conquest cultures of Mesoamerica, particularly in Mexico, Panama and Honduras," he said. "I have taken students on numerous study trips to ancient cultural sites.
"I saw this event would benefit the people of Guatemala. It is exactly the kind of thing I am interested in and signed up to participate."
Darley will have samples of drawings from her Harvest Table Sketch Book Collection on sale in the upcoming art show. She has a degree in art from Ouachita Baptist University and is the parish administrator at St. Peter's Episcopal Church. She has participated in the art show in past years.
The participating artists will be honored at a Meet the Artists Dinner on Jan. 25.
"This is something new this year," said Rishkofski, who is also an artist and will be opening her own business — an art and framing gallery — soon in Conway.
"We will introduce the artists to the event committee members and volunteers who will be assisting them on the night of the event," she said. "This will give the planning committee an opportunity to say thank you in advance to those who give of their time and talent to making the medical mission to Guatemala a success."
A silent auction will also be held during the evening, featuring gift certificates for restaurants and services, as well as decorative items.
A live auction is planned, as well, and will feature artwork created by the staff at St. Peter's, including the Rev. Teri Dailey, vicar; Jerusalem Greer, minister to children, youth and families; Kriston Roger, bookkeeper; Tammy Heffington, sexton; and Darley.
Tickets are $30 each or $50 per couple and may be purchased in advance at the church office, 925 Mitchell St., during regular business hours or at the door.
For more information on Art, Pray, Love, call St. Peter's Episcopal Church at (501) 329-8174.
Information is also available on the blog artpraylovearkansas.wordpress.com.
Sponsor Content