Officials touted Dassault Falcon Jet's expansion more than two years ago as a shining example of state government and industry working together to secure jobs for Arkansans.
Photo by Staton Breidenthal
Mike Preston is the director of the Arkansas Economic Development Commission.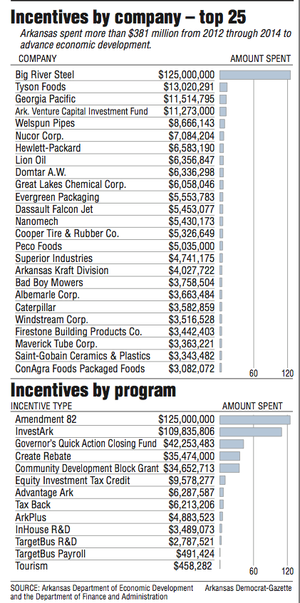 Photo by SOURCE: Arkansas Department of Economic Development and the Department of Finance and Administration / Arkansas Democrat-Gazette
Graphs showing incentives.
The company announced in May 2013 that it would spend $60 million to expand its business-jet finishing factory in Little Rock.
Then-Gov. Mike Beebe was on hand to announce the expansion, describing the effort to land the manufacturer's project as a "battle."
State economic development officials, who had targeted the aerospace industry for growth, gave the company $5.45 million in cash and tax breaks from 2012-14.
But no jobs have been created, according to state business incentive records. An analysis of the incentive records shows that the company wasn't required to increase employment to receive the money.
Arkansas has spent more than $750 million in the past decade to lure and retain hundreds of businesses throughout the state in the hopes of creating or holding on to jobs.
An Arkansas Democrat-Gazette analysis of state incentive programs found that new jobs sometimes cost more to create than they pay in a year and that companies don't always fulfill their job promises or stick around after they take taxpayer funds.
Mike Preston, director of the Arkansas Economic Development Commission, said Dassault Falcon Jet's expansion is important beyond short-term hires.
"If they invest $60 million in our state, we're less concerned about them picking up and moving in five or 10 years," he said. "Dassault is a very large company with a global presence. They could very easily do those expansions in their facilities in Delaware or off in New Jersey as well."
Dassault Falcon Jet officials did not return multiple requests for comment.
In 2015, state auditors who reviewed the state's job-creation and business-incentive programs from 2003-14 found that companies delivered two out of three jobs projected.
For the period 2012-14, the Arkansas Economic Development Commission said in reports to the Legislature that its incentives to companies created 13,800 jobs for Arkansans -- though it did not require that many jobs to be created.
The state has authorized more than $380 million to create jobs over the same period, according to records obtained under the Arkansas Freedom of Information Act.
Kurt Naumann, deputy director of strategic planning for the commission, said the number of jobs created and the amount spent aren't directly comparable because there's often a lag between when a company signs an incentive deal and when it starts hiring or building.
Specific actions are required to receive state money, and if a company doesn't live up to the promises it made in an incentive agreement, the state can claw back money, he said.
Economic development officials say the incentives are necessary to compete with other states, not to mention other countries.
"It's kind of like nuclear disarmament. When other people lay down their arms, we'll lay down ours too," Naumann said, paraphrasing a former director. "It's not a level playing field. I mean, I can say that with all the research that we've done."
Incentives can nudge companies to act in Arkansas' favor, he said.
But of the 25 companies that received more than $3 million each from the state from 2012-14, only a handful announced major job openings, a review of news reports shows.
Peco Foods announced that it would create about 1,300 jobs in Randolph and Clay counties and Batesville -- more than any other company -- but it ranked 15th in funds received.
Big River Steel was second in jobs promised and first in funds received. The company pledged 525 jobs.
The state spent $125 million on Big River Steel, $5 million on Peco Foods.
Six companies -- Hewlett-Packard, Domtar, Superior Industries, Windstream, Saint-Gobain and ConAgra -- collectively shed at least 1,400 positions over the same period.
University economists say it's nearly impossible to say whether the money was well spent because it's impossible to know what companies would do without receiving incentives.
State auditors have said the state doesn't get back in taxes what it spends to spur companies to hire and build new facilities, even assuming that no company would have expanded or hired without state incentive money.
Preston said determining the commission's effect on the state is more complicated than the number of jobs created versus the amount the state spent.
"I think we have a very robust, competitive economic incentive tool kit," he said. "It helps us to stay competitive where we might have disadvantages -- wherever that might be in our current tax structure, corporate income tax rate, things like that -- these incentives really help us overcome those deficiencies."
The incentives also help Arkansas defend against overtures from other states.
"In a perfect world would we not have incentives? Sure, but the moment we get rid of our incentives, Mississippi is going to eat our lunch -- so is Texas, Alabama and all the other states," he said. "Incentives are there for a purpose."
"Uphill battle"
The Arkansas Economic Development Commission, the primary spender of industry incentives, was created in 1955 to bring new industries into the state; expand existing industry; and bring labor, industry and agriculture together to upgrade Arkansans' standard of living.
It was an answer to a changing economy. After World War II, mechanization threw Arkansas' agricultural economy into crisis. Machines began replacing people, who turned to the state's industrial community for employment and found few jobs, according to a 1975 article in the Arkansas Democrat.
Hoping to find work elsewhere, residents fled Arkansas and its high unemployment and deteriorating economy.
Six decades later, that legacy persists in the Delta and south Arkansas.
For example, in 2000 the U.S. Census Bureau recorded a population of nearly 29,000 in Ouachita County in the south-central part of the state.
That same year, International Paper Co. announced that it was closing its plant and laying off 580 people.
The county had saved the plant in the mid-1980s by lowering utility rates and taxes, but no such deal could be found after the plant turned 70 years old.
In 2010, the Census Bureau found that Ouachita County's population had decreased by 10 percent in 10 years.
Communities are struggling to hold on to jobs in south Arkansas, long dependent on the forestry industry, and in the Arkansas Delta, where mechanization has led to decreases in farm employment.
"For all the small communities that are so very dependent on manufacturing, they face an uphill battle," said Kathy Deck, director of the Center for Business and Economic Research at the University of Arkansas. "This is not new today. This is something that's been happening for decades."
But near Camden, the county seat of Ouachita County, Lockheed Martin saw an opportunity more than three years ago.
The world's largest defense contractor said in October 2013 that it would modify an existing factory near Camden to build the military's Joint Light Tactical Vehicle, which the Army wants to replace the Humvee.
The Maryland-based company, long known for missile defense systems, planned to get into the truck business.
In May 2015, Arkansas Gov. Asa Hutchinson called a special legislative session to authorize, under Amendment 82 to the Arkansas Constitution, a bond issue of $87.1 million for the Lockheed Martin project to help a company that was already in the state try to land a federal contract.
Hutchinson said the project would create more than 500 jobs over the next few years, as well as protect 500 existing jobs -- provided Lockheed landed the $6.7 billion Army contract to build 17,000 vehicles.
"I think this is exactly the type of project Arkansas voters had in mind when they approved Amendment 82," Hutchinson said in a May news release.
"If East Camden is ultimately chosen as the site for this new facility, south Arkansas will experience a tremendous economic impact for years to come. We need to make this happen."
How the state's contribution, which totaled 1.3 percent of the vehicles' initial run, was supposed to sway the Pentagon to choose Arkansas was never made clear.
Pentagon officials wouldn't comment on the incentives during an August news conference.
Preston said shaving a few percentage points off each vehicle's price is an advantage in the competitive market for military procurement dollars.
Wisconsin-based Oshkosh Defense, which didn't receive any help from that state to build its vehicle, received the contract, the Pentagon announced in August. Lockheed Martin is challenging that decision in federal court.
Responsibility for growth
When the Arkansas Economic Development Commission is involved in a project, state auditors assume that no job would have been created without the state's help.
But some aid recipients say they would have created jobs, even without the state assistance.
For example, the commission says it helped create 1,134 manufacturing jobs in Batesville from fiscal 2012 through 2014. It spent at least $10 million on incentives for companies in the city over the same time period.
Batesville ranks third in terms of jobs created from 2012-14, commission records show.
Yet, U.S. Bureau of Labor Statistics data show that Independence County lost 300 manufacturing jobs during the two years the commission says its incentives created more than 1,130 jobs, and the county's manufacturing jobs total in 2014 was only about 2,600.
Executives of the companies that received the state funds said workers would have been hired without state involvement, and at least one company laid off hundreds after taking taxpayer money.
Bad Boy Mowers, established in 1998 in Diaz, has quickly risen to national prominence. The company's products, sold by retailer Tractor Supply Co. and others, are marketed around the country.
"We like to say that our products are built Bad Boy tough and Batesville proud," founder Robert Foster said in a 2012 news release.
The company, which received $3.8 million from Arkansas from 2012-14, broke ground on a $7.4 million expansion of its headquarters in Batesville in March 2012.
"On behalf of Independence County, I can't show enough appreciation to both the Arkansas Economic Development Commission and Governor's Office for their work in making this expansion happen," Independence County Judge Robert Griffin said in a news release.
In an interview, Scott Lancaster, general counsel for the company, said the company would have expanded without the help of state and local governments -- though it would have taken more time.
"We were simply able to grow our facility that much sooner, and, as you know, that has a trickle down effect," he said. "It allows us to have a true partnership with the state."
That partnership means that when other states call with their incentive packages, the company remembers the help it got in Arkansas.
"Frankly, we get some very attractive economic incentive packages, but our local governments have also always been very supportive," Lancaster said. "There are some things that it would be easy enough to do somewhere else [but] we appreciate the support that our local government shows us."
The company said in 2012 that the expansion would help provide jobs for 150 people.
In 2015, the company received another incentive package that included a 4.25 percent rebate on payroll for 160 new jobs, a sales and use tax credit for construction expenditures and a $500,000 Community Development Block Grant.
Scott Hardin, spokesman for the commission, said state law prevented him from disclosing what the newer incentive package is worth.
Food manufacturers, long a staple of Arkansas' economy, also have accepted state money to build Batesville operations.
Like Bad Boy Mowers, Alabama-based Peco Foods said it would have grown regardless of state aid.
The company announced in 2012 that it was spending $13.8 million to grow in Independence County and promised to hire 300 additional people.
It received a $485,000 grant from the Arkansas Economic Development Commission and $175,000 from Independence County.
"Arkansas has a good business climate for expansion, good work force, and the availability of grain from local farmers also had a positive impact on our decision to expand in Arkansas," Benny Bishop, the company's chief operations officer, said in an email.
Government incentives help private companies and the state create jobs, but "we would have chosen Arkansas for expansion even without state incentives."
More recently, the state awarded $2.2 million in incentives to Ozark Mountain Poultry for a new processing line in Batesville. The Rogers-based company said the funds would help create 225 jobs.
The company bought facilities once owned by ConAgra Foods, which laid off 233 in Batesville in May 2012 and had received $3.1 million from the state from 2012-14. The plant employed more than 450 at one time.
Ozark Mountain Poultry declined to comment. ConAgra Foods did not return requests for comment.
FutureFuels, which creates biofuels and chemicals in Batesville, also accepted $1.6 million from the state.
The company did not return requests for comment.
State data show that three other companies with Batesville operations received incentives, but they could not be identified.
Data from the Department of Finance and Administration and the Arkansas Economic Development Commission name companies and incentive payments. Reports filed with the Arkansas Legislature detail only number of jobs and locations.
The Arkansas Economic Development Commission declined to say which companies were supposed to create what jobs, but interviews with company officials and a review of documents helped identify some of the companies that received incentives for Batesville operations.
New jobs are important for any Arkansas city, but incentives aren't the only factor companies look at.
Naumann said incentives are an important tool in addition to having a trained workforce and available facilities.
"They're not going to make a bad site good or a project do-able, but they can be the factor that wins the day when you're in the last stages of a negotiation," he said in an interview. "If you don't have a building, if you don't have a site, you're out of contention."
Yet, when the Bureau of Legislative Audit evaluates the commission, it assumes that the companies that received incentives would not have created any jobs or expanded facilities without state aid.
Under that assumption, auditors said that every program outside of InvestArk -- which subsidizes plant expansion -- netted increased tax revenue for the state.
During a Legislative Audit meeting in December, several lawmakers expressed concern that the commission was not counting jobs created as a result of companies expanding facilities under the InvestArk program.
The program does not require job creation.
"The question is do you document the other stuff, because I'm not buying hot air," said Sen. Kim Hendren, R-Sulphur Springs.
He also blasted the fact that no company is named in the audit reports.
But no lawmaker questioned the assumption that no jobs would have been created without state help.
MONDAY: Northwest Arkansas companies fueled economic growth with few incentives from state agency.
SundayMonday on 01/17/2016