DES MOINES, Iowa -- Donald Trump's Republican rivals mocked the billionaire businessman for skipping Thursday night's presidential debate, then moved quickly to capitalize on the opportunity to step out of his shadow.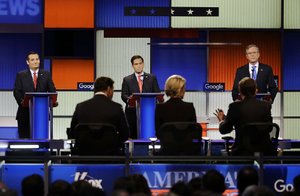 Photo by CHRIS CARLSON / AP
Ted Cruz (from left), Marco Rubio and Jeb Bush take a question from moderator Chris Wallace (right, back to camera) Thursday in Des Moines, Iowa.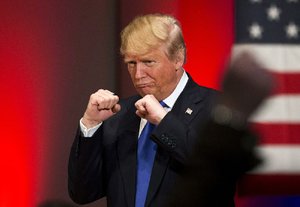 Photo by JAE C. HONG / AP
Donald Trump poses with a ring given to him by a group of veterans during a campaign event Thursday on the campus of Drake University in Des Moines, Iowa.
Texas Sen. Ted Cruz, who is locked in a tight contest with Trump in polls in Iowa, opened the debate with a sarcastic impression of the real estate mogul's frequent insults of his opponents.
"I'm a maniac, and everyone on this stage is stupid, fat and ugly," Cruz said.
Former Florida Gov. Jeb Bush said sarcastically, "I kind of miss Donald Trump. He was a teddy bear to me."
Thursday's debate came four days before the Iowa caucuses kick off the 2016 nominating contest.
Trump pulled out of the debate earlier this week, alleging unfair treatment from host Fox News. He's feuded with the network for months, particularly with news anchor and debate moderator Megyn Kelly. Trump chose instead to host a rally that his campaign said would raise money for veterans.
After acknowledging Trump's absence early on in the debate, Cruz thanked the other candidates for showing Iowa voters the respect he said they are due by showing up to make their case about why they should be president.
Cruz noted that he will have visited all 99 of Iowa's counties by Monday, the day of the caucuses. If he's elected president, he said, Iowans should "keep an eye on the tarmac, because I will be back." He said in 2017 Iowa "will not be flyover country, it will be fly-to country."
Also attempting to give the debate new direction, Sen. Marco Rubio of Florida said that "this campaign is not about Donald Trump," but about making sure former Secretary of State and Democratic presidential hopeful Hillary Clinton doesn't win in November.
On the topic of foreign policy, Cruz promised to build up the U.S. military with money freed up by tax and regulatory cuts from a throttled American economy but defended votes for budget bills that have cut military spending.
Rubio struck an aggressive posture, pledging that as president he would go after terrorists "wherever they are. And if we capture them alive, they are going to Guantanamo." He has said Cruz cannot be trusted to destroy the threat of the Islamic State militant group, which he called "the most dangerous jihadist group in the history of mankind."
Cruz said he "will apologize to nobody" for his stance on the Islamic State, and he promised to "utterly and completely destroy" the group.
Rubio also locked horns with Sen. Rand Paul of Kentucky over how far the government can go in anticipating domestic terrorism. He defended his call for monitoring mosques and called the threat from the Islamic State and its attempts to recruit people in the United States "unprecedented."
But Paul -- back on the main debate stage after being downgraded to an undercard event because of low poll numbers earlier this month -- called that a bad idea, saying, "If you want to defend the country, it begins with border security."
Cruz and Rubio were confronted with video clips that suggested they had changed their positions on immigration, one of the most contentious issues among Republicans. While each insisted the other had flip-flopped, both denied they had altered their views to permit some illegal aliens in the U.S. to stay.
Cruz accused Rubio of making a "politically advantageous" decision to support a 2013 Senate bill that included a pathway to citizenship, while the Florida senator said his rival was "willing to say or do anything to get votes."
In a standout debate moment for Bush, he sharply sided with Cruz in accusing Rubio of having "cut and run" on the Senate immigration bill.
"He cut and ran because it wasn't popular with conservatives," Bush said.
Ohio Gov. John Kasich said the U.S. can't be the policeman of the world.
Instead, Kasich said that the U.S. must work with other countries in the Arab world and in Europe to confront militants like those in the Islamic State. He said the only solution is to build a coalition similar to the one that came together in the Persian Gulf War. Kasich said destroying the Islamic State will have to involve an air war and a ground war.
Kasich said the way to bring together a winning coalition is to convince other countries that terrorism poses an "existential threat" to all of them. Kasich said he believes it can be done because he saw former President Ronald Reagan and others do it.
Asked whether the crowded establishment lane was putting Trump in position to be the nominee, Bush said, "We're just starting out. The first vote hasn't been counted. Why don't we let the process work?"
Underscoring the divide between the GOP establishment and outsider candidates, Cruz proudly claimed he was "not the candidate of career politicians in Washington."
Bush also defended the flurry of critical advertisements his well-funded super PAC has released against Rubio and other rivals.
"It's called politics," Bush said. "That's the way it is. I'm running hard."
Asked whether some Republican voters value candidates who put principles ahead of everything, New Jersey Gov. Chris Christie said he stands by his principles but also can accomplish his goals.
"I've been accountable for six years in New Jersey," Christie said.
Christie said Americans are frustrated with politics and simply want to elect a president who is effective. When asked about previously expressed doubt that either Cruz or Rubio is prepared to be president, he argued that the person who isn't qualified to be president is Clinton, citing her use of a private email server as reason for distrust. He said he's the best candidate to face off against Clinton in a general election.
Kasich, like Christie, also referred to his work as an elected official, saying that as a member of Congress and as governor of Ohio he has an edge in regard to Washington matters and that will help him work with both parties to fix America's biggest problems.
He also espoused the importance of teamwork in some areas to get things done, adding, "We cannot fix things in this country -- Social Security, the border, balancing the budget, getting wages to grow faster -- unless we lead as conservatives."
"We have to come together as a country, and we have to stop all the divisions," Kasich added.
Ben Carson, meanwhile, said he's proud to be the only Republican presidential candidate without political experience.
Carson, a retired neurosurgeon, said that even though he hasn't made political choices, he's made plenty of life-and-death decisions during his career as a doctor.
"I don't think you need to be a politician to tell the truth," he said.
Trump's night
Rather than attend the Thursday night debate, Trump held a rally elsewhere in Des Moines, an event his campaign said was raising money for veterans.
Trump and his team held what they called a "Special Event to Benefit Veterans Organizations" at a packed 775-seat auditorium at nearby Drake University.
Trump said at the rally that he'd prefer to be at the debate, but had no choice but not to attend.
"When you're treated badly, you have to stick up for your rights," Trump told the crowd, adding that "we have to stick up for our country if we're being mistreated."
Trump repeated earlier statements that Fox "very much" wanted him to attend the debate and said he'd fielded phone calls from the network throughout the day.
Fox News Channel said Thursday that Trump demanded a $5 million contribution to his charities in order to appear in the debate, which the network rejected.
Fox News said Chairman Roger Ailes, in conversations with Trump, "acknowledged his concerns" about a statement the network had made in the days leading up to the debate.
Trump announced his foundation already had raised $5 million to $6 million for veterans since announcing the event. He said he's putting up $1 million of his own money and read off the names of wealthy friends he said had pledged major contributions.
It was unclear exactly which groups would receive money raised from the event and a new website Trump debuted for collecting donations: donaldtrumpforvets.com. Contributions to the site will go to The Donald J. Trump Foundation, Trump's charitable organization. The page says: "100 percent of your donations will go directly to Veterans needs."
Trump representatives had been reaching out to various groups, in some cases inquiring about their programs and finances. Among those contacted were the Green Beret Foundation, which provides care to veterans, and Fisher House, which provides free or low-cost housing to veterans and military families receiving treatment at military medical centers.
K9s for Warriors, which trains rescue dogs to be service animals for veterans, received a call from a Trump campaign representative asking if the group was interested in accepting funds from the event, according to Executive Director Rory Diamond. Diamond said the group is nonpartisan but would be happy to accept any contributions.
Former Arkansas Gov. Mike Huckabee and former Sen. Rick Santorum of Pennsylvania attended and briefly took the stage at the rally after participating in the early undercard debate for candidates whose poll numbers were too low to make it on the main stage.
Santorum quipped that he's "supporting another candidate for president" but said he was happy to come out to support veterans. Huckabee had earlier stressed his appearance should not be seen as an endorsement of Trump. He told the audience that he, Santorum and Trump may be presidential race competitors but that "tonight we are colleagues" in supporting veterans.
It was unclear whether Trump's move to skip the GOP debate would hurt his standing with Iowa voters, but Trump told reporters on his plane before the rally that he's not worried about turning off voters who may be disappointed by his decision.
"We've had other voters that love what I'm doing because they don't want to be pushed around by the establishment," said Trump, who is planning to participate in the next debate in New Hampshire.
Among those who attended the rally was Joel Arends, chairman of Veterans for a Strong America, which has endorsed Trump. He stressed the group had no role in planning the event but encouraged its network of supporters to attend.
"This is why we endorsed Trump in the first place, because he's willing to go around the media gatekeepers and straight to the people," Arends said before the rally.
Information for this article was contributed by Julie Pace, Jill Colvin and staff members of The Associated Press.
A Section on 01/29/2016