URBANDALE, Iowa -- Trailing badly in all of the polls, former Arkansas Gov. Mike Huckabee is counting on friends from Arkansas and voters in Iowa to help him shock the pollsters and keep his presidential hopes alive.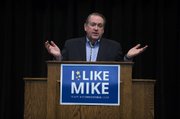 Borrowing a racetrack analogy, he says it's possible the front-runners will hit a wall or blow a tire before reaching Monday's finish line.
Thursday, Arkansas Treasurer Dennis Milligan and Attorney General Leslie Rutledge arrived at Huckabee 2016 headquarters in Urbandale, Iowa, and prepared to join the final push. They were joined by former South Carolina Lt. Gov. Andre Bauer, Alabama Secretary of State John Merrill, Home Improvement actor Jimmy Labriola and a host of Huckabee's relatives.
"This is the insane part of the Iowa caucus as we get to the funnel," Huckabee said before exiting the office Thursday afternoon. "Every four years, nobody really knows what's going to happen until it happens."
Unlike eight years ago, when he won the Iowa caucuses, this time there aren't hordes of reporters trailing Huckabee wherever he goes.
Right now, he concedes, the throngs are chasing New York billionaire Donald Trump and U.S. Sen. Ted Cruz of Texas, focusing on that increasingly heated rivalry.
"There's a focus on that battle that is unquestionable, but there's also the possibility that people will say, 'I'm tired of that.' That's our strategy. In a NASCAR race, if you're driving around the track and there's some folks in front of you and they have a car wreck, you can go get the checkered flag," Huckabee said.
Finishing first isn't essential, he suggested.
"There are some of us that need to exceed the expectations, which for me, right now, are not high," he said. "There are others, for example, Cruz. If he doesn't win here, then this inevitability stuff is gone and I think he has as much to lose here as we do here."
Campaign staff members say they're reaching out to undecided voters and that there are positive signs as the vote nears.
"The last couple of days on the ground, we've seen more people coming to our events. I'd say the volume has been turned up a little bit. You can tell people are starting to make some decisions," said campaign senior adviser Chip Saltsman.
There's ground to make up between now and Monday.
"Look, we know where we are in the world. We're not the front-runner right now. We know we've got to close like a freight train, but the good news is there's been a lot of people in Iowa that's voted for him before and they know who he is," Saltsman said.
Sarah Huckabee Sanders, the governor's daughter and his campaign manager, said he needs "a strong showing," adding, "We need to beat expectations and I think we'll do it."
It's a good sign, she said, that so many volunteers are showing up at Huckabee headquarters.
Thursday, dozens of supporters traveled to the site, sandwiched between Midwest Mattress and Hungry Boyz restaurant, in strip-mall country 10 miles northwest of Des Moines.
As others loaded up on a free barbecue luncheon, Labriola, the actor and comedian, earnestly praised his friend from Arkansas.
The TV star appeared on Huckabee's TV show a few years ago; he says they quickly became pals.
"What I love about him is the realness. What you see is what you get and, obviously, he has a great sense of humor or I couldn't hang with him, no matter who he was," the New York native said. "I really believe he could be the Reagan of our time, what we really need. So I'm willing to do whatever I can."
Huckabee's Arkansas allies said they'll also do anything they can to help.
"If it means sweeping the floor, I'll be jumping in sweeping the floors," Milligan said. "Mike's been a great leader for Arkansas, a great influence on me and we're just proud to be up here helping him out any way that we possibly can. He's demonstrated a great ability to be able to lead our state and I have no doubt in my mind he's very capable of leading our country."
Although Huckabee later joked about getting a broom for Milligan, campaign officials said Milligan's primary task, at least Monday evening, would be to speak on the candidate's behalf at one of the caucus sites.
Thursday, Milligan and Rutledge had tickets to the night's Republican debates and were scheduled to appear and praise Huckabee's performance later in the evening.
Officials have printed "talking points" to help Huckabee surrogates make their case in the coming days, but Rutledge didn't refer to them as she praised Hope's most famous Republican earlier in the day.
"Gov. Huckabee's experience. No one can match it," she said, praising Huckabee's decade of leadership and his ability to work with Democrats as well as Republicans.
"That's what Americans are fed up with right now. They're fed up with government not working and the divisiveness that we see in Washington and he has a proven record of reaching across the aisle, working with people to get things done. ... He did amazing work in Arkansas and he needs the opportunity to do that across America."
In addition to Arkansas elected officials, Huckabee family members also have been deployed and will speak on his behalf at caucus gatherings Monday evening.
The ex-governor's sister, Pat Harris of Bryant, said she's been told she can stray from the talking points, because "they'd rather we speak from our hearts."
The retired schoolteacher gave a similar speech here in 2008, the night Huckabee claimed victory.
Asked how her brother will do this time, Harris said "I truly have no idea. We're more about miracles than math, so we'll just have to see. All you can do is do your best, keep a happy face and keep rolling."
A Section on 01/29/2016