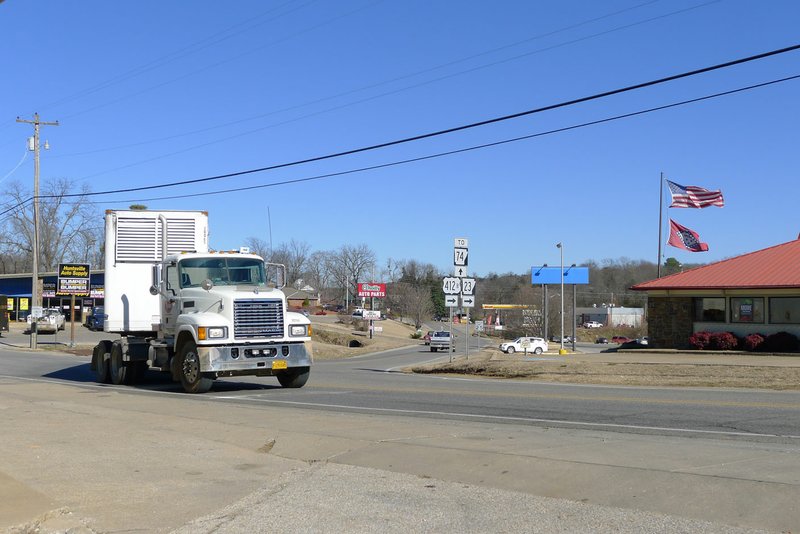 Residents say this intersection of Lee Street and Arkansas 23 — soon to get a stoplight — is near the Huntsville High School and gets congested in the mornings and afternoons when school lets out. ( Bill Bowden)
HUNTSVILLE -- Madison County is about to get its first stoplight.
It's progress, said Huntsville Mayor Darrell Trahan. The stoplight will help drivers turn left from Huntsville's Lee Street onto Arkansas 23 south.
But not everybody is happy about the light.
"It's a slippery slope to the bitter end," said a man buying wiper blades Thursday at Huntsville Auto Supply. "We'll end up like them people," he said, pointing toward Fayetteville, 28 miles to the west.
Madison County, population 15,717, is one of five Arkansas counties that have no traffic signals, according to the Arkansas Highway and Transportation Department and sheriff's offices.
The other counties are Montgomery, Newton, Perry and Pike. Madison and Newton counties are in the Ozark Mountains. Montgomery, Perry and Pike counties are in the Ouachita Mountains.
Some of those counties may have caution lights that flash red, but they don't have stoplights that change to green and yellow.
In Newton County, Sheriff Keith Slape said tourists don't want to see stoplights.
"For tourism purposes, they want to escape anything that has to do with the city," he said. "And they can find that here. An occasional stop sign and an occasional stop for elk in the highway."
Perry County Sheriff Scott Montgomery said he was disappointed to hear four other counties have no stoplights.
"I was hoping we'd be the only one in the state that didn't have one," he said. "It's unique in my opinion. There's not very many places you go these days that you don't run into a stoplight."
Montgomery County Sheriff David White said not having a stoplight makes Mount Ida seem like Mayberry from The Andy Griffith Show.
"These people down here still want the small-town setting," said White. "It's almost a Mayberryish idea -- a place that time forgot. They don't want red lights. But there's really no place that we need one."
Work to install the stoplight in Huntsville will begin within the next month, according to the Highway Department. It is expected to be completed late this year. Ewing Signal Construction of Nixa, Mo., was awarded the contract to install the light with a bid of $155,805. Trahan said Huntsville paid about $10,000 toward the cost of the stoplight.
Kevin Hatfield, a former Huntsville mayor, said Madison County has never had a stoplight. He said Huntsville, the county seat, had a flashing-red caution light in the 1960s to warn motorists schoolchildren might be trying to cross Main Street. But it was gone by 1969.
Hatfield said he's heard that some people are grumbling about the stoplight.
"I'll tell you the No. 1 reason they're complaining: We've never had a stoplight," Hatfield said. "That's what they'll tell you. People don't like change of any kind. I don't care how good it is. They say, 'Well, we've never had a stoplight in this county.' They're kind of proud of that point."
Trahan said some of the locals have a contrarian nature.
"We've got some people in town who don't like Christmas, hate Easter and can't stand weekends," he said. "No matter what you do, there's going to be somebody mad about it."
Three businesses face the intersection where the light will be installed: Huntsville Auto Supply, Huntsville Lumber Co. and a Pizza Hut restaurant.
Waylon Smith, a salesman at Huntsville Auto Supply, said he'd prefer not to have the stoplight.
"It's nice not having one," he said. "We're a small town."
Jim Hepler, assistant manager at Huntsville Lumber Co., said there's a lot of opposition to the stoplight.
"If you were to ask most people here, they don't like the idea," he said. "I believe the money could be spent better elsewhere."
Installation of the stoplight will require putting in a 35-foot-tall pole near the front door of Huntsville Lumber Co., Hepler said. The spot is marked with a white circle on the pavement out front.
"You can imagine how that affects our parking," he said.
Tamera Winebrinner, another employee of Huntsville Lumber Co., said the town needs the traffic light. She said it will help alleviate traffic congestion at the next stop sign heading north, which is at Main Street and the downtown square.
The intersection of Lee Street and Arkansas 23 is near Huntsville High School. Traffic in the area is most congested when students are going to and from school in the morning and afternoon.
The three-way intersection requires vehicles traveling southwest on Lee Street to stop where the street intersects Arkansas 23. Traffic on Arkansas 23 has no stop sign at the intersection.
"The stoplight will be an excellent thing to have between 3 p.m. and 3:45 p.m. each school day," said Joy Russell, a Madison County historian. "That's when it gets totally congested at that intersection with the students leaving high school, parents picking up kids, and the school buses using the streets."
Harry Spurlock, transportation director for the Huntsville School District, said mornings are the worst time for bus drivers because they have to turn left at the stop sign to deliver kids to the high school.
But afternoons are more problematic for truck drivers.
Trahan said loaded 18-wheelers are sometimes stuck at the stop sign for 10 minutes.
He said people need to stop bragging about not having a stoplight.
"Those same people who would brag about that get up every Saturday morning and drive over to Fayetteville to go shopping," said Trahan. "I'd rather keep that money in Madison County. We're ready to move on into the 21st century. We're ready to bring some industry into this area."
Korey Danley, lead vocalist and mandolin player for The Ozark Travelers, said she's not about to change the first line of her song "Madison County." It begins with: "Madison County ain't got no stoplights."
"I will never change the line," she said. "In fact, when I wrote that line, we already knew that a stoplight would be put up for use, so I figured I had better get the line out there while it was still accurate! Places change, but it won't change our awesome memories of the old times we've had. That line will remain a memory for all of us Madison County folks, I hope."
And the chorus goes:
Call me hillbilly, call me what you will
But that Arkansas beauty's gonna draw me still
Breathin' in that Ozark Mountain air
Nothin compares to bein' there ...
Madison County's got its own reputation
Never find nothin' else like it in the nation.
NW News on 01/31/2016
Print Headline: Madison County to get its first stoplight
Sponsor Content