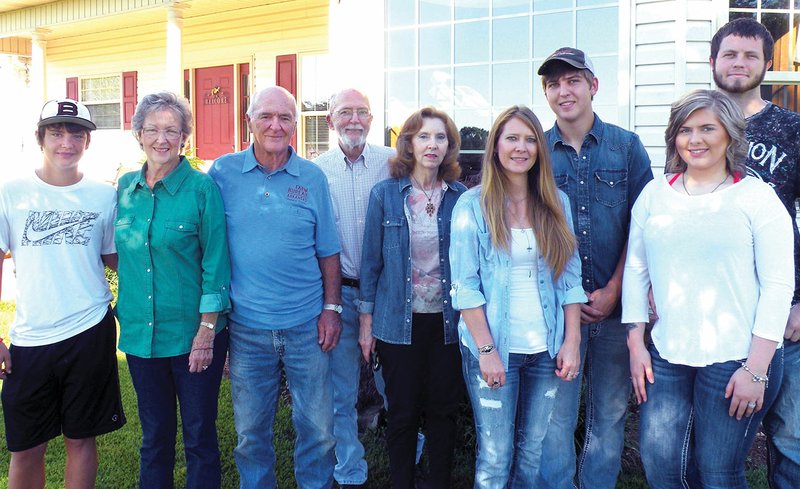 Joy and Tommy Sorrells of Royal, second and third from left, celebrate their Garland County Farm Family of the Year honor with family members Weston Dobyns, far left; Richard Sorrells, fourth from left; Julia Sorrells, Andrea Wicker, Carson Wicker, Lauren Wilson and Chevy Wilson.
ROYAL — Tommy Sorrells and Joy Sanders were high school sweethearts. Now 75, Tommy and his wife, Joy, also 75, recently celebrated two milestones — their 54th wedding anniversary and recognition as the 2016 Garland County Farm Family of the Year.
"It's an honor to be named Farm Family of the Year," Tommy said. "I know a lot more people deserve it more than we do, but I appreciate the recognition."
Tommy and Joy have one daughter, Tracy Dobyns, 45, and three grandchildren — Kaylee Dobyns, 23, Jessi Dobyns, 20, and Weston Dobyns, 13.
The couple's extended family includes Tommy's brother, Richard Sorrells, and his wife, Julia, and their daughter, Andrea Wicker, and her children, Carson Wicker and Lauren Wilson.
Tommy and Joy have been farming for 50 years. They farm a total of 623 acres on which they raise 70 head of Angus beef cattle and 120 acres of hay. Tommy leases about 400 acres from his brother, Richard.
Tommy sells the cattle through the local Glenwood Livestock Market, occasionally selling a calf straight off the farm, which has always been in the family. The family raises hay primarily to feed the cattle.
"Eighty acres of the farm have achieved Century Farm status [through the Arkansas Century Farm Program administered by the Arkansas Agriculture Department]," Tommy said. "It was established by my family in 1886. Another 200-plus acres were established in 1939."
Tommy is the son of the late Floyd Sorrells and the late Ruby Houser Sorrells. Tommy graduated from Lake Hamilton High School in 1959 and from Southern State College (now Southern Arkansas University) in Magnolia in 1964 with a degree in business agriculture.
"My mother helped to organize a 4-H club in the Royal community. I got involved and started showing beef, sheep and dairy animals," Tommy said.
"Tom Stone, president of First National Bank, set up a loan program for youth to buy animals. I bought my first cow with this loan," Tommy said.
"As a small child, I would ride behind my father on his horse as he checked the pastures and cattle. … After graduation [from college], I went into partnership with my dad," Tommy said.
"In later years, I rented the farm from my mother and dad. I continued to rent the farm until my mother passed away. Then part of the farm went to my brother, which I continue to lease," Tommy said.
"Dad was the one who put this [farm] all together. He lost a leg cutting hay, but that never slowed him down," Tommy said.
"I always wanted to come back and farm, but to supplement my income, I had the opportunity to work for the state, and I did that."
Tommy retired as an area manager for the Arkansas Department of Health, serving six counties.
"I worked with health units from Saline County all the way to Mena," he said.
Joy is the daughter of the late Oren and Lecie Sanders. She has two living siblings — Paul Sanders and Charles Sanders, who both live in Pearcy. Another brother, Doyle Sanders, is deceased.
Joy also graduated from Lake Hamilton High School in 1959. She worked at a bank in Hot Springs until the couple's daughter was about 3.
"Then she stayed at home and took care of our child and helped me on the farm," Tommy said.
He has "deeded over 120 acres to my daughter, which I have a lifetime to use," Tommy said.
"My grandson, Weston, has 3 head of cattle and shows in the county fair," he said. "My niece, Andrea, has three head of cattle, and her son, Carson, helps on the farm.
"I hope my grandchildren will decide to continue to farm one day, but now, both granddaughters have decided on other careers, and my grandson is all into football and baseball right now."
Tommy is a past president of the Garland County Cattlemen's Association and is secretary of the Garland County Farmers Association Board of Directors and president of the Garland County Farm Bureau Board of Directors. He is also a member of the Farm Service Agency county committee and the Garland County Conservation Committee. He contributes to the Garland County Fair premium sale.
On the state level, Tommy is a past member of the Arkansas Cattlemen's Association Board of Directors, past president of the Arkansas Public Heath Association and a past member of the Arkansas Society of Professional Sanitarians Board of Directors. He is a voting delegate to the Arkansas Farm Bureau state convention.
The Sorrells family attends Oaklawn Missionary Baptist Church in Hot Springs, where Tommy is a member of the finance committee and Joy is a teacher in the children's chapel.
Sponsor Content