WASHINGTON -- Making the rounds on the Sunday morning talk shows, Hillary Clinton and her campaign stand-ins sought to assure voters of the presumptive Democratic presidential nominee's trustworthiness.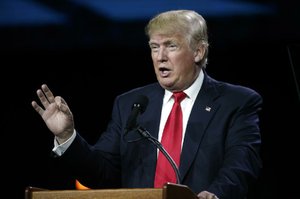 Photo by David Zalubowski / AP Photo
In this July 1, 2016, photo, Republican presidential candidate Donald Trump speaks during the opening session of the Western Conservative Summit in Denver.
FULL ELECTION COVERAGE
The televised appearances came a day after the FBI interviewed Clinton for more than three hours about whether she exposed government secrets by blending personal and official business on a home email server during her time as secretary of state. In a Saturday interview that aired on NBC's Meet the Press, Clinton denied wrongdoing and pledged to do "everything I can to earn the trust of the voters of our country."
Labor Secretary Tom Perez talked about Clinton's long career in the political spotlight, arguing that in the quarter-century since her husband began his first bid for president, and in the 16 years since she formally announced her candidacy for the U.S. Senate in New York, some accusations against her have stuck.
"The Hillary Clinton that I've gotten to know well and the Hillary Clinton that the voters of New York got to kick the tires on very well, they have always said and consistently said that we trust her," Perez said Sunday on Meet the Press.
He also asked voters to look at the public service work Clinton has done during her career.
"That really gives me, and I think the American people, a window into her moral compass," he said. "And her moral compass is about helping those who are in the shadows."
Sen. Sherrod Brown, D-Ohio, echoed those sentiments on ABC's This Week.
"I know how she started her career advocating for the Children's Defense Fund," he said. "She didn't go off to Manhattan or to Washington to make a lot of money."
Rep. Xavier Becerra, D-Calif., said on Fox News Sunday that "the secretary has made it very clear she understands she's got to earn people's trust."
"She's going to work very, very hard to do that," he said. "And I give her credit for saying she's made some mistakes. She's going to try to show the American people that she's going to work hard, especially for working families in America to earn their trust."
Clinton also addressed the meeting between her husband, former President Bill Clinton, and Attorney General Loretta Lynch on her plane on the tarmac of the Phoenix airport last week. Both said the meeting consisted only of pleasantries, but they acknowledged that the private conversation gave the appearance of undermining the FBI's investigation into Hillary Clinton's home server. Bill Clinton and Lynch have since said they regret the meeting.
"I learned about [the meeting] in the news," Hillary Clinton said in the NBC interview. "They did not discuss the Department of Justice's review."
When Clinton was asked whether the visit was inappropriate, she replied, "Well, I think, you know, hindsight is 20/20."
Sen. Tom Cotton, R-Ark., said Sunday on Meet the Press that though he was confident in the FBI's personnel, he thought Lynch was "very unwise" to meet with Bill Clinton in Phoenix.
Since Lynch "has not fully recused herself from this decision, I think it raises questions about political interference in this investigation," Cotton said.
On the campaign trail
President Barack Obama will likely emphasize the trustworthiness theme during a rally Tuesday in Charlotte, N.C., his first appearance on the campaign trail with his former secretary of state.
That night in Raleigh, N.C., Republican Donald Trump will take the stage, where he is expected to argue that Clinton is seeking a third Obama term.
"People of North Carolina want strength, protection and jobs, and President Obama and Hillary Clinton have let them down for many years," Trump, the presumptive Republican nominee, said in a statement. "I will bring jobs back to North Carolina, and our country, like never seen before."
Both Democrats and Republicans see North Carolina as winnable this year after it went to Republican Mitt Romney in 2012.
Clinton will also campaign in the battleground state of Pennsylvania this week, appearing with Vice President Joe Biden on Friday in his hometown of Scranton. Trump has courted working-class whites there and in Ohio, both industrial states that twice went to Obama.
Democrats are also pushing for a third straight win in Colorado. Although it has voted Republican in seven of the past 10 presidential elections, Colorado has more registered Democrats than Republicans for the first time in more than 20 years.
"Trump is turning off as many key voter groups as we have in this state," said former Colorado Republican Party Chairman Dick Wadhams. "I would have to believe Trump's having trouble."
Trump on Friday made his first campaign appearance in Colorado, speaking at the Western Conservative Summit in Denver. Clinton on Wednesday made her fifth trip, proposing college-loan deferment for graduates who start businesses.
Criticism of Trump
As Trump worked to shore up support in key states, he also faced criticism over his policy proposals and rhetoric.
Sen. John McCain, R-Ariz., said from the U.S. Embassy in Kabul on Sunday that he remains concerned about Trump's foreign policy acumen but is nevertheless standing by a pledge to back him.
"I've said I would support the nominee of the party," McCain said in an interview on CBS' Face the Nation. "I have strong disagreements, and we've just been through several of them, and that's my position."
Asked who would handle complex foreign policy matters better, McCain declined to choose between Clinton and Trump.
"I don't think either one of them has displayed what I think is the necessary strategy and outlook -- the planning and reliance on our military leaders -- that will be necessary to succeed," he said. "I hope that whichever one is president, that they would call in the David Petraeuses and the Robert Fords and the Ryan Crockers and those individuals, both military and State Department, and diplomats who succeeded in Iraq before the president gave it all away, who know what we need to do to defeat this threat, both militarily and diplomatically and in other ways."
McCain was joined in the CBS interview by Sen. Lindsey Graham, R-S.C., one of Trump's former rivals for the Republican nomination. Graham also knocked Trump on foreign policy, citing his willingness to leave Syrian President Bashar Assad in power. He was more charitable toward Clinton, though he has said he wouldn't vote for her or for Trump.
"Mr. Trump, when you said Assad should stay, you need to rethink that," Graham said. "As to Secretary Clinton, she said she wants a no-fly zone in Syria. That is a great step in the right direction."
Libertarian presidential nominee Gary Johnson, who's challenging both Trump and Clinton, said Sunday in response to a question that Trump is "clearly" racist.
"Based on his statements, clearly," Johnson said on CNN's State of the Union. "I mean, if statements are being made, is that not reflective?"
Critics of Trump, including some in his own party, have accused him of making racially discriminatory statements. House Speaker Paul Ryan, R-Wis., called Trump's criticism of a Hispanic judge the "textbook definition of a racist comment." But most have not referred to Trump as racist.
Johnson's declaration came after a CNN town-hall event June 22 in which he said that he did not plan to "engage in any sort of name-calling" at either of the leading major-party candidates. However, his running mate, former Massachusetts Gov. Bill Weld, called Trump a "huckster" at that event.
Trump also drew criticism after a report that the Star of David imagery used in a Twitter post Saturday by the candidate had previously appeared on a message board known for anti-Semitism and white supremacy, as well as on a Twitter account with a history of racially charged comments.
It is unclear where the Trump campaign found the image, which placed the shape of the Star of David beside a picture of Clinton with text that read, "Most Corrupt Candidate Ever!" on a background of $100 bills.
Later on Saturday, Trump deleted the post and added another image with a circle covering the star.
While Trump's campaign did not respond to requests for comment, some of his defenders have argued that a six-pointed star is a symbol used by many sheriff's offices.
On Sunday on CNN, Corey Lewandowski, Trump's former campaign manager, called the issue "political correctness run amok."
"A tweet is a simple tweet," he said. "The bottom line is, you can read into things that are not there."
Information for this article was contributed by Laurie Kellman, Thomas Beaumont, Julie Bykowicz and staff writers of The Associated Press; by Callum Borchers, John Wagner and Juliet Eilperin of The Washington Post; and by Matt Flegenheimer and Maggie Haberman of The New York Times.
A Section on 07/04/2016