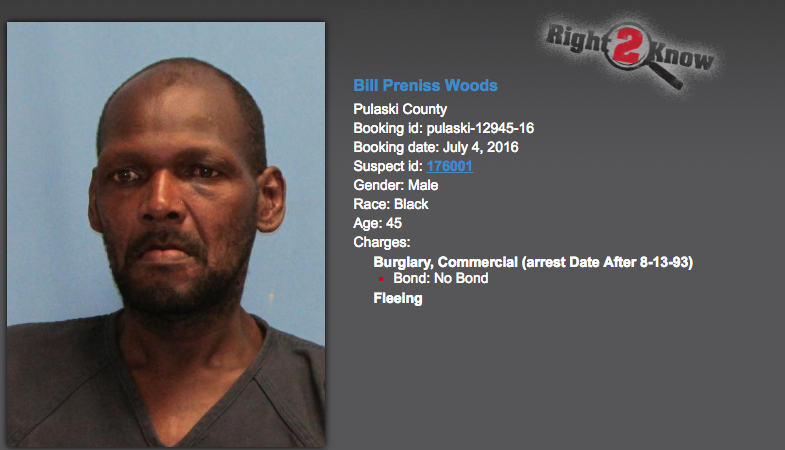 Bill Woods
A North Little Rock man was arrested Monday, accused of stealing meat from a church food pantry.
Police responded to a burglary alarm at Gardner Memorial Methodist Church, 1723 Schaer St. in North Little Rock, at about 1:52 a.m. and discovered a broken window and a screen that was removed and set to the side, according to the police report.
The side door suddenly flew open and a black man -- later identified as 45-year-old Bill Woods of 1921 W. Short 17th St. in North Little Rock -- came out, made eye contact with the officer and then fled eastbound on West 18th Street, police said. Woods was carrying a white plastic shopping bag in his right hand.
Woods did not respond to the officer's order to stop. He continued running down Schaer Street to 17th Street. The officer cornered him in a house carport, but Woods was able to break free and toss the white bag, police said.
The officer caught up with Woods at 17th and Marion streets when Woods said, "I'm tired of running." He was taken into custody without further incident.
The white plastic shopping bag contained several packages of frozen meat, police said. In the church's food pantry, the officer saw a piece of a concrete block that had been thrown through the window. On a table near a row of freezers, meat was stacked next to several plastic shopping bags.
A representative of the church identified the meat as belonging to the church pantry.
Woods, who is unemployed, was arrested and later admitted to burglarizing the church in order to steal the food, police said.
He is being held in the Pulaski County jail without bail on charges of felony commercial burglary and misdemeanor fleeing.
Metro on 07/05/2016
Print Headline: Police beat
Sponsor Content