Little Rock School District Superintendent Michael Poore on Tuesday extolled the value of pre-kindergarten, project learning and career development centers as ways to retain middle school pupils and reverse declining graduation rates.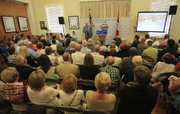 In what was billed as his first policy speech in his new job, Poore told a full house of about 220 at the Clinton School of Public Service that the Little Rock district has not taken advantage of all options to benefit students, including business support and state-approved conversion charter schools and waivers from some rules and laws.
"Why can't we be innovative?" Poore asked. "Why can't we be creative in the public schools? Why can't we go design what we think is best for kids, because I can tell you right now our scores show we do know what we are doing."
He suggested that the district is detached from what parents and the business community are really seeking from schools -- particularly at the middle and high schools -- and that the district is not fully accessing city and business-sponsored opportunities for youth.
Connecting the expertise of the district employees with community and business programs, and with state waivers of laws and rules, can remove "roadblocks" to student learning and successes, Poore said.
Arkansas lawmakers passed legislation earlier that allows traditional school districts to apply for the same waivers of rules and laws that are granted to the open-enrollment charter schools that enroll students who live within the boundaries of the traditional district.
Open-enrollment charter school waivers typically include waivers of teacher and administrative licensure requirements. Other typical waivers are for time requirements for a course or for the length of the school year or school day. Waivers also are sought to allow the combination of courses, or for alternative means of providing health, counseling and library media services.
The Little Rock district has not to this point applied for waivers of any state requirements although about 30 of the state's 235 school districts have done so.
Poore cited the Bentonville School District as a place where waivers led to expanded student opportunities. Those included waivers of the standard number of minutes for a course of study. The waiver prevents students working at the district's career development centers from being "boxed into a block of time like you do in normal school settings," Poore said.
"They are going to work well beyond that," he said of the students and the time requirements. "Those kids are going to exceed every expectation."
Poore had been superintendent of the Bentonville School District since 2011 when Arkansas Education Commissioner Johnny Key hired him in April to replace Baker Kurrus as head the Little Rock School District, which had been taken over by the state in January 2015 because six of the district's 48 schools were labeled as being academically distressed for chronically low test scores.
Poore's first official day on the Little Rock job was Friday, a day that was followed by some holiday weekend time in a Northwest Arkansas hospital emergency room because of some painful kidney stones, he told the audience.
Despite the ongoing medical concern, Poore described himself Tuesday as a "Zip-a-Dee-Doo-Dah" kind of optimistic person who views the world from a happy 30,000 feet up in the air.
As he gave his speech titled, "The Opportunity of Us: A Call to Action," Poore strode back and forth across the small stage before the audience of past and present school district employees, Pulaski County lawmakers, city government leaders and education organization representatives. He waved his arms wildly above his head as he talked about the roller coaster of emotions experienced by not only middle school adolescents but their teachers, too.
He also noted that the Little Rock district experiences its greatest loss of enrollment at the middle school level despite achievement growth for those students. He suggested that the Little Rock middle schools just aren't "the shiny penny" that attracts families.
He also recalled the shooting death of one of his Colorado Springs, Colo., students, a high school senior. He said the death is an ongoing reminder to him that high school students need care 24 hours a day, seven days a week, despite a tendency by adults to pull away from those students.
The student was great when he was engaged in an activity and he made others better, Poore remembered. But in the summer, without school and other wholesome activities, the student engaged in dangerous activities to fill the void.
In response to a question from Little Rock district resident Walter Nunn about the timing for the Little Rock district's return to governance by a locally elected school board, Poore said that Key directed that Poore's top goal is to help the district achieve local control as soon as possible.
The school board was dismissed at the time of the state takeover and Key acts in lieu of the board.
Before the state Board of Education can call for an election of a new school board, the state Department of Education staff has to certify that the district has corrected the problems that led to the takeover for academic distress. Since the takeover, one of the six schools labeled as academically distressed has been removed from the academically distressed list of schools because of improved test results in 2015. Results of the spring 2016 ACT Aspire exams in grades three through 10 will be reported later this year and could result in label changes at the remaining schools.
Poore, who has a two-year contract to be superintendent, said he hoped any newly elected school board would retain him as the chief executive in the 25,000-student district.
Little Rock Mayor Mark Stodola questioned Poore about another of the superintendent's directives from Key -- the establishment of career development programs in the Little Rock district by 2017.
Poore said such centers -- initially focusing on medical professions, teaching and technology solutions -- don't have to be expensive or pull students completely away from their current high schools. Teacher cadet programs could be started at the individual high school campuses. Technology support could be a high-level program in a business environment near to a school campus. He also suggested collaboration with Pulaski Technical College in North Little Rock.
The new superintendent displayed data charts showing that the Little Rock district's graduation rate was 73.61 percent in 2015, down from 78.28 percent in 2014. While the district rate dropped, the state graduation rate increased from 78.28 percent in 2014 to 84.52 percent in 2015.
He told how a Bentonville student in such a course designed a website for Daisy Outdoor Products, maker of BB guns, that included sophisticated features that allowed online sales.
Audience member Aaron Lubin asked about the district's finances and staffing. Poore said the district continues to face the loss of $37 million a year in special state desegregation aid after the 2017-18 school year. Staffing and other expenses have been adjusted in the past and more must be done if the district is to live within its means.
Another audience member asked about the future of the district's special program magnet schools -- such as the Gibbs International Studies Foreign Language Elementary School -- that are funded in part with the desegregation money.
Poore said magnet schools have components that should be a part of every school "in terms of having students think and create and do," but he also said there should be schools that give families and students some program choices.
"The challenge behind it is transportation. How do we get through that?" he said. "I personally think that type of choice is a popular thing."
Poore urged audience members to be advocates for pre-kindergarten and "wrap-around services" for students. The wrap-around services can include access to medical and dental care, hunger relief, transportation and other support for students and their families who are in need.
In Little Rock, where the district provides more than 1,500 pre-kindergarten seats, "early-childhood education is working," Poore said, pointing to results from Iowa Test of Basic Skills results. District first-graders score higher if they attended the district's pre-kindergarten programs, regardless of their family income levels.
Metro on 07/06/2016