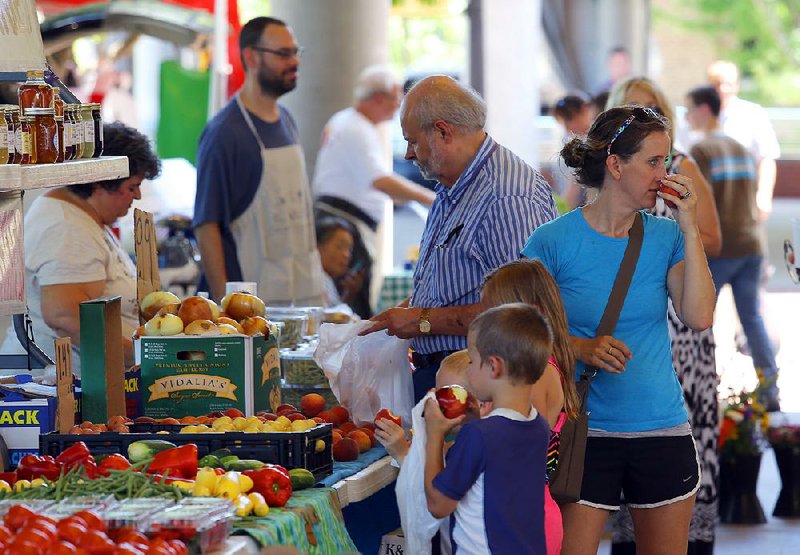 The River Market celebrates its 20th anniversary Saturday with entertainment, and of course, the Little Rock Farmers Market.
The morning Jimmy Moses had waited more than a decade for began with an unexpected phone call.
It was 7 a.m. on July 5, 1996; Moses, a developer and urban planner who grew up in Little Rock, and his wife had planned to sleep in until 8:30 or 9. They and a group of volunteers had worked until midnight arranging chairs and blowing up balloons in the indoor hall of the new Little Rock River Market.
While the organizers hoped for a large turnout, visitors hadn't frequented the empty buildings and warehouses along East Markham Street (now President Clinton Avenue) in downtown Little Rock for decades. So when Moses answered the phone, a member of the downtown partnership had a surprising message to deliver.
"She said, 'You won't believe it,'" Moses remembers. "'I've got tears in my eyes. There's a line down Markham.'"
The project, pushed through principally by Moses, architect Rick Redden and Little Rock City Director Dean Kumpuris, turns 20 this week, and the market is hosting a day of free festivities Saturday.
The River Market pavilions open for the Little Rock Farmers Market at 7 a.m. Second Saturday events, including the Garden Gourmet Chef Series (a sampling of local chefs' creations) and Rock City Rescue animal adoptions, kick off at 9 a.m.
At noon, more activities begin just behind the pavilions. They include train rides through Riverfront Park, bounce houses, slides and a climbing wall until 5 p.m.
Entertainment kicks off at 5 at the First Security Amphitheater with free music performances by SynRG, followed by Rodney Block and the Big Dam Horns. Food trucks will sell meals and drinks, and beer will be available at the amphitheater once the music starts. The performances end at 9:15 p.m. Limited-edition anniversary T-shirts will be sold for $9.99.
Moses admits he's biased. But when he takes stock of the recent growth in downtown Little Rock and North Little Rock -- the Clinton Presidential Center, Verizon Arena, the revitalization of Argenta -- his mind wanders back to that morning 20 years ago.
"I think [the River Market has] meant pretty much everything to Little Rock," Moses says. "I really do. I don't think Little Rock would be as interesting a place to live ... if not for everything that's happened in the last 20 years."
Weekend on 07/07/2016
Print Headline: 20 candles for River Market
Sponsor Content