Well over half of Arkansas students who took state-required ACT Aspire exams for the first time this spring met or exceeded desired achievement levels in English, putting them on pace to score well on college-entrance exams in 11th or 12th grades.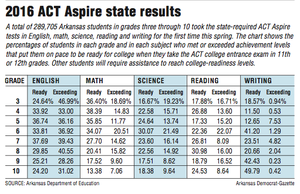 Photo by Source: Arkansas Department of Education / Arkansas Democrat-Gazette
The 2016 ACT Aspire Arkansas results.
Photo by Melissa Gerrits
Arkansas Education commissioner Johnny Key speaks at a school board meeting October 8, 2015 in Little Rock.
While 68 percent of the state's test-takers in grades three through 10 met or exceeded the desired benchmarks in English for their grade levels, less than half of the students met the desired achievement levels in other subjects, according to preliminary data released Friday evening by the Arkansas Department of Education.
Forty-three percent of students in grades three through 10 met or exceeded desired achievement levels in math, 39 percent met or exceeded the achievement levels in reading, as did 38 percent of test-takers in science and 30 percent in writing, the department reported.
[RESULTS BREAKDOWN: 2015-2016 ACT Aspire]
A total of 289,705 students took the Aspire tests in the five subjects this spring. "I commend students and teachers for their hard work this past school year," Arkansas Education Commissioner Johnny Key said in a statement Friday.
"While these results are only one indicator of performance, they do show that we must continue to work together to meet educational excellence."
The Aspire exams are a relatively new product of ACT Inc., of Iowa City, Iowa, which is the maker of the venerable ACT college-entrance exam that Arkansas is now offering at no cost to all 11th-graders who choose to take it.
The online Aspire exams -- intended to measure the progress of students toward meeting college-ready benchmarks on the ACT test -- are the third, state-required set of achievement tests used in Arkansas in as many years. State-required tests are used to identify students who need academic-improvement plans and to evaluate school performance.
In the state-controlled Little Rock School District, the scores will be used to calculate whether five schools previously classified as academically distressed have raised achievement levels to the point that the distress labels can be removed and the district can be returned to the governance of a locally elected school board. The labels are based on a rolling three-year average of student achievement data.
The Aspire tests replace the Partnership for Assessment of Readiness for College and Careers, or PARCC, exams that were administered in math and English/language arts in 2015 and Arkansas' own Augmented Benchmark and End-of-Course exams used in 2014 and for many years before that.
Denise Airola, director of the Office for Innovation in Education at the University of Arkansas at Fayetteville and a consultant to the Education Department, called the results released Friday "a good first look at how we did as a state."
"I feel like our performance looks better this year," Airola said without making a direct statistical comparison to the previous standardized exams given in the state. "This is a base line," she added about the first-year, 2016 Aspire results, "so we are looking at a pretty decent base line."
Airola emphasized that the results are preliminary because the state's 235 school districts and 24 charter school systems have not yet had a chance to identify and seek corrections in their student-testing data.
Additionally, the Arkansas Board of Education must vote on proposed "cutoff" or minimum numerical scores for each of four achievement categories on the Aspire exams. Those proposed cutoff scores are on the agenda for the Education Board's meeting Friday. The four scoring categories are "in need of support" "close," "ready" and "exceeding" the achievement levels for putting students on pace to be college-ready when they take the ACT college-entrance exam.
Students scoring in the "need of support" and "close" categories will be provided with additional instruction, said Kimberly Friedman, a spokesman for the Education Department. Traditionally, students who scored below grade level, or proficiency, on state exams have been provided with individual academic-improvement plans.
Parents can expect to receive students' individual score reports in the fall, Friedman said. The Education Department will host about a dozen training sessions for educators to assist them in interpreting, communicating and using the Aspire score results, she said.
In English, the percentages of students ready or exceeding achievement levels putting them on target for college readiness ranged from 53 percent at ninth grade to 77 percent at the seventh grade. In math, the percentages scoring at desired levels ranged from 20 percent in 10th grade to 55 percent in third grade. The reading percentages ranged from 33 percent in fifth and 10th grades to 47 percent at the eighth grade. In writing, the percentages for achieving at ready or better levels ranged from 12 percent in fourth grade to 50 percent in the 10th grade.
In science, which was tested in the 2015-16 school year for the first time at grades three through 10, the percentages of students scoring at ready or better levels ranged from 26 percent in ninth grade to 60 percent in the eighth grade, according to the data that the Education Department provided Friday.
Preliminary results for school districts and for individual schools are posted, along with the state information and older 2015 national data, on the Education Department website's ACT Aspire links.
Airola said 2016 national data for the Aspire test are not yet available.
Arkansas was one of four states that administered the Aspire tests statewide in at least some grades. Alabama gave the Aspire test in grades three through eight and in high school grades, according to a list of state testing programs compiled earlier this year by Education Week, a national newspaper on elementary and secondary education.
Wisconsin and Wyoming required Aspire testing in high school grades. Additionally, other school districts across the country administered the Aspire exams, all of which will make some national achievement comparisons possible for Arkansas.
Arkansas students have been taking state-required standardized exams for decades, but the importance of the tests was fueled by the 2002 federal No Child Left Behind Act.
That federal law not only required states to give annual tests in math and literacy but also to evaluate school performance and penalize schools for failing to show sufficient year-to-year achievement gains on the tests. Failure to comply with the law put a state in jeopardy of losing federal education aid, which amounts to more than $580 million a year for Arkansas.
The federal law called for all students to achieve at their grade levels by 2013-14, regardless of race and ethnicity, learning disability, family income and English speaking skills.
Arkansas students for many years took the state's Augmented Benchmark Exams in math and literacy in grades three through eight and End-of-Course exams in algebra I, geometry and biology.
Those paper-and-pencil tests were replaced in 2015 with the PARCC exams.
The PARCC exams were developed by a small coalition of states, including Arkansas, based on the Common Core State Standards in math and literacy that had been adopted by Arkansas and most other states in 2010.
Last summer, Arkansas Gov. Asa Hutchinson directed the state Education Department to end its contract with PARCC and recommended that the department enter into a sole-source contract with ACT Inc. for the ACT Aspire tests.
The governor's call for a change in the testing program followed the recommendations from the Governor's Council on Common Core Review, a 16-member group he appointed that was made up of educators, business people and civic leaders and led by Lt. Gov. Tim Griffin. Council members and others complained about the length of the PARCC tests, which stretched more than nine hours and required two testing periods -- one in the early spring and one closer to the end of the school year.
The state Board of Education initially voted 7-1 last summer to continue using the PARCC tests and against using the Aspire exams in the 2015-16 school year. But after the governor directed the Education Department to end the contract with PARCC and appointed three new members to the state Education Board, the board voted July 9, 2015, to enter into negotiations with ACT Inc. for the Aspire tests.
The Aspire tests in English, reading, writing, math and science took about four hours over the course of at least two days this spring. The tests consisted of multiple-choice and open-response questions, as well as writing prompts. Students had to use computer skills, such as dropping, dragging, highlighting and hiding text on the screen or advancing from one screen view to the next.
A Section on 07/10/2016