HOT SPRINGS -- The freshly crowned Miss Arkansas 2016 flew to Washington, D.C., on Sunday morning to begin her preparations for the Miss America competition, which begins Sept. 6.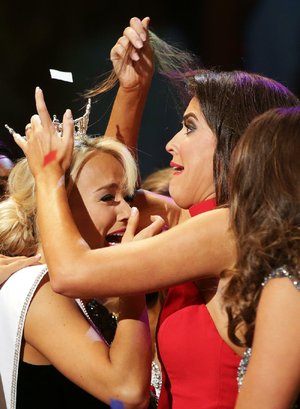 Photo by Mitchell PE Masilun
Miss Dogwood, Abby Lindsey of Van Buren (right), reacts to getting her hair stuck in the crown of Miss Arkansas, Savvy Shields, at the end of the Miss Arkansas competition Saturday in Hot Springs.
Savvy Shields, 21, a University of Arkansas student from Fayetteville, told reporters that she wants to work to improve in all areas of the competition in the six weeks leading up to Miss America.
"I never want to be at a point in my life where I feel like I've peaked," Shields said.
She said she is most looking forward to meeting the other Miss America contestants and hugging them.
"I'm excited to meet them and experience this experience," she said.
She also said she wanted to celebrate Saturday night's win by hugging as many people as she could, especially the other 42 contestants, with whom she said she has formed lifelong friendships over the course of the competition.
At the end of a news conference, she hugged friends, family and one reporter with whom she had spoken on the phone before the final competition.
Shields credits her win to her outgoing personality and love for other people.
"I don't meet a stranger and I know that whenever I walk into a room, I'm not saying 'Here I am,' but I'm saying, 'There you are,'" she said.
Shields, a senior art major at UA, said she will take a year off from school while she is Miss Arkansas. She wants to travel to schools promoting her platform, "Eat Better, Live Better," a campaign to encourage healthy living.
After her year as Miss Arkansas, she said, she plans to finish her degree and get more into painting.
She said her favorite part of the competition was her talent performance, a jazz dance to "They Just Keep Moving the Line."
"There's just something about dancing and the relationship between the audience and the performer," she said.
Shields also has the Miss Heart of the Ozarks 2016 crown and was named Miss Arkansas Outstanding Teen in 2009.
She is the daughter of Todd and Karen Shields. She thanked her parents during the news conference after the pageant and said she would not have made it so far without them.
"They really do deserve half this crown, or probably all of it," she said.
She said her father, Todd Shields, had her listen to "Thunderstruck" by AC/DC before interviews and that those small pieces of encouragement made the difference.
Karen Shields described her relationship with her daughter as "super, very close," and "almost best friends."
"I'm so proud of her, and she's so deserving," Karen Shields said.
Metro on 07/11/2016