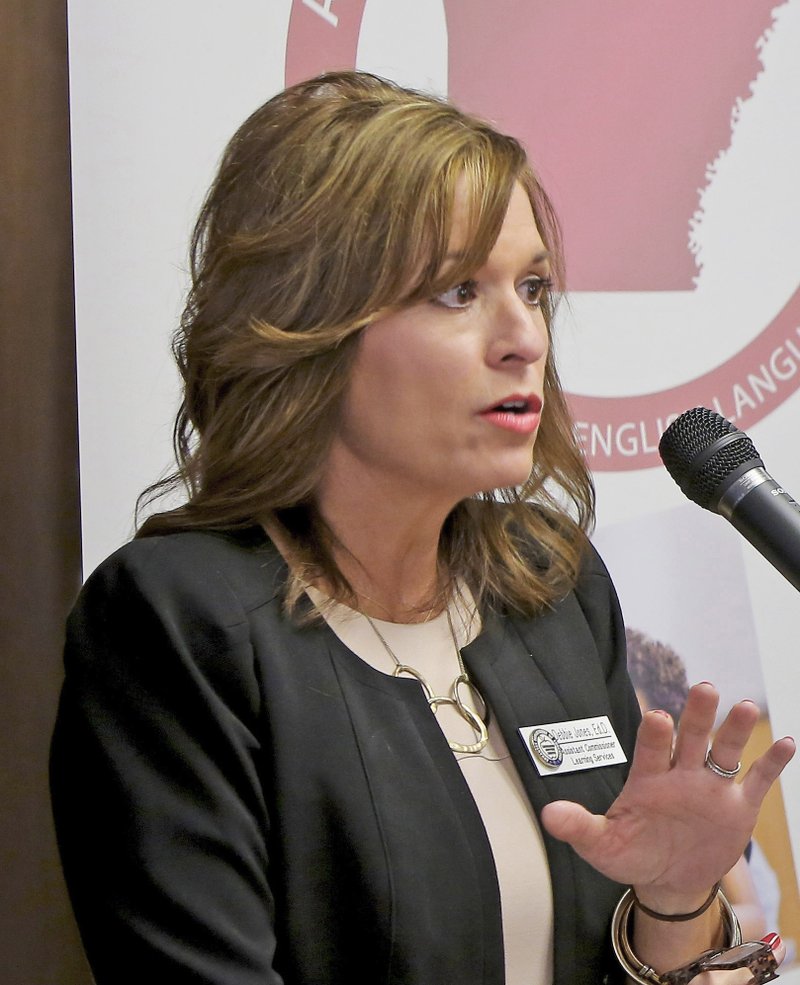 Debbie Jones
BENTONVILLE -- Debbie Jones will remove interim from her title after being named the School Board's unanimous choice as superintendent.
The School Board met Monday night to review applications and watch videos of nine candidates chosen by a national search firm, with plans to choose a handful of candidates to invite for interviews.
Candidates
Candidates considered for Bentonville superintendent
• Elizabeth Alves, Knox County Schools in Tennessee
• Kevin Aten, Greeley-Evans School District in Colorado
• Nicholas Brown, Hawthorn School District in Illinois
• Charles Foust, Houston Independent School District in Texas
• Brenda Lewis, Rochester Public Schools in Minnesota
• Rick Mills, Manatee County School District in Florida
• David Pennington, Ponca City Public Schools in Oklahoma
• Stacy Scott, Framingham Public Schools in Massachusetts
• Rick Williams, Region 10 Education Service Center in Texas
Source: Travis Riggs, Bentonville School Board president
As they discussed each candidate, Jones' name kept surfacing in the conversation, School Board President Travis Riggs said.
"We don't often agree unanimously on anything," Riggs said. "We feel like she is the right face and the right leader for our district."
Bentonville's School Board began a superintendent search following the departure of Michael Poore, who left last month to become superintendent of the Little Rock School District. The School Board in May named Debbie Jones as interim superintendent of the district of more than 16,500 students.
Jones joined the district in February as deputy superintendent. She previously was the Arkansas Department of Education's assistant commissioner for learning services.
Bentonville follows Fayetteville and Rogers in hiring a new superintendent.
In Fayetteville, Matthew Wendt is the new superintendent following the retirement of former Superintendent Paul Hewitt. Marlin Berry has succeeded Janie Darr, following her retirement from the Rogers School District. Both Wendt and Berry began working for their respective districts this month.
Bentonville chose Jones following a national search done by the Iowa-based Ray and Associates firm. Jones didn't apply for the position.
The search for a Bentonville superintendent led to more than 700 contacts with individuals from 46 states, said William Newman, a national executive director of the search firm. The number of contacts included just 10 from Arkansas. The most contacts, 68, were in Illinois, followed by 48 each from California and Texas.
Fifty-three candidates completed applications, with the search firm narrowing that list to nine candidates from school districts in Colorado, Illinois, Massachusetts, Minnesota, Oklahoma, Tennessee and Texas.
Bentonville's School Board met in executive session Monday to consider which of the nine applicants to invite to face-to-face interviews.
"After hiring a quality search firm that conducted a nationwide search that resulted in 53 applicants, and after reviewing the nine proposed finalists, the Bentonville Public School Board recognized that it has the most qualified professional already in the district," Riggs said in a joint statement from the School Board.
Jones will earn the same salary as Poore, which was in the $200,000 range, Riggs said.
When the School Board called Jones into the closed meeting, they told her they didn't see any other candidates with her qualifications or abilities, she said.
"They had confidence in the job I had done," she said.
Jones and husband, Dale Jones, are building a house in Centerton. Dale Jones is going to be the head freshman and an assistant football coach at West High School for the 2016-17 school year. They have five children, three who have recently graduated or are finishing college and two stepchildren who live in Greenbrier.
NW News on 07/12/2016
Print Headline: School Board names Jones to top job
Sponsor Content