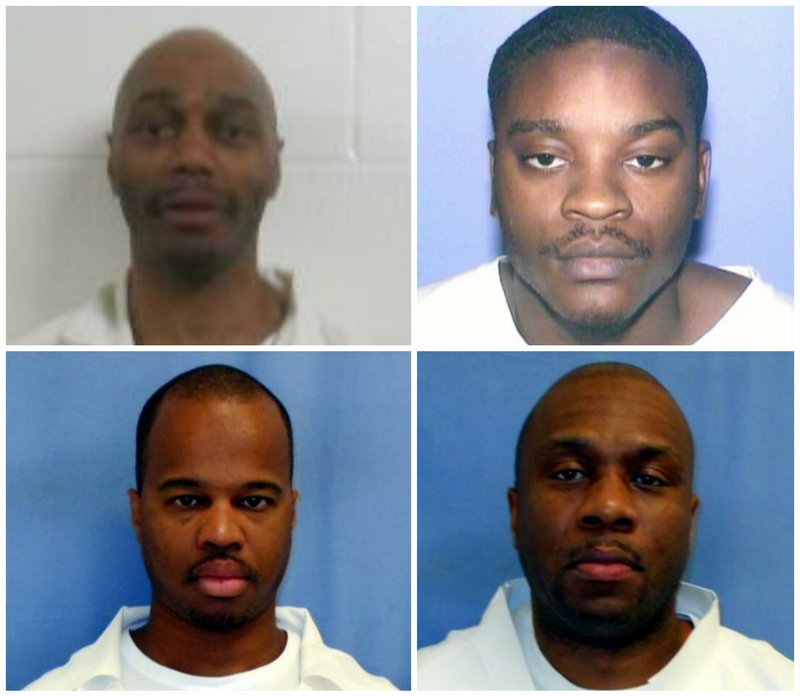 Clockwise from top left: Terry Lynn Carroll, Wallace Allen, Prince Johnson and Randy Wilkins ( Arkansas Department of Correction )
A Little Rock man who 21 years ago held a mother of three at gunpoint while his friend killed her children is among the latest convicted murderers who have returned to court in Little Rock with the hope of someday getting out of prison.
Terry Lynn Carroll, 37, is one of four convicts who made their first appearance in Pulaski County Circuit Court this week to begin the resentencing process.
The four were all 18 or younger when they were convicted of capital murder and sentenced to life in prison without parole, a sentence that the U.S. Supreme Court has since ruled cannot be automatically imposed on teenage killers.
In January, the high court granted new sentencings for all convicts who were 18 or younger when they were convicted of capital murder.
In Arkansas, 55 inmates -- 18 from Pulaski County -- were made eligible for resentencing by the court. The ruling does not allow them to contest their convictions, only their punishment, and they can still be sentenced to life.
So far, 10 convicts have been returned to court in Little Rock to have lawyers appointed and to schedule their hearings. Only two so far have had their hearings scheduled, both in December.
But the men's lawyers say those dates are tentative and they'll almost certainly need more time to prepare.
The other three convicts returning to court Tuesday with Carroll were:
• Wallace Allen, 36, who killed a mother of three in front of her children in July 1997 when he was 17.
• Prince Johnson, 43, who killed a liquor store owner and his employee while the then-16-year-old and his three friends robbed the business.
• Randy Wilkins, 38, who was 15 in January 1994 when he gunned down a 19-year-old mother of two in North Little Rock while trying to rob her drug-dealer mother of marijuana.
One of Wilkins' accomplices, Milton Anderson, 17 at the time, named Wilkins as the gunman who killed Detra Bolden. Anderson cooperated with prosecutors in exchange for receiving a 25-year prison sentence for first-degree murder, reduced from capital murder.
Wilkins denied being the killer, testifying at his March 1995 trial that he was not even involved in the holdup. Jurors deliberated for about three hours before finding him guilty.
Wilkins, Anderson and Timothy Laplez Davis, then 18, became suspects shortly after the killing when Anderson's father went to Bolden's mother, Joyce Mance, and apologized for what had happened to her daughter. Bolden was shot twice in the stomach as she leaned out of the back door of Mance's West 16th Street home to watch the teens.
Davis pleaded guilty to first-degree murder, reduced from capital murder, in exchange for a 30-year sentence two weeks after Wilkins was convicted in March 1995. Davis was later paroled but is now serving a life sentence for capital murder for the June 2008 shooting death of Damien Jones in Malvern.
Johnson was spared the death penalty at his March 1991 trial after he was convicted of capital murder for killing 61-year-old Thomas Findley and Charlotte Fowler, 48, while robbing Findley's liquor store at 6906 Arch Street Pike in April 1990.
Findley and Fowler were both killed by point-blank gunshots to the head while they lay on the floor after being wounded. Prosecutors called the killings an execution, while the defense characterized the shootings as the product of a teenage boy's panic.
At 16, Johnson was the youngest of five defendants in the fatal holdup. The getaway driver, 21-year-old Kip Brown, testified for the prosecution that Johnson had urged him to speed away, saying, "I think I killed those people." Brown pleaded guilty to first-degree murder in exchange for a 60-year sentence for his role in the killing.
Clyde Elvis Walker, 18 at the time, was also convicted of capital murder in a separate trial in the case and sentenced to life in prison after jurors declined the death penalty. He told police he went into the store with Johnson to buy snacks and didn't know that Johnson planned to rob the store until the younger teen started shooting, emptying a stolen .22-caliber pistol.
Michael Montez Porchia, then 17, was convicted of second-degree murder and other charges in the case and sentenced to 112 years in prison as a habitual offender. Porchia, 43, remains in prison although he has been eligible for parole since December.
Darcus Dee Allen, then 19, pleaded guilty to first-degree murder in exchange for a 25-year prison sentence.
Allen did not stand trial for killing married mother of three Carole Rountree in July 1997 in front of her daughters, ages 6, 9 and 11. Prosecutors planned to seek his execution at trial, but Allen pleaded guilty to capital murder in June 1998 in exchange for a life sentence. He also cursed at Rountree's sister as she was crying in the courtroom at his plea hearing.
Two of the girls were able to identify Allen as the gunman who shot their 28-year-old mother in the face while trying to rob her as the family got into their car in the parking lot of the Westgate Apartments on West 65th Street in Little Rock.
Carroll also pleaded guilty to capital murder to avoid facing the death penalty at trial. He admitted holding Mary Malak Hussian at gunpoint in the family's Mabelvale Pike home while his friend, Riley Dobi Noel, then 24, shot three of the woman's children in another room in June 1995.
Hussian fought with Carroll over the gun as Noel killed Marcell Young, 17; Mustafa Hussian, 12; and their sister, Malak Hussian, 10, each with a gunshot to the head. Young's boyfriend, Kyle Jones, escaped the house by climbing out a bathroom window.
Mary Hussian was able to get the gun away from Carroll and was chasing him out of the house with it when she found her children dead.
Noel killed them the day after the funeral of his younger brother, 20-year-old Cornelius Ganaway, who had been shot to death in May 1995.
Prosecutors said Noel wanted revenge against Mary Hussian's daughter -- Yashica Young, then 19, who had dated Ganaway -- because of rumors she had set up Ganaway to be killed.
Authorities say there was no evidence that Young, Hussian's only surviving child, had been involved. The only man charged in Ganaway's death was acquitted at trial in September 1996.
The night her siblings died, Young had left to go out before Noel and his friends arrived.
Noel was convicted of capital murder in July 1996 and was executed by lethal injection in July 2003.
Two co-defendants, Tracy Trinette Calloway and Curtis Cochran Jr., were subsequently convicted of first-degree murder.
Calloway, 26 and a mother of five, was sentenced to 132 years in prison after a jury reduced the charges against her to first-degree murder.
Cochran, then 20, pleaded guilty to first-degree murder and testified against Noel and Calloway. Calloway, now 46, will not be eligible for parole until December 2030.
Metro on 07/13/2016
Print Headline: 4 killers as teens in court to begin life-term reviews
Sponsor Content