Two former U.S. presidents, a former British prime minister and three members of the Little Rock Nine spoke about leadership and the importance of civil discourse Thursday during a ceremony at Little Rock Central High School.
The occasion was the graduation of the second class of the Presidential Leadership Scholars program, which is administered by the presidential centers of George H.W. Bush, George W. Bush, Bill Clinton and Lyndon Johnson, and promotes leadership among midcareer professionals.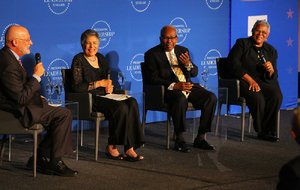 Photo by Stephen B. Thornton
Dr. Mike Hemphill (left), joins Little Rock Nine members Carlotta Walls LaNier, Earnest Green and Minnijean Brown-Trickey on stage during the Presidential Leadership Scholars Program graduation Thursday at Little Rock's Central High School. Hemphill moderated the conversation among the other three before an audience of graduates and guests.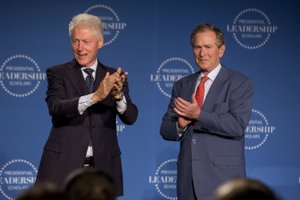 Photo by GARETH PATTERSON / AP
Former Presidents Bill Clinton (left) and George W. Bush celebrate with the Presidential Leadership Scholars on Thursday during their graduation at Little Rock Central High School.
Carlotta Walls LaNier, Minnijean Brown-Trickey and Ernest Green, all members of the Little Rock Nine, said leaders need to talk to people of differing opinions to be able to solve problems. Their sentiments were echoed by former Presidents Clinton and George W. Bush, and Britain's former Prime Minister Tony Blair.
About three hours into the event, a thunderstorm abruptly closed it. Tornado sirens sounded as the storm rapidly approached and caused lights to flicker in the school's auditorium.
But earlier, separate panel discussions -- one featuring the three members of the Little Rock Nine and one featuring the three leaders -- touched on a range of topics and experiences before an audience of program graduates and their guests. Later the former presidents shook hands and posed for photos with every graduate.
"We live in a Snapchat, Twitter world in which people form these reactions: This is good. That is bad," Clinton said. As a nation, he said, "the things holding us back are objectively identifiable. Therefore you cannot convince me that we couldn't get together and come up with a set of steps we could all take."
Sixty-one people from around the United States graduated Thursday from the program that is "designed for mid-career leaders from diverse backgrounds who share a commitment to helping solve society's greatest challenges," according to a news release. Each participant must make a six-month commitment to the program, which draws on the resources of the four partnering presidential centers.
Thursday's panel moderators did not ask the speakers about last week's fatal shootings of five police officers in Dallas, but the killings and racial discussion bubbled to the surface at several points during Thursday's event.
The Dallas slayings occurred during a peaceful demonstration held in protest of shootings by police that killed two black men last week -- one in Baton Rouge and one near St. Paul, Minn.
Sarah Jackson, director of public affairs at the Dallas Citizens Council, was the graduating class' speaker Thursday. She is developing a local initiative on race and the role it plays in public policy in Dallas.
"It's been a very painful period," she said. "Especially in my home city, Dallas. Sitting in this room are the leaders that will continue to change our nation."
Clinton said the country needs a new model for civil discourse, and he pointed to David Brown, the Dallas police chief.
Brown has "stood up both for the reforms necessary for all Americans to feel safe when they walk outside ... and the necessity of maintaining safe streets, safe neighborhoods and a future we can all share," Clinton said.
Earlier in Thursday's program, LaNier said the key to bringing about change is bringing people together. She, along with eight other students in 1957, helped integrate Little Rock's Central High School.
"You've got to listen to what is being said on the other side of those that disagree with you and see where you can come to some common ground," she said. "We need to have the dialogue open, a dialogue about what problems happen to be in your communities."
Even within specific communities, diverse voices should be heard, Brown-Trickey said.
"You need argument, creative conflict, all those things to come to good decisions," she said. "We can't all be the same."
In 1957, even among neighbors, there was disagreement about black students attending Central High School, said Green, the first black student to graduate from the school.
"In fact, I had a neighbor who stopped me one day and said ... 'You're going to graduate from school and leave us with this mess that you created. Why do you want to do that?'" he said.
Blair referred to division among political parties. He said his country's recent vote to leave the European Union could be explained, at least in part, by increased partisanship.
People with differing opinions often don't talk to one another, and that's dangerous, he said.
"The way that debate happens today is in a much more fragmented way than before -- a way that lends itself much more to partisan exchange rather than trying to find common ground," he said. "What people want to do is they want to attack each other's motives for having a position and not actually the issue in a debate."
The comments Thursday could just as easily have been made in the United Kingdom, Blair said. Thursday was his first visit to Arkansas, he noted.
Bush said powerful institutions are a "remedy for dealing with an uncertain world."
"My advice is to strengthen the institutions that have made us a remarkable country -- freedom of religion ... the right to speak freely," he said. "There's a great pressure there [to] muzzle voices. That's really important that we not do that, no matter how harsh they sound."
"You live by a set of principles, and you make the best decisions you can make," he said.
Two Arkansans graduated Thursday from the program. They were John Forest Ales, director of corporate communications for Wal-Mart, and Kendra Johnson, state director of the Human Rights Campaign-Arkansas.
Mark Updegrove, director of the LBJ Presidential Library, was in the middle of his speech when the wind picked up Thursday.
After a bit, he said, "I think we are experiencing a very serious storm."
The tornado sirens sounded, and event organizers asked attendees to head to the school's lower levels. Later, pieces of roofing were seen blowing off the building.
"Good luck!" Updegrove said, ending his speech.
A Section on 07/15/2016