It's the little building that could. The structure at the corner of G Street and John F. Kennedy Boulevard in North Little Rock has been home to a variety of restaurants through the years with a few having more staying power than others.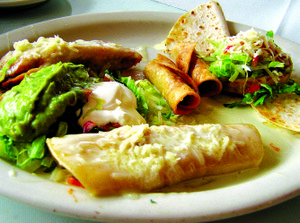 Photo by Rosemary Boggs
The Plato Huasteco appetizer platter at La Casa Real in North Little Rock comes with a chicken enchilada, a guacamole chalupa, a beef taquito, a tamale, a cheese quesadilla, salad, guacamole and sour cream.
A few months ago it became home to its newest incarnation -- La Casa Real. In Spanish, the name means the royal, real or true house. I can say that the food is "real" good.
La Casa Real
Address: 3700 John F. Kennedy Blvd., North Little Rock
Hours: 11 a.m.-10 p.m. Monday-Saturday
Cuisine: Mexican
Credit cards: V, MC, D, AE
Carryout: Yes
Alcohol: Beer, wine coming soon
Wheelchair accessible: Yes
(501) 219-4689
The new owners spent money and effort to spiff up the interior. The walls are a warm, dark peachy color and the tables, with their sets of matching chairs, have glass tops.
A basket of chips and three small bowls of salsa are bought to the table quickly. The spicy, green salsa verde is way out of my league, but the piquant red version is good.
Lunch, which is served from 11 a.m. to 3 p.m., started with a small cheese dip ($3.75). We had decided to share a lunch portion of Camarones al Mojo de Ajo with rice and beans ($8.99) and a taco combo special ($5.99); lunch combos come with a choice of two items and rice and beans.
The white cheese dip did not disappoint. It was creamy and mild with just a hint of heat, and the chips were crisp and warm.
Camarones al Mojo de Ajo is a shrimp dish we've eaten at many a Mexican restaurant. La Casa Real's version features a reddish garlic sauce that is like none other. The rice was standard fare but the refried beans were rich and creamy. They were topped with a dab of shredded cheese.
The beef in the tacos seemed to be seasoned with the same reddish dried pepper. I usually prefer my ground beef barely seasoned since the flavor of browned ground beef is part of what I love the most in tacos. But in La Casa Real's version, there was just enough seasoning to actually elevate the beef to a higher plane.
My mother, son and I returned another day and decided to share a couple of dishes, as well as a small cheese dip and a small order of guacamole ($3.99). Several years ago, at a now defunct Mexican restaurant on the edge of Sherwood, we'd discovered a dish named Higado Encebollado ($11.99). My son noticed the same dish on the dinner menu so we went with that and the Plato Huasteco ($7.99), an appetizer dish that includes a variety of Mexican restaurant staples. I also ordered a tostada a la carte ($2).
The guacamole is a creamy concoction with tomatoes mixed in.
For the most part we ate family style, using our forks to share off the plates instead of trying to divide it all up. But our server brought a few extra plates, which came in handy.
The Higado Encebollado, a dish of marinated grilled liver and onions, was seasoned well and the kitchen managed to make it tender, without that iron-rich flavor liver is famous for. It also came with rice and the creamy beans, as well as pico de gallo.
The Plato Huasteco, an appetizer made for sharing, was another winner. It comes with a guacamole chalupa, a beef taquito, a chicken enchilada, a tamale, a cheese quesadilla, and a small salad topped with even more guacamole and sour cream. My favorites were the taquito, a crisp fried tortilla filled with beef, and the tamale, which also seemed flavored by the delicious red pepper.
La Casa Real's menu is relatively large, offering a selection of seafood, chicken and steak dishes, as well a house burger ($7.99), tortas or sub-style pork and steak sandwiches ($6.99), plus tortilla or chicken soup ($2.99 cup, $4.99 bowl).
The menu also lists beer and wine. As of our last visit they still hadn't actually started serving alcohol, but it's coming.
Weekend on 07/21/2016