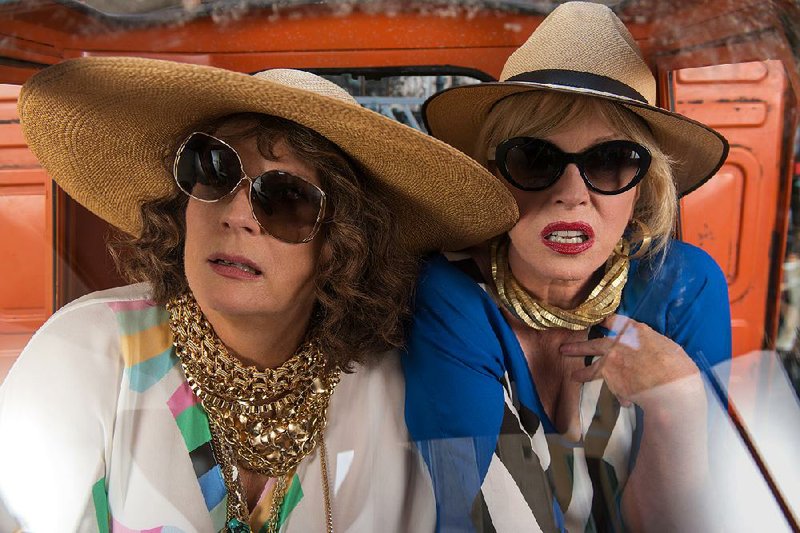 After accidentally knocking off a supermodel, Edina (Jennifer Saunders) and Patsy (Joanna Lumley) hide out in the south of France in Absolutely Fabulous: The Movie.
Like the intoxicants they devour, the antics of Absolutely Fabulous protagonists Patsy Stone (Joanna Lumley) and Edina Monsoon (Jennifer Saunders) are more fun when taken in moderate doses.
That said, the new big screen version of the rude, raunchy British comedy has enough of a half-life to justify its full theatrical running time.
Absolutely Fabulous: The Movie
85 Cast: Jennifer Saunders, Joanna Lumley, Jane Horrocks, Julia Sawalha, Robert Webb, Indeyarna Donaldson-Holness, June Whitfield, Celia Imrie, Chris Colfer
Director: Mandie Fletcher
Rating: R, for language including sexual references, and some drug use
Running time: 90 minutes
If you're unfamiliar with the sitcom Saunders created and wrote, Absolutely Fabulous features publicist Edina and magazine editor Patsy staggering through the glamorous sections of London. Because the two work with or for the fashion world's luminaries (who play themselves in the film), they live under the mistaken and hazy impression that they are the peers of the talent.
Because of their excessive fondness for chemical recreation, Patsy and Edina consistently bungle their high stress jobs. Somehow they manage to slouch around the city in pricey clothes and to pass out in environments that aren't normally conducive to sleep.
Now that the two have been heaving for 24 years, it's not surprising that the two can't get champagne handed to them at every waking (and in some cases unconscious) second. Edina's client list isn't bringing in the money it used to. One of her few remaining clients is the "To Sir With Love" singer Lulu, who wonders if she might be able to find a more sober promoter.
Practicing a sort of parody of New Age-y Buddhism (without that annoying directive for self-denial), Edina's life is so empty that the memoir she has dictated can't be published because it's literally pages of "blah, blah, blah."
To revive her flagging career and to obtain what Patsy dubs "hand money" (in the States, we call it cash), Edina attempts to court the Olympian model Kate Moss. Needless to say, Edina's attempts to appeal to the goddess go spectacularly and amusingly wrong.
Now fugitives, the grand dames of debauchery run off to the South of France with Edina's 13-year-old granddaughter Lola (Indeyarna Donaldson-Holness) without informing the girl's protective mother Saffron (Julia Sawalha). Lola has a primo credit rating her grandmother could only dream of possessing, so the straight-laced Saffron is justly worried about the damage her mother and Patsy could cause in Cannes.
Absolutely Fabulous wouldn't have lasted long had Patsy and Edina ever cleaned up. Neither the show nor this film would be much fun if these two ever discovered budgeting or rehab. But the issue facing this longer storyline is that these characters never grow or change -- despite their legal issues and their fugitive status. The buzz starts to wear off as it becomes harder to get worked up over the fate of two people who are so myopically self-absorbed. There's something funny about watching swells revealing that they aren't any better than those of us who've never walked a runway or worn something more expensive than Levi's. But as the story moves on, it might have been more involving if Patsy and Edina didn't have cash registers where their hearts should be.
Thankfully, Saunders can still write acidic barbs, and she and director Mandie Fletcher, who has helmed the most recent versions of the series, come up with a seemingly endless series of entertaining cameos featuring real-life fashion titans. Apparently, Fletcher was able to get them to deflate their egos just enough to show that they aren't hollow vessels. Patsy and Edina aren't likely to get past that obstacle, and much of the humor and longevity of the series arises from that deficiency.
MovieStyle on 07/29/2016
Print Headline: Absolutely Fabulous: The Movie
Sponsor Content