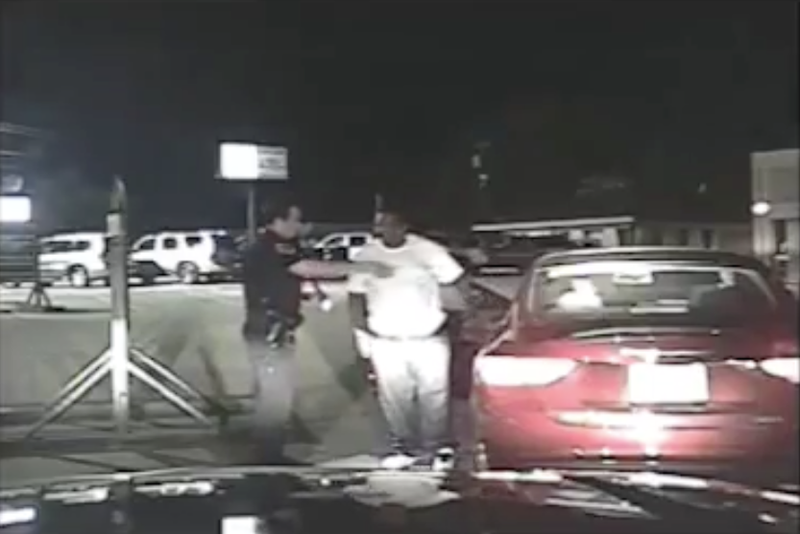 A screen capture from a video of a traffic stop and confrontation that led to the shooting of Willie Tillman by a Fayetteville officer.
FAYETTEVILLE -- Washington County Prosecutor Matt Durrett completed his review and found a Fayetteville policeman was justified in shooting a Marianna man in April.
Officer Brandon Jones shot Willie Sherman Tillman, 33, four times during a traffic stop that turned into a fight between Tillman and police in a moving car April 23. Tillman died 18 days later in a hospital.
Legal Lingo
Justification
Close in meaning to an explanation, a justification is specifically for defending or explaining an event.
Source: vocabulary.com
On the Web:
Watch video of Fayetteville police officers' struggle with Willie Tillman online at:
https://www.youtube.com/watch?v=AHJl8ylfZX0&feature=youtu.be
"Based on all of the evidence provided in the investigation, it was clear to me that officer Jones reasonably believed that his life was in danger, that he was in danger of suffering serious physical injury, and they had tried to use nonlethal force, but it was ineffective," Durrett said Friday. "Officer Jones repeatedly tried to deploy his Taser, tried different ways of deploying it. At one point Mr. Tillman was able to grab the Taser and hit officer Jones in the hand with it. At that point, officer Jones dropped the Taser and grabbed his gun and they struggled over the gun. Mr. Tillman grabbed the gun and multiple shots were fired."
An internal Police Department investigation cleared Jones in May and he returned to work. Cpl. Patrick Hanby, who also was involved in the incident, never was placed on leave. The Washington County Sheriff's Office was asked to investigate the shooting and turn the report over to the Prosecutors Office.
Video showed Tillman would not stop fighting with the officers, Durrett said.
"You can hear officer Jones tell him to 'drop it,' which we think is probably the Taser. Then you can hear him say 'Let go of my gun.' Then you can see when officer Hanby pulls up behind them, they're still fighting in the vehicle," Durrett said. "This is after several shots have been fired."
Tillman was stopped for driving a Chrysler 200 without headlights about 2:25 a.m. April 23, police said. After being asked to step outside the vehicle, Tillman dived back in and tried to drive away, according to police. Both officers ended up inside the car with Tillman and used their stun guns, according to the report.
The vehicle rolled a short distance, and Hanby was able to get out of the car, according to the report. Tillman and Jones continued to struggle in the car as Tillman drove north on College Avenue for almost a half mile.
During the fight, Tillman hit Jones several times and used the officer's stun gun on him, police said. Jones drew his sidearm and Tillman grabbed it, according to the report. Jones shot Tillman in the chest, abdomen and leg, according to the report.
Police found three shell casings in the vehicle and a fourth in Jones' gun. The gun failed to properly cycle on the last shot, which matched Jones' statement Tillman grabbed his gun, according to the report. Investigators found an outline of "latent prints wrapped around the slide of Officer Jones' gun."
Tillman had been in trouble with Fayetteville police and several other jurisdictions before, according to police and court documents.
Police found drugs and a gun on Tillman in June 2015 and in 2007, according to a profile sheet provided by the Police Department.
Tillman was charged with possession of a controlled substance with the purpose of delivering, possession of firearms by a certain person and simultaneously possessing firearms and a controlled substance in Pope County Circuit Court in March, according to court records. In Washington County, Tillman faced a charge of possession of marijuana with the purpose of delivering.
Tillman had an open case filed in 2014 in Cross County Circuit Court. He faced charges of aggravated assault, terroristic act, possession of a defaced firearm and possession of a firearm by a certain person, according to court records.
Tillman had been convicted on several drug-related charges, said Solomon Graves, Arkansas Department of Correction spokesman. He was in prison from 2005 to 2006 and 2007 to 2013, Graves said.
NW News on 06/04/2016
Print Headline: Prosecutor: Fayetteville police shooting was justified
Sponsor Content