For almost 150 years, Temple Anshe Emeth has served as a spiritual home for the Jewish community in Pine Bluff and surrounding towns.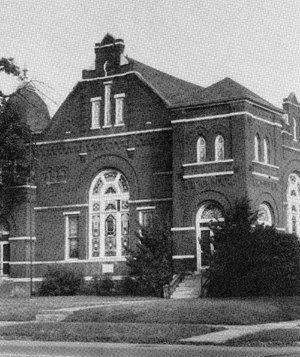 Photo by Temple Anshe Emeth / Special to the Democrat-Gazette
The second temple for the Pine Bluff congregation was completed in 1902.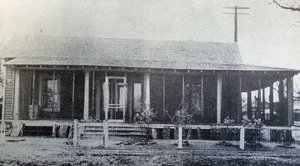 Photo by Temple Anshe Emeth / Special to the Democrat-Gazette
This house on Pullen Street in Pine Bluff served as the initial meeting place for Temple Anshe Emeth.
Photo by Temple Anshe Emeth / Special to the Democrat-Gazette
The first site of Temple Anshe Emeth was located at Third and Laurel streets in Pine Bluff.
It was a place of prayer and worship, bar and bat mitzvahs, weddings and funerals.
On June 11, the long history of the temple will come to an end when members meet for the final time.
About an hour's drive southeast on U.S. 65 in the Desha County town of McGehee, another Jewish temple is closing its doors this month. Members of Temple Meir Chayim will hold their final service June 17.
The story of the two congregations is a familiar one in small towns -- and sometimes larger towns -- across the South where once thriving Jewish synagogues and temples have closed as young people have moved away and the remaining membership has dwindled or died.
William "Bill" Rubenstein, 74, is the youngest member of Temple Anshe Emeth. That simple fact says it all, Rubenstein said, noting that only a handful of members remain.
"We're to the point we just can't keep it going," he said. "People are dying, and young people are leaving and nobody is coming in. It's true all over the South in small towns."
Even finding enough people to have a worship service has been challenging in recent years.
In the Jewish faith, a minyan, or a group of 10 (men only in the Orthodox tradition* a̶n̶d̶ ̶C̶o̶n̶s̶e̶r̶v̶a̶t̶i̶v̶e̶ ̶t̶r̶a̶d̶i̶t̶i̶o̶n̶s̶; the Conservative and Reform traditions include women), is required in order to have a public worship service. That's a number the group hasn't been able to meet on its own. They've relied on Christian friends and fellow Jews from out of town for help, swelling their numbers to 14 or 16 at times.
"There are about as many Christians as there are Jews," Rubenstein said.
The story is similar at Temple Meir Chayim in McGehee.
Rose Ann Naron, 72, has been attending the temple all her life.
"It's the only temple I've really ever known," she said. "But the older people have died and the younger ones moved to the city and it's just three or four of us that are left."
Naron said that at one time the temple had more than 100 families, with people from McGehee, Dermott and Dumas coming together for worship.
"We were in all kinds of businesses and civic minded, but everything has changed," she said. "All these small towns have changed, not just the Jewish population."
Financially, she said, they can't go on.
"There comes a time when you have to close, and we've definitely reached it," she said. "I hate to see it close, but it's reached that point."
Rabbi Eugene Levy has been serving both congregations in recent years, leading services once a month in Pine Bluff and every other month in McGehee. He'll also lead closing services for both congregations. Former members, friends and student rabbis who served the congregations have been invited, and both congregations are expecting 75-100 as they say goodbye to their longtime spiritual homes.
"It's kind of like coming back for a funeral," Levy said. "In a way that's what they are coming back for."
Levy said the congregation in McGehee has been planning for the end for more than 20 years. They wrote up a will of sorts years ago to dictate what would happen to the temple and the religious items owned by the congregation.
"It's probably the third or fourth time they've said, 'We've breathed our last,'" he said.
This time it's final.
The Pine Bluff congregation came to the same conclusion. Levy said Temple Anshe Emeth always had more families and last year they thought they might have a couple of years left.
"But they realized it was time," he said.
Rubenstein said it's sad to close the temple "but, when the time comes, you know the time is here and you have to go with it."
Levy, who served as rabbi at Temple B'nai Israel in Little Rock for 24 years, came to the capital city in 1987. One of the first things he did after the High Holidays that year was visit the rabbi at Temple Anshe Emeth. When he walked into the rabbi's office he was emptying his bookshelves, and Levy said it was obvious that he was moving out.
"They no longer had a Sunday School or a confirmation class, so there was no growth coming," Levy said.
The congregation continued to decline.
"Many of these congregations were founded by landowners and they bought property, stores, factories. They were the ones who gave the money for the temples and they weren't going anywhere," Levy said. "But by the third generation, kids went away to schools and they preferred a larger Jewish community and many went to places like Dallas, St. Louis, Houston and Atlanta and left behind an older group. It was just going to die with them as they got older."
According to the temple's history, Jews had been in the Pine Bluff area since the 1840s -- before the city was incorporated -- but a congregation wasn't formed until after the Civil War.
Members met in homes until a synagogue was completed in 1870 at Third and Laurel streets. In 1902 the congregation built a new temple on Second Avenue and in 1967 the congregation moved to 40th and Hickory streets, near the site of what would be Jefferson Regional Medical Center.
But by the late 1980s the once thriving congregation was on a downward slide, and soon the congregation had to rely on rabbinical students from Hebrew Union Seminary in Cincinnati to lead services once a month.
In 2004, the congregation sold their building to the medical center and began holding services in the chapel at First Presbyterian Church. That's where the final service will be held. A reception will be held after the service so everyone can visit and share memories.
"We'll close the ark and take the Torah out and turn the keys over in a symbolic way," Levy said.
One Torah from the temple has been sent to Israel for use in a new congregation. The other one, which will be used during the closing service, will go to a congregation in Guatemala.
"We feel good about being able to give it to a new congregation that can use it," Rubenstein said. "It's the legacy going on. Even though we aren't going to be here the legacy will go on."
As for the future, Levy said members may decide to meet in homes, or they may not. Their other option is to travel to Little Rock or some other community to worship, which is what Rubenstein will do.
One detail that remains to be settled is the future care of the congregation's cemetery, Bellwood Cemetery. Rubenstein said the congregation has a trust with money for upkeep but will have to decide on who will be responsible for the task.
"Jewish congregations usually start in homes and with the purchase of a cemetery," Levy said. "The immediate need was always for a cemetery and a home. Both these congregations did that for a while. Now they are ending. It's kind of like the beginning -- meeting in homes and making sure the cemetery is well kept."
Temple Meir Chayim was officially formed in 1947, the same year the building was completed, but Jews in the area had been meeting informally since the late 1920s. According to the website of the Goldring-Woldenberg Institute of Southern Jewish Life, the congregation raised money in part by "raffling off a car and a $1,000 bill."
According to the site, the congregation designed the building and much of the lumber used came from trees in members' yards. The completed Romanesque Revival building is still used by the congregation and will be the site of the closing service.
Naron said former members from Texas, Florida and Alabama are coming for the service and student rabbis who served the congregation also have been invited. A reception will follow.
The building is for sale and Naron said there is a prospective buyer. Many of the temple's religious artifacts are being given to the Henry S. Jacobs Camp in Utica, Miss., as well as to the Institute of Southern Jewish Life in Jackson, Miss. Naron said she plans to keep some items her family donated to the temple, including a Bible with a silver cover. Others who have donated items will also keep them. A scholarship fund also will be set up to help send a child from Arkansas to the Jacobs Camp each year.
"Hopefully it will continue with our name and these kids will know where it originally came from," Naron said. "It will keep us going even if we are not there."
As for the future, Naron said she'll attend services at a temple in Greenville, Miss., about 40 miles away.
The closing service of Temple Anshe Emeth will be held at 10 a.m. June 11 at 717 W. 32nd Ave., Pine Bluff. The closing service for Temple Meir Chayim will be held at 7:15 p.m. June 17 at the temple, 310 N. Fourth St., McGehee.
Religion on 06/04/2016
*CORRECTION: In the Conservative branch of Judaism, a minyan (a group of 10 required for public worship), can include both men and women. This article stated that only men can be included.